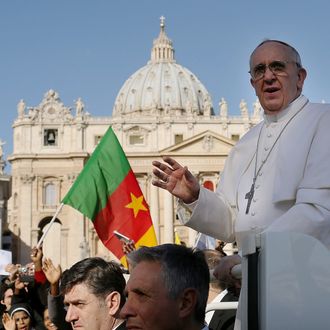 Photo: Spencer Platt/2013 Getty Images
We've all been fascinated by the newest leader of the Catholic church and with good reason: Pope Francis blesses motorcycles, performs accidental exorcisms, washes women's feet, and is doing it all with only one lung. The man born Jorge Mario Bergoglio is so exceptional in fact that it was only a matter of time before the film industry got interested. And that time is now: It was announced Sunday at the Venice Film Festival that Argentinian director Alejandro Agresti (The Lake House) will take on the biopic Historia de un cura (A Priest's Tale), which focuses on the life of Pope Francis from his childhood in Buenos Aires through the election that made him head of the Catholic Church. Rodrigo de la Serna (The Motorcycle Diaries) will play the pontificate.
Agresti told Variety: "More than a rapid biopic of key events, I'm more concerned with getting inside this very singular person, his decision to follow his vocation, and how he combined his faith and reason, having studied as a Jesuit for 14 years before being ordained." He added the film will "focus on Bergoglio as a person" and be "an origins story told in flashbacks and flash-forwards as Bergoglio flies to Rome and attends the papal conclave after the resignation of Pope Benedict XVI."
Producer Pablo Bossi said the film will shoot in Argentina, Italy, and Germany and require an "above-average" budget. Those fancy white hats aren't cheap.