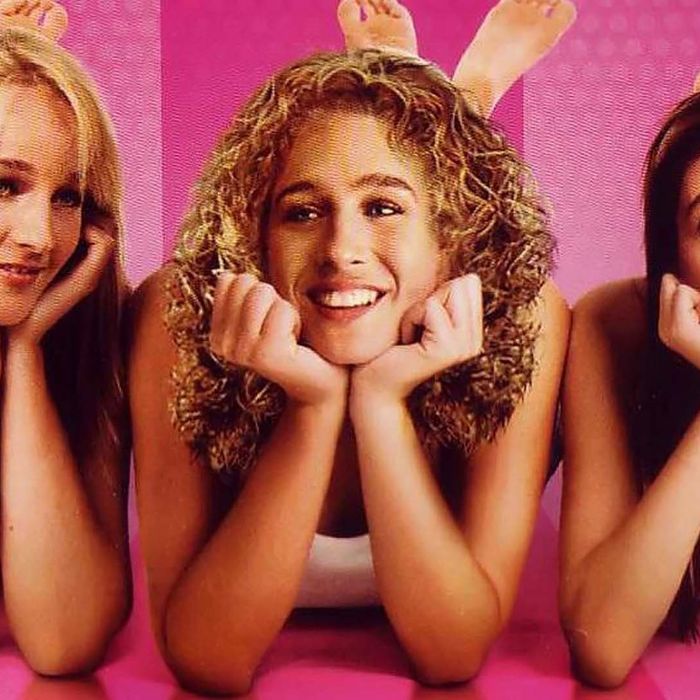 Girls Just Want to Have Fun
Battle of the Year, which opens in theaters today, is, technically, a dance movie: It involves a scrappy group determined to win back the gold in the Olympics of Breakdancing for America's first time in fifteen years (we invented breakdancing, and now Korea has the trophy? Not on Chris Brown's watch! U-S-A! U-S-A!). But it doesn't really deliver what fans of the genre really want in a dance movie. Where is the love story, preferably about a girl who pines to dance, is partnered with a hunky bad boy, and overcomes the obstacles of her disapproving parents/weak skills/jealous romantic rival in order to win the contest/her parents' approval/street cred? This is the formula that has worked for so many other dance films, from Dirty Dancing to Step Up, Stomp the Yard to You Got Served (in the latter two, switch the gender of the lead and make the romantic interest Meagan Good). But not enough attention is paid to the movie that started it all: 1985's seminal Girls Just Want to Have Fun. It's the simple tale of a military brat (Sarah Jessica Parker) who, with the help of her sassy best friend (Helen Hunt) and hunky love interest/dance partner (Lee Montgomery), vies to earn a spot on Dance TV, the hottest dance show in the nation. Girls Just Want to Have Fun may not have originated every modern dance-movie cliché (there is no rec center in need of saving, for instance), but it is the linchpin, the Ur-text, the Kanye West nucleus of dance movies. Here, a guide to the archetypes, themes, and genre tropes that Girls Just Want to Have Fun got to first.
1. The naïve, dance-besotted heroine
Sarah Jessica Parker plays Janey, the prototypical dance-movie protagonist: a sheltered girl who longs only to dance and experience life, in spite of her disapproving elders. Our heroine blossoms through a learning-the-moves montage, learning-the-body romance, and a culminating performance that tests her mettle and proves her parents wrong (college shmollege!). In Janey's case, we get a very clear sense of her character's improbable destiny in the first minute, when a fidgety Sarah Jessica Parker mumbles a bit before awkwardly and dreamily telling her new classmates that she loves to dance: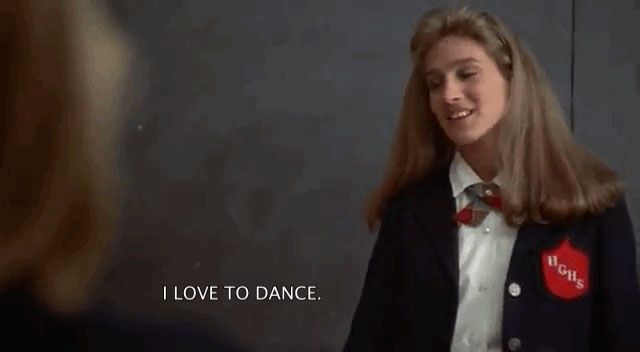 Descendants: Dirty Dancing's Baby (Jennifer Grey), Save the Last Dance's Sara (Julia Stiles), How She Move's Raya (Rutina Wesley), Fran in Strictly Ballroom
2. The sassy best friend
Girls Just Want to Have Fun has every archetypal supporting character in pure Platonic form, starting with this key sidekick role, who can be counted on for selfless encouragement and support, collusion against disapproving elders, avenging pranks against our heroine's enemies, sexual innuendo, and general comic relief. Janey's best friend is Lynn (played by future Oscar winner Helen Hunt), a girl who wears hats with giant crickets on them and a uniform skirt that reverses into a leather mini. She encourages Janey to experience the wonders of a public-school boy, dreams of hosting Dance TV, and — when Janey's dad keeps her from the finale — sneaks her friend out of the house upside down on a rope, handling a guard dog with steak and a well-timed hairspray-and-lighter trick. Lynne is the best friend ever!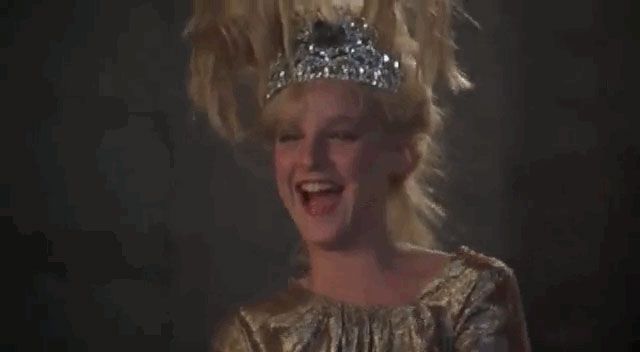 See also: Honey's Gina (Joy Bryant), Save the Last Dance's Chenille (Kerry Washington), Stomp the Yard's Rich (Ne-Yo)
3. The rich snob/romantic rival
It's not enough that dancing heroes must contend with the challenge of learning/nailing the art of dance: She has to deal with some petty competition as well. The villain is either wealthier/more respected than our heroine or a jealous romantic rival, and she hates our heroine with a vicious single-mindedness that seems a scooch extreme. She seeks to undercut, sabotage, and generally humiliate our heroine at every turn. In Girls Just Want to Have Fun, Natalie (Holly Gagnier) is a rich snob, a romantic rival, and Janey's biggest competition, which makes her extra formidable. And her dad tries to fix the Dance TV contest! This is our first look at Natalie, wearing a rabbit-fur coat and driving a Benz, because the director is not going for nuance here: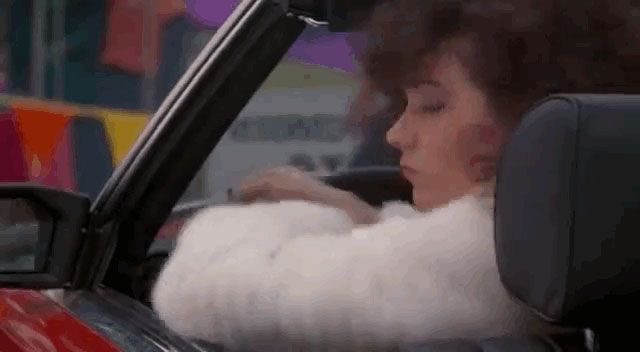 See also: Strictly Ballroom's Liz (Gia Carides), Save the Last Dance's Nikki (Bianca Lawson), Stomp the Yard's Grant (Darrin Dewitt Henson)
4. The annoying/endearing younger sibling
This character's only function is to bug the hell out of everyone until he/she actually does something useful and redemptive (e.g., carrying secret, crucial dance/love missives behind the backs of disapproving elders). Girls Just Want to Have Fun actually has two of these (Janey has a little brother), but only one is Shannen Doherty, whose character, Maggie, is "going for New Wave" and lusts for her big brother's best friend, future weekender-with-Bernie Jonathan Silverman.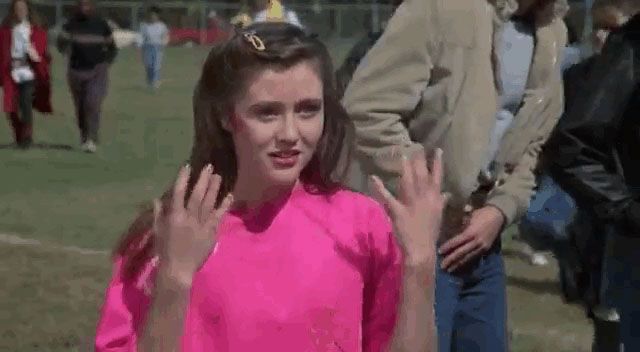 See also: Step Up's little sister, Bring It On's little brother, Strictly Ballroom's little brother and sister.
5. The hero gawking at a quick survey of the era's dance landscape
In order to truly appreciate the greatness of our central dancer's journey, the viewer must see what she is up against. The heroine arrives at an audition/dance party/club at which she is clearly an outsider (she's not wearing the right thing, she's not the right race, she's a guest at the resort and it's a staff-only party), marvels at the awe-inspiring dance on display, and aspires to the greatness she sees. In Girls Just Want to Have Fun, Janey — though forbidden by her father — nevertheless attends the auditions for Dance TV and vicariously gives the viewer a glorious anthropological study of dance in 1985. This is how punks dance:
This is how New Wavers dance:
This is how everybody dances:
See also: the staff party scene in Dirty Dancing, the club scene in Save the Last Dance, the club battle in Step Up 2: The Streets, the abandoned warehouse battle in Stomp the Yard, the well-maintained warehouse battle in You Got Served.
3. The sleeve-eschewing, initially infuriating, blue-collar love interest/dance partner
After winning her place on Dance TV in the finals, naïve Catholic schoolgirl Janey is paired with Jeff (Lee Montgomery), a working-class bohunk who covers his tank tops with a leather jacket only when absolutely necessary. Jeff is the perfect starter bad boy: Yes, he rides a motorcycle and goes to public school (followed by trade school, according to his factory-worker dad's plan), but he's still mostly Tiger Beat material, a thoroughly unthreatening love interest who looks at Janey like this: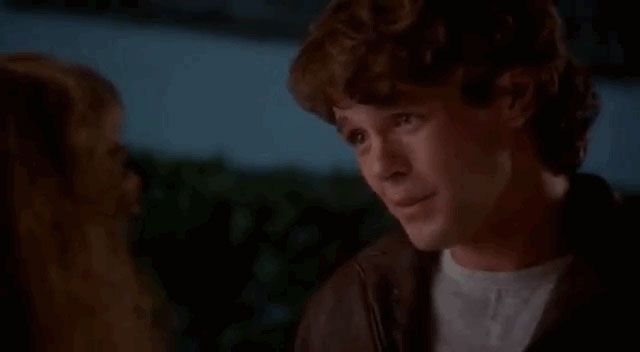 The aesthetic particularities of the Dancing Bad Boy vary, but he always hates sleeves.
See also: Channing Tatum, Patrick Swayze, Columbus Short, Ryan Guzman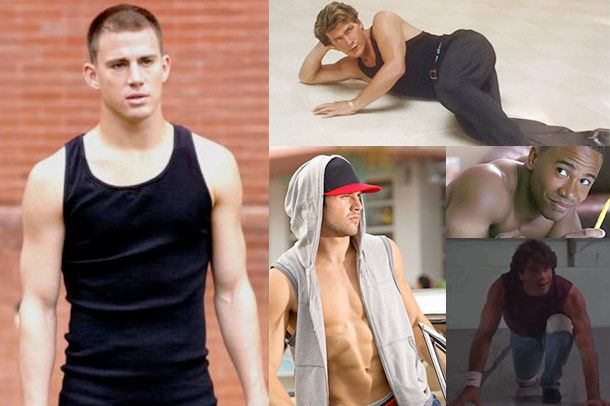 4. The heroine's dance (and sexual) awakening
Are you ready for the subtextual analysis of your life? In these movies, dance is often used as a metaphor for sex. Invariably, the couple will start dancing in an increasingly intimate way, as the uptight, "classically trained" (read: sexually inexperienced) young girl learns to move her body in concert with her "earthy" (read: sexed-up) partner. About halfway through the movie, our heroine learns to dance with true passion, and to move her hips, which awakens a deeper connection with her body and makes her a better dancer: That's just science, people. She starts to feel certain feelings in certain places, and, after a sublimated lovemaking dance or two, emerges a woman. (In Girls Just Want to Have Fun, the sleeveless Jeff served not just as a sexual stepping stone for Janie, but also for viewers of a certain age, a tender guide from the de-sexed crushes of girlhood into the realm of the Guy Who Makes You Feel Feelings in Places. Would I have been able to handle the Adult Man that was Patrick Swayze in Dirty Dancing without Jeff Malene? Oh, God no.)

Girls Just Want to Have Fun captures these first feelings quite vividly. Janey is super, goofily into Jeff and acts like a total spaz. (Note: While "spaz" is an offensive term today, only "spaz" really captures the essence of 1985 SJP at her cutest):
I consider this the most realistic portrayal of goofy teenage-girl love ever captured on film. After Janey kisses Jeff (Go, Janey!), our young heroine blossoms into an adorable horndog: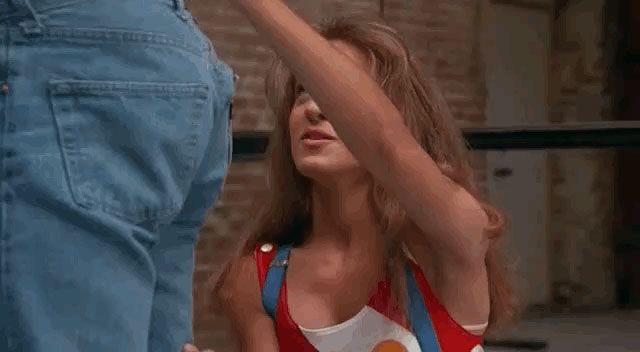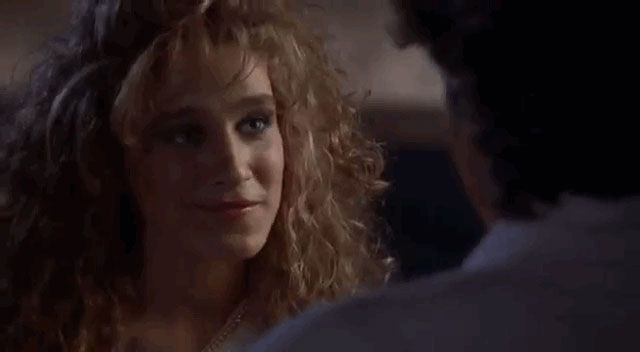 She comes into her own as a dancer and a woman, and will always have an inexplicable weakness for men in sleeveless shirts.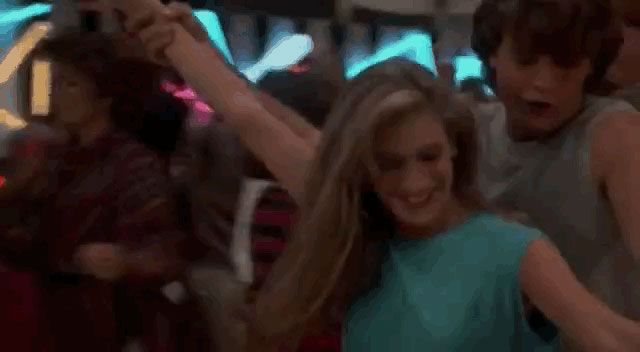 See also: Dirty Dancing, Step Up, Save the Last Dance, Strictly Ballroom
5. The falling-in-love montage
Because our puritanical, patriarchal society cannot just give Janey a little action and call it a satisfying day, the teenagers must fall in love, not just lust. Behold, the love/dance montage, a lynchpin of the teen dance genre, which culminates in a lift.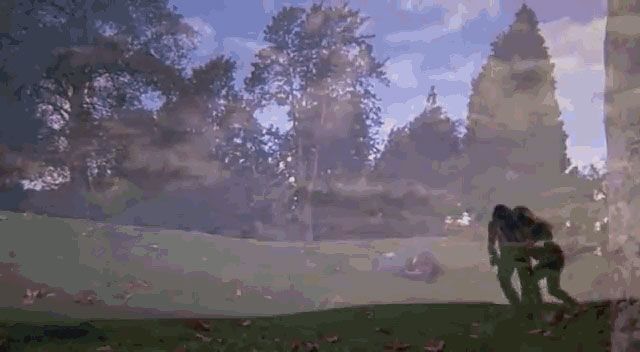 The desire to be lifted into the air by a strong, virile young man is perhaps the greatest desire of lovestruck girls in modern dance cinema: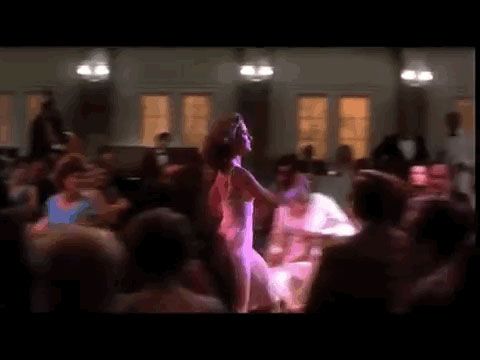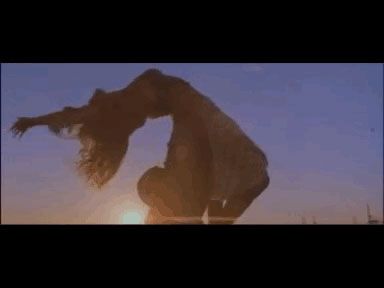 6. Rigorous rehearsals
Get your heads out of the gutter: It's not all about making out and getting lifted — it's about the dance. Janey and Jeff practice their synchronized moves with vigor (and a lot of sweat on his part):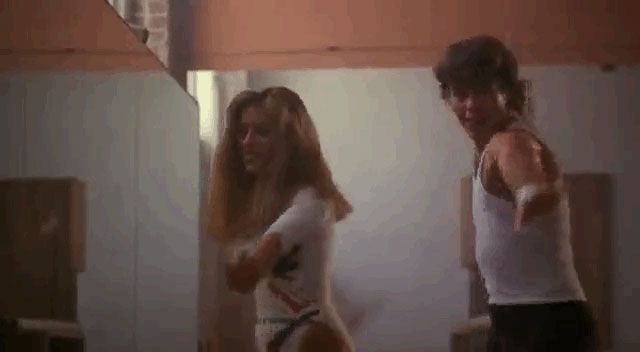 Genre conventions dictate that there must be a particularly challenging move that requires a montage to master. In Girls Just Want to Have Fun, Jeff struggles with the flip. I won't ruin the "Will he do it?" surprise for you yet.
See also: Dirty Dancing's lift, Bring It On's original choreography, Step Up's ballet moves (for Chan)
7. A little fun revenge
In the midst of all this dance-sex and lifting, the dance-movie villain remains steadfast (and a little unhinged) in her hatred of our heroine, and the rules of the genre dictate that a payback prank be undertaken. Natalie, Girls Just Want to Have Fun's villainous rich girl with the fur coat, is intent on stealing Jeff and sabotaging Janey. She's having a big, fancy debutante party, so obviously Janey and Lynn distribute hundreds of copies of her invite throughout the punk community, which leads to perhaps the most wonderful reaction shot in the history of cinema: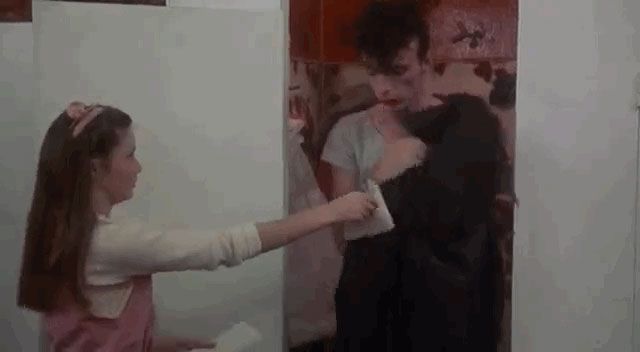 Obviously punks love deb balls, so they crash it (literally: An Adam Ant–looking dude flips through a plateglass window and hoards of punks descend, including an uncredited Robert Downey Jr.!) and ruin the jerk's party. While no subsequent film followed Girls Just Want to Have Fun in featuring an insane punk subplot, dance films must have a B plot in which our hero or heroine humiliates their rival pre-finale.
See also: revenge-through-dance pranking in Step Up 2: The Streets, revenge-through-clowning/schooling in Stomp the Yard, revenge-through-dance flashmob in Step Up 4 Revolution.
8. The big show
After Overcoming Obstacles (in this case, it's the rich girl's scheming and Janey's downer of a dad), the time has finally come for Janey and Jeff to perform at the Dance TV finals. Competition is fierce. Though these climactic dance scenes have elements of the first contests/battles, the choreography is tighter, the costumes shinier, and the stakes outlandishly, irrationally high. Janey and Jeff are up against the best of the best:

There's a lot of hand trickery:
And these two, nailing it (while also predicting Janelle Monáe):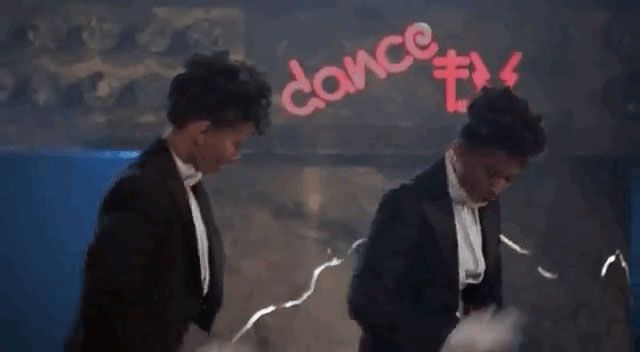 Other finalists will bring the crowd to standing ovations, our heroine will experience a final crisis of confidence, and things will look dire (an announcer will likely proclaim the contest essentially over and the crown assigned before our hero even dances). Then, just as the competition seems insurmountable, the lights lower, and our heroes take the stage. Here, Janey and Jeff bring it in the rousing, slo-mo-enhanced dance climax:
Now the audience waits. The heroes' final number will be observed by unreadable judges. Much jotting of notes! Are they writing "These guys are fantastic!" or "They have made me wish no one had ever combined dance and TV"?
But one judge's enthusiasm is not at all unreadable. The poker-faced judges hate that: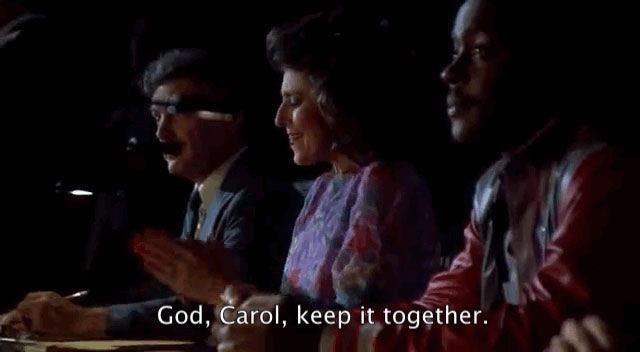 See also: Flashdance, How She Move, Strictly Ballroom, Billy Elliot, Save the Last Dance, Center Stage
9. The disapproving parent who comes around
I understand why parents might not be overly psyched when their kids express a desire to make a career out of flipping on TV or krumping in abandoned warehouses. It's not all International Dance Battles, kids! But within the dance-movie oeuvre, it's essential that the disapproving parent's oppressive ideas about college or non-yard-stomping careers be trumped by the power of their child's extraordinary gift. In Girls Just Want to Have Fun, we have not one, but two disapproving parents. Janey's dad, the army colonel, doesn't approve of all this boy-girl lifting business, and Jeff's dad wants to know "what happened to trade school?" But as they watch their children perform, their very reasonable qualms are forgotten, as illustrated by the sight of a once-disapproving adult enthusiastically cheering/weeping with pride: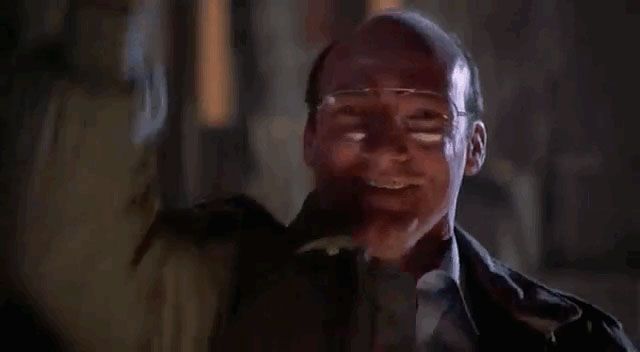 See Also: Step Up, How She Move, Billy Elliot, Center Stage, Dirty Dancing
10. Oh no! It's a tie! DANCE-OFF!
Because the tension is high, but not at breaking point, it's essential to build in a final, heart-stopping, full-tilt dance-off as your final scene. In Girls Just Want to Have Fun, Janey and Jeff finally triumph over Rich Girl with a synchronized set of flips (Jeff finally figured it out!). Janey's springy routine has always technically been more gymnastics than dancing, but it's still impressive. The dancing skills in today's battles may have advanced, but the celebratory, suspendered muscle flex remains the genre's emotional touchstone: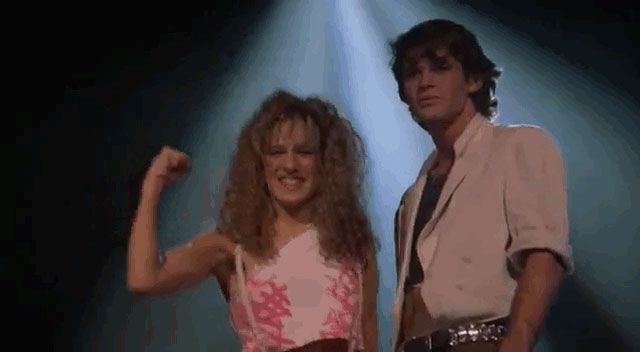 See Also: You Got Served, Stomp the Yard, Bring It On