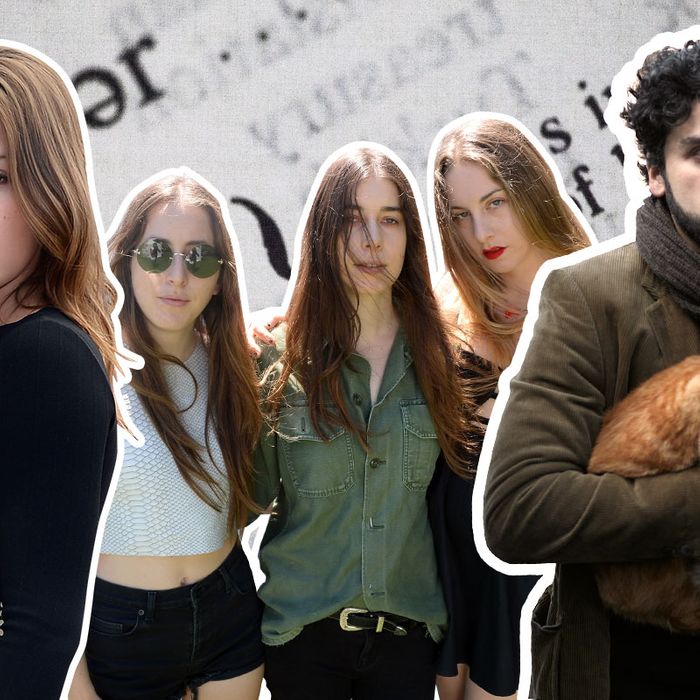 The air is getting crisper, the movies are getting better, the list of new TV options is getting longer. Fall is happening! Which means that is time to impress all your friends and co-workers with your extensive knowledge of the cultural delights available to you this season. Except, some of them are hard to pronounce. Like, some of them don't even make sense. (HAIM has nothing to do with Corey Haim? Are you sure?) Before you go out into the world and start dropping knowledge, make sure that you are saying words correctly. Here is a quick Fall 2013 Pronunciation Guide, with YouTube examples when possible; feel free to add yours.
HAIM (band): "HI-um"
Though it is also acceptable to say "hyme," like rhyme, chime, or mime. Here is video evidence (with bonus French lessons).
Ariana Grande (singer): "GRAHND-e"
We covered this last week, but yes. Use the e.
Inside Llewyn Davis (movie): "LEW-in Davis"
The double-l is a fake-out. You took five years of Spanish for nothing.
Iain De Caestecker (actor): "Ian De CAST-Ker"
This is a tricky one — thanks to absolutely no one at Comic-Con for asking the Agents of Shield actor about his actual name — and we are willing to be corrected. But if you listen closely to the first six seconds of this video, it sounds like "cast-ker."
Lorde (singer): "Lord"
Silent e. The rest of your questions can be answered here.
Chiwetel Ejiofor (actor): "CHEW - it- tell EDGE - ee- oh - for"
You probably already learned this during Children of Men, but a friendly pre-Oscars reminder:
Adele Exarchopoulos (actress): "A-DELL Ex-ar-COP-oh-lus"
Also relevant, from Blue Is the Warmest Color: Lea Seydoux ("Say - do"). Look, French class was helpful.
Austin Mahone (singer): "Ma-HOWN" (silent e)
No, it does not rhyme with "Mahomies." (That's what his fans are called. They're teens; it's not their fault.)
Daniel Bruhl (actor): "Brool"
If you want to go heavy on the German, then it is almost "Brewl," but that is a lot of work. And he's in two big movies (Rush and The Fifth Estate), so you probably just want to be efficient.
Anna Faris (actress): "AH - na FAIR -is"
It has been almost ten years, but just in case.