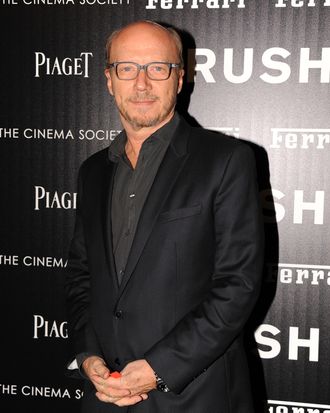 At last night's Cinema Society screening of Rush, we asked actress Margarita Levieva what she was reading these days. She dove right into an answer, telling us she's in the middle of two books (Let the Great World Spin by Colum McCann and City of Thieves by David Benioff). "I'm into the Russian culture a little bit, because I am Russian," she started explaining. And then Paul Haggis walked up to us. (He and Levieva are friends; this was the first time they'd seen each other in a year and a half.) What followed was some friendly banter that could also be mistaken for bad flirting. You be the judge.
Haggis: Hi! How are you? Good to see you.
NYM: We're talking books. She's recommending books …
Haggis: Oh, yeah? [Laughs.] She doesn't go near books. Give me one.
Levieva: I'm going to punch you right now so you have something to brag about!
Haggis: You'd have to be within 30 feet [of a book] to say that.
Levieva: I bet it happens a lot, people punching you.
Haggis: "I'm an actress but I'm really smart. I read books!"
Levieva: You're an ass. [Laughs.] I was asked, okay? I don't announce that I read books.
Haggis: What's the book you're reading?
Levieva: City of Thieves and Let the Great World Spin.
Haggis: Where are you, on page three? Page four?
Levieva: No! I don't have them with me, they're sitting on my desk.
Haggis: I have lots of those.
Levieva: Obviously! I have a bookcase.
Haggis: Only one?
NYM [to Haggis]: What books are you reading?
Haggis: I'm reading Cataract City by Craig Davidson. I just started.
Levieva: Page two?
Haggis: No, I'm actually on page ten!
Levieva: Oh, good for you! I'm so happy.
*Haggis: I just started.
NYM: What do you like about it?
Haggis: It's fun! The setting is fabulous. Niagara Falls…
Levieva: Nice book cover?
Haggis: Oh, shiny book covers? That's what I love. You know that's very important.
Levieva: You're not into the iPad reading yet?
Haggis: No, I like actual books. I like to hold a copy.
Levieva: Agree. I agree with you. For once.
NYM: So neither of you are Kindle people…
Haggis: [Misheard] Not into people?
Levieva: [Laughs] Not Kindle people!
Haggis: Ah! We both hate people, but we love Kindles.
Levieva: Yeah. [Laughs] I support the Kindle, but I don't use one. I have an iPad.
Haggis: Support it in what way if you don't have one?  
Levieva: I support it in any way that I can!
Haggis: How do you support it? [Laughs] Politically? [Chants like at a rally] "Kin-dle! Kin-dle!" What? How do you support it?
Levieva: I think it's very helpful to people. I think it's useful!
Haggis: You don't have one, how would you know?!
Levieva: I have an iPad. It's the same thing, but with more applications.
Haggis: Oh! Go tell Kindle that. "Thank you very much!"
Levieva: A mini iPad. Which helps, when you travel.
NYM: Before you run off, what is it you like about Cataract City so far?
Haggis: The setting. I love the setting. The setting and the characters are wonderful. I haven't read ten pages, I'm actually 30 pages, no, 50 pages in, maybe 100 pages in. But the setting is fabulous, because it's the underbelly of Niagara Falls. It's really lovely. I love the grittiness of it. And the writer is wonderful. I'm going to finish reading it tomorrow. I'm obsessed with it.
Levieva: And the book I just finished that I really recommend is Demian by Herman Hesse. Love that book. [She runs off]
*A previous version of this post didn't feature the full conversation. Here's the rest of it.