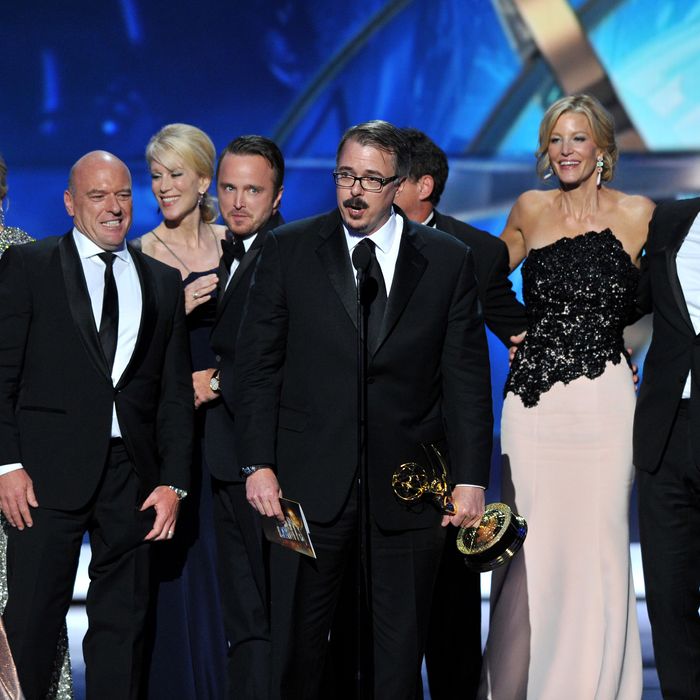 The cast and producers of Breaking Bad celebrate their Best Drama win
While many of you were watching Breaking Bad, the 2013 Emmys Ceremony was also happening. Frankly, it was a disappointment: Neil Patrick Harris underwhelmed, Modern Family won again, and there was an entire segment dedicated to a roaring twenties "Get Lucky" dance party. But there were some nice moments, too, especially if you're a Veep fan. Here are the highest highs and lowest lows from the 2013 Emmys. (The full winners list is here.)
Low: Neil Patrick Harris's Video Chamber of Death
NPH has been so good at awards shows for so long that you can't really blame him for the off-night; statistically, it was bound to happen. But Neil Patrick Harris was off right from the start — seriously, no singing? — and his weird, Booth Jonathan–inspired video tower did not help matters. He was in the tower for so long. And all the screens were so small. If we have to watch someone else watch television, shouldn't we at least get a big screen?
High: Kevin Spacey's House of Cards joke
It was mostly an "honor just to be nominated" night for Netflix series, but silver lining: People in the auditorium had actually seen House of Cards, and they knew to laugh at Kevin Spacey's Fourth Wall joke. Which is great, because that joke was the funniest part of the whole intro.
High: Merritt Wever's Acceptance Speech
"I gotta go. Bye." We have nothing more to add.
Low: the In Memoriam tributes
Okay, we're not trying to minimize the how sad it is when people in the TV world die. It is indeed sad, and there's probably an appropriate amount of memorializing to be done. But this was way, way more than necessary, and it made the entire night feel like a really elaborate group funeral. While the individual speeches were of course very touching, clips of the deceased might have been more appropriate and interesting. And … shorter.
High: Tony Hale and Julia Louis-Dreyfus's Veep bit
When JLD won for Outstanding Lead Actress in a Comedy, she stood at the bottom of the steps and looked out expectantly. Up leapt Tony Hale — who himself had just won for Supporting Actor in a Comedy — and more or less in character from Veep, humbly held her purse. He stood behind her, adoringly, and whispered reminders, just like Gary does for Selina on the show. Hilarious and darling.
Low: the sixties segment / Carrie Underwood singing the Beatles
This is not actually Carrie Underwood's fault — though why in a million years would you agree to sing "Yesterday" in an Emmys tribute to 1963? Especially when the premise of the segment is Don Cheadle teaching America about how the Beatles fixed the Kennedy Assassination on television? While we're at it, why did Don Cheadle agree to give a speech about the Kennedy Assassination and television? What a strange, old-person mess.
High (maybe): The "Middle of the Show" Song
Out of context, this would be a high. A fun enough song, a terrific dance, Nathan Fillion, Sarah Silverman — great. But given how flabby the show was feeling at that point, a song-and-dance was the last thing the ceremony needed. Next time, put the song at the top and then keep things zipping along through the boring middle slog.
Low: Neil Patrick Harris's weird ping-pong-ball joke
When introducing Zooey and Emily Deschanel, Harris said that they were "much different than the performing sisters I saw in Thailand three years ago." And then he made popping sounds with his mouth. Haha, how fresh. Sex work!
Low: Elton John's Liberace Tribute
The awkward thing about Emmys scheduling is that the audience is supposed to skip its favorite shows in order to celebrate its favorite shows. Tonight's counter-programming was the penultimate episode of Breaking Bad, which started at 9 p.m., just as … Elton John took the stage to sing a song about Liberace. If anyone under the age of 60 was still watching the Emmys, they certainly changed the channel at that point.
High, relatively: Edie Falco's tribute to James Gandolfini
Well, if she was gonna tear up, then so were we.
Low: Jeff Daniels winning Best Actor in a Drama
Bryan Cranston. Jon Hamm. Kevin Spacey. Hell, Damian Lewis. Even Hugh Bonneville! But Jeff Daniels winning this category this year is completely baffling and totally wrong. Adding insult to injury, he chewed gum during his acceptance speech. (To Daniels's credit, it was a snappy speech.)
Lowest low: the Interpretive Dance
Look, dancing is fantastic. We love dance. But it was not the time (10:17 p.m.) or place (a television awards show) for a behind-the-scenes fedora fest and a ridiculous television-inspired "Get Lucky" ballet. They couldn't show a single In Memoriam clip, but they saved ten minutes for fake Breaking Bad choreography? Emmy decision-making at its worst.
High: Will Ferrell's children
The shorts were funny, too. And the childcare joke. Special shout-out to the kid who was too busy on his iPad to participate. This is really all you want at the end of a boring show.
Low: Modern Family winning
Come on. How is that even possible?
High: Breaking Bad winning
It's a really good show. Perhaps you've heard.