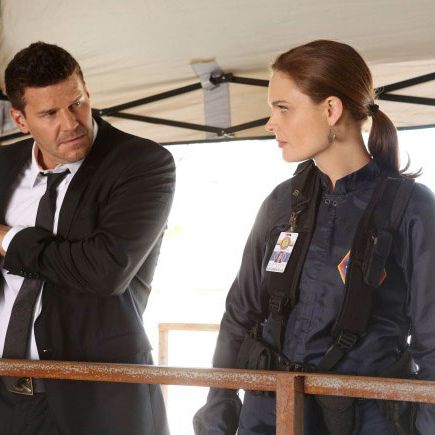 Bones begins its ninth season tonight with the show's 167th episode. That's a lot of Bones. That's a lot of squishy-squashy sounds from decaying bodies. A lot of Dr. Bones spewing clinical jargon that prompts Angela to roll her eyes. (Typical Bones!) A lot of Booth battling his demons from his days as a sniper. A lot of Sweets and Daisy and Hodgins and Cam. A lot, a lot, a lot.
But one thing we don't get as much of on Bones these days is fun. And it's time for Bones to be fun again. Please, oh, Bones lords, hear my plea: Be fun again.
Bones has changed a lot over its run. It started out kind of bleak and joyless, with Emily Deschanel's maybe-kinda-sorta-on-the-autism-spectrum portrayal of Bones butting up against David Boreanaz's kinda-sorta-wooden-delivery as Booth. The cases were overly violent. There was a lot of explaining. But then season two started to loosen up a little, giving more time to banter and more time with the lighter, more ebullient supporting cast, especially T.J. Thyne's Hodgins and Michaela Conlin's Angela and their then-budding romance. The addition of John Francis Daley's Sweets in season three pushed the show even further in that direction: Sure, they were still putting together gruesomely dismembered bodies and solving heinous crimes, but there were jokes! Running gags, even! They all liked each other! That's what made the arc where lab dude Zack turned out to be in cahoots with a notorious serial killer even more affecting. You ruined the fun, Zack.
He didn't quite. Bones had plenty of high points in more recent seasons. The show's 100th episode, back in season five, was a flashback to Bones's and Booth's first meeting, and it was a complete charmer. (They kissed!) The show finally let Booth and Bones get together for real in the season-seven finale, and since then it has been a slow march toward boredom.
To be clear: The problem with Bones' previous season is not that Bones and Booth got together. At all! They should be together. That's what the show wants, it's what fans want, it's what the world's collective heart wants. But the series used to find moments of levity in Bones's and Booth's flirting — and now that they're together together (well, mostly; there's also a serial killer trying to keep them apart — of course), there's no comic or romantic relief from those moments. The show hasn't quite replaced that, though. Maybe Daisy's hyperquirkiness is supposed to brighten things up? It's not quite enough.
I've seen tonight's episode, and it's a perfectly serviceable installment of the show. Bones and Booth are still dealing with the fallout from their stalled engagement (at the hands of that evil serial killer, although Bones doesn't know that yet!) and try in their own weird ways to cope without one another. There are moments — from Angela, mostly — that give me reason to hold out hope that season nine will be more fun. Overally, though, it's not buzzing on the charm-frequency it once had. They solve a gross crime. I already know Bones can do dark and scary and weird and mutilated. And I know that a lot of shows do that. The best part of Bones has always been everything else.