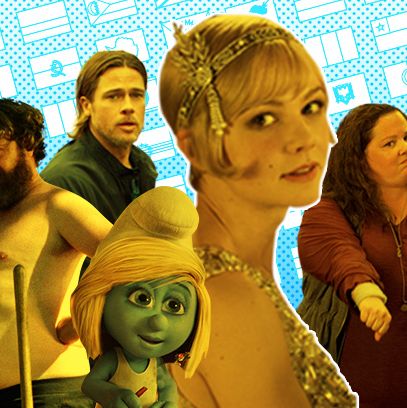 In August, we looked back at the summer movie box office, seeing how the action movies, comedies, and indies fared. Taking into account the usual foreign release lag, we felt now is a good time to look back at the foreign box office of the summer's most notable movies. We looked beyond the obvious worldwide hits — World War Z, Pacific Rim, Despicable Me 2, Monsters University, and Now You See Me did well, and Iron Man 3 and Fast and Furious did super well — and really dove deep to parse the more unusual data. (Thanks to Box Office Mojo for their thorough statistics; all numbers as of Monday, September 9, 2013.) Find answers to questions you didn't know you had, like: What does Bahrain find funny? Where is Woody Allen more popular than Superman? What country seemed to actually kind of like The Lone Ranger? And much more. Safe travels.
1. In the battle of the hometown heroes, Australians like Baz Luhrmann more than Hugh Jackman.
Maybe it's something about an Australian taking on a great American story that enlivened the Aussie's sense of nationalism, but boy did they support Baz Luhrmann's The Great Gatsby. It grossed $25.3 million in Australia, which is more than any live-action movie this summer except Iron Man 3. It beat Fast and Furious 6 ($24.7 million), Man of Steel ($22.3 million), and World War Z ($16.4 million), all films with much, much bigger international totals ($549 million, $370 million, and $335 million, respectively, compared to Gatsby's $201 million). The same love was not given to Luhrmann's countryman Hugh Jackman, however, whose Wolverine grossed more internationally in total ($232 million), but only made $14.4 million in Australia. Maybe, Wolverine should trade his standard leather jacket and jeans for a three-piece suit and a flapper hat. 
2. In Germany, The Hangover III was the summer movie equivalent of David Hasselhoff.
The Hangover II was a box office behemoth, grossing over $250 million domestically and over $330 million abroad. The Hangover III was a more modest success, grossing $112 million domestically and $238 overseas. It didn't even crack the top five in most countries, but Germany still has plenty of love for the Wolfpack. THIII grossed $31.2 million in Deutschland, more than any other live-action film, besting the summer's standard-bearer Iron Man 3 by nearly $7 million. So maybe rethink your vacation plans, Giraffe Who Wants to Visit Berlin.
3. Israel smurfing smurfed The Smurfs 2.
Despite making only $68 million Stateside, The Smurfs 2 banked abroad, bringing in $199 million so far. Sure, a lot of that is thanks to animated movies' significant international appeal (overdubbing makes everything seem locally grown); however, there were two countries where the Smurfs triumphed over the summer's two animated powerhouses Despicable Me 2 and Monsters University (both of which grossed over $450 million internationally): Croatia and Israel. The Smurfs 2 had an especially strong showing in Israel, where it took in $4.5 million to Despicable Me 2's $2.8 million and Monsters University's $2.2 million. Maybe Israelis were trying to negate Gargamel's power as an anti-Semitic stereotype by embracing him — or maybe they just like the color blue.
4. The Lone Ranger was big in Japan, but Monsters University was bigger.
There has been a lot of talk about The Lone Ranger tanking in America, but it also did pretty terribly abroad, bringing in about $154 million, which is less than both After Earth and Hansel and Gretel: Witch Hunters. Still there is one Japan-size bright spot. The Lone Ranger brought in a solid $20.7 million in Japan, more than World War Z ($19.2 million) and Fast and Furious 6 ($20 million), and not far from Iron Man 3 ($25.2 million).
Still, none of those films come even slightly close to Monsters University, which has grossed an astounding $88.9 million in Japan and counting. This total was helped by the fact that Despicable Me 2 has yet to open in Japan; however, Monsters U had much stiffer competition with local boy Hayao Miyazaki's final film, The Wind Rises, which has dominated the box office for the last eight weeks. Pixar has traditionally done well in Japan, but after a disappointing Japanese turnout for Brave ($11.1 million) and Cars 2 (a merely decent $38.1 million), Monsters U proved a heartening return to the heights of Toy Story 3, which pulled in $126.7 million in 2010.
5. Sandra Bullock and Melissa McCarthy are the queens of Bahrain.
As is often the case with American comedies, The Heat was basically a non-starter abroad, grossing a measly $60 million, almost $100 million less than it did in the U.S. It was, however, the biggest live-action movie in Bahrain, topping the box office every weekend in July and making $314,234 in total. Sure, it helped that Iron Man 3, Man of Steel, and World War Z never opened there — but it did beat out The Wolverine. 
6. Iron Man is the whole world's superhero. (Except in Serbia and Montenegro, where they prefer Wolverine.)
Iron Man 3 made more money in every country it played in than Man of Steel and The Wolverine. (Well, almost every country: The Wolverine made about $5,000 more in Serbia and Montenegro — $128,271 versus $123,278.) IM3 really made all the money abroad this summer: $805 million, which is over $250 million more than the second-place film (Fast and Furious 6, at $549 million). 
7. Speaking of Serbia and Montenegro's contrarian movie preferences, in After Earth's last two weekends showing there, the Will and Jaden Smith film saw a 12.5 percent increase!
From $40 to $45! We're aware this is kind of a meaningless statistic, but we like to imagine Will Smith poring over all the box-office data and getting excited by that five-buck uptick. When your movie bombs that hard, it's the little things that count. 
8. France will miss Ryan Gosling more than America.
Early this summer, we told Gosling that we'd miss him, what with him scaling back his acting work in favor of directing. But apparently that didn't mean we'd actually go see the last movie he'd appear in for a while, the high-on-blood-low-on-speaking Only God Forgives. The film grossed a minuscule $779,188 in the U.S. (For comparison, Drive made over $35 million.) Yet the film did solid business internationally, grossing nearly $10 million. The lion's share of this money was made in France, where it grossed $3,662,317 (in your face, people who booed at Cannes). We should probably get ready for a "Bonjour Girl" meme. 
9. Latin America didn't care much for Star Trek Into Darkness.
Star Trek Into Darkness was the sixth highest grossing summer film in the USA, bringing in $228.8 million, but that popularity didn't spread south of Texas. STID grossed a paltry $16,239,091 in Latin America. Compare that to other movies that grossed less than STID in the U.S.: In Latin America, World War Z made $53.9 million, The Wolverine made $129.6 million, and even Now You See Me made $27.3 million. Maybe there was deep resentment of the anglicization of Khan?
More likely, the bigger issue is the rest of the world's consistent indifference to this franchise. If you remove the $56 million STID made in China, the film made only $180 abroad, in line with the $127 million J.J. Abrams's initial reboot made in 2009 (before the China market really embraced American films). These are not great numbers for summer blockbusters.
10. A handful of people in Singapore have seen Fruitvale Station.
Fruitvale Station is a small movie that hasn't really had a foreign push yet, with the Weinsteins probably waiting for it to build more Oscar buzz. As a result, it has only played on a single foreign screen thus far, in Singapore. As of this weekend, Fruitvale Station has grossed $4,040 on that screen. However, it doesn't have legs*, as the film's weekend gross dropped 95 percent from $2,730 to $131. Regardless, we're sure those few hundred people are still crying from the ending. 
11. Maybe we should think of Pacific Rim as a Chinese blockbuster that only did okay in America.
As of this month, Pacific Rim made $111.9 million in China, compared to the $100.9 million it made domestically. It will be interesting to see if these numbers and the $305-plus million it made internationally in total are enough to get it a sequel. Maybe one set in China with Chinese actors and Chinese robots that do kung fu — wait, that actually sounds pretty awesome.
12. Austria, Bulgaria, Portugal, Turkey, United Arab Emirates, and Israel are the world's most fast and furious countries.
These are the six very, very random countries in which Fast and Furious 6 made more money than any other American movie. (As a comparison, World War Z was the top grossing film in only one country, Spain.) Between the six, FF6 made $25.4 million. For comparison, in these same countries, Iron Man 3 made $18.2 million, Despicable Me 2 made $12.7 million (though it hasn't opened in Turkey yet), Monsters University made $11.2 million, Man of Steel made $9.8 million, and World War Z made $13.1 million. It's hard to draw many conclusions here, other than that these six countries either have longer runways than most, or they just know what's up. 
13. Woody Allen is Poland's Superman.
Blue Jasmine's foreign rollout has been slow, but things are looking good in the handful of countries it has opened in. In no place is that more clear than Poland, where Woody Allen's latest has made $1.6 million in just three weeks. That's more than Man of Steel made in Poland in total ($1.2 million). Maybe to truly capture Superman's Jewish immigrant story, the next Superman reboot will give Woody a shot at wearing the red cape. "Zod is such a pseudo-intellectual."
* This post originally had a joke inserted by the editor about the film not having the Malay word for "legs." In fact, while Malay is the official language of Singapore, most people speak English, or a variation called Singlish. Hey, guess what makes a lame joke even less funny? Factual nuance! So forget it, this has been changed.