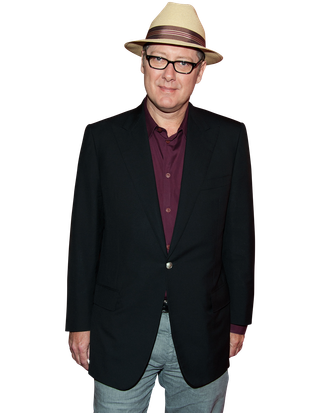 James Spader claims to know very little about his latest character, Raymond Red Reddington, the enigmatic center of NBC's new thriller, The Blacklist, which premieres tonight. But it's safe to assume he'll be a peculiar sort of career criminal, the kind of brilliant yet charming oddball Spader has cornered the market on in the last decade. He made Lincoln's political operative W.N. Bilbo an eccentric dandy, played The Office's Robert California as an inscrutable Zen master, and won three Emmys as Boston Legal's unorthodox lawyer Alan Shore. (Up next: Tommy Lee Jones's The Homesman, in which he plays a red-headed swindler with a dodgy accent.) Spader spoke to us about filming his new show in New York and shaving his head for the role.
It was your decision to shave your head. Do you miss the hair?
No. It's nice and cool in the summer. In winter, it might be different. I last had it this short when I was a little kid.
And you wear a lot of hats anyway.
I wear a hat every day.
What makes a good hat?
It has to have a great angle to it, a nice cut to it. And it has to provide shade. I never understand those stingy brims. There's that little stingy brim you see on fedoras a lot. I like a big brim that creates shade.
When you played Alan Shore on The Practice and Boston Legal, you said there was nothing else like him on TV. Would you say the same —
I didn't really know if that was true or not. [Laughs.]
Do you watch a lot of TV?
I don't ever watch much TV, so I didn't really have any idea. With Red? It could be true. You never know. I have no idea.
What was appealing to you about Red?
I mean, everything about him, which was very little. I think that was the point. I loved how little you learned, and yet my reaction to reading him in the script was acute, you know? It was based on no knowledge.
He's an enigma for the entire hour.
Yeah. And I liked that.
You've said you only wanted to do one season of The Office so you could accommodate other projects like Lincoln. If The Blacklist proves to be a hit, it's a much longer commitment. Did anything change?
The Office ended for me a year and a half ago or so. I had a lovely time, part and parcel of the fact that I was a visitor on that show. I'd sort of pop in and get to have some fun and then pop back out again. It's just whatever project interests me, whether it be a play or a film or a TV show. A TV show is a great way to make a living. Films have become less so.
Was that part of the reason to do Blacklist? To be able to afford to do films?
Well, I don't know whether this show allows for a great deal of other things outside of it. It's pretty ambitious.
You stepped in after Steve Carell left The Office. How did you think your work as Robert California turned out?
I don't know. I haven't really reflected on whether the character really worked or not. I had fun doing it. I'm not entirely sure what that season was about, though. And that was fine by me. I wanted the year and I got the year.
Are you looking forward to shooting in New York as opposed to Los Angeles [where both The Office and Boston Legal filmed]?
Yes. Shooting in the streets of New York is great fun because you don't own it there. Los Angeles is a company town and you can carve out a pretty big piece of real estate for your production, but in New York, you've got to allow for life around you, and that's interesting. It can be frustrating, too — enormously frustrating. But real life is unavoidable in New York.
You just finished filming Tommy Lee Jones's period drama The Homesman. How'd it go?
Great fun. I play a great character. He owns a paper town. Then he sells investments in the town to others based on the fact that this is going to be the gateway to the West. And then once all the money comes in, you know, sometimes he might just disappear. And I got to wear a great red wig.
In Lincoln, you had some input in terms of what your character wore. Was the red wig your idea?
Yes. He was an Irishman and the hair person on the film mentioned a few different colors . She said, "I have this great red wig that I like an awful lot," and I said, "Yes! Perfect!" Right off the bat, I said that's exactly what I want.
And you do an Irish accent to go with it?
Yeah, I practiced. I didn't have much time to practice, but I did what I could in the time that I had. You know, if it's a distortion or whatever I was fine with that because he's not someone who's plucked from a specific place in Ireland and then dropped in the American West. He's someone who would have had to put in a lot of time in a lot of different places to get where he is. And I thought he's also a swindler who, I think, has a sordid past.
His accent is as dodgy as he is.
Right. He's moved around a little bit and there's a lot of influence in there. It also covers me in case the accent is just awful. [Laughs.]
How was working with Tommy Lee as a director?
Absolutely great for me. I just loved him. But I get along well with Tommy. I like him. I respect him enormously. He's incredibly respectful to actors. He's got a sense of humor, too. It also depends if you're intimidated by people. I don't tend to be intimidated by people.
I read that the one person you'd want to meet dead or alive is Nathanael Herreshoff, an engineer who revolutionized yacht design.
I grew up in that world he worked in and he was such an important figure in my life growing up as a child. The most vital time in his career was before and after the turn of the century, and although that seems like a long time ago, he was incredibly modern in terms of his design and construction sense of boats. He was very forward-thinking, and he was a perfectionist and a great craftsman and he was brilliant.
Do you sail?
I do. I grew up working on boats. I sail when I can. Last year, I sailed for a big chunk of the year. When I was back east, I sailed for almost six months.
Straight?
Oh no. I day sail. I'm not a cruising sailor. I grew up racing and working on boats, so I like to go out and sail, but I come home. I like to sleep in a bed.
Which role do you get recognized for most?
Anything and everything. On the plane last night, three flight attendants wanted their pictures taken with Stef [from Pretty in Pink].
Did you oblige?
I did.
You know, Red could almost be Stef grown up.
Oh, stop.
An abbreviated version of this interview ran in the September 23, 2013 issue of New York Magazine.