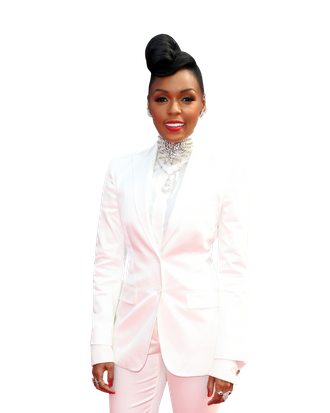 The Electric Lady, the title of Janelle Monáe's second album, at once captures the X factor of the Atlanta singer: her charismatic presence, her inimitable style, her wild talent. Although her debut, 2010's The ArchAndroid, was a critical slam dunk (and won her a Grammy nod), that success wasn't matched in sales. It moved only 186,000 copies. Monáe's big break, commercially, came a year later with a guest spot on fun.'s runaway hit "We Are Young." Since then, she's won the admiration of fellow overachievers such as Prince, Erykah Badu, Miguel — all of whom appear on The Electric Lady. Impressed and envious, Vulture spoke with Monáe about her amazing coterie of collaborators and hanging out at Skywalker Ranch with her fan George Lucas.
How did you manage to get Prince on your album?
I'm kind of pinching myself: It's real. Prince has been a fan of mine since I released Metropolis [her 2007 EP], and he invited me to go out on tour with him. We've been really good friends for a while, and he's been like a mentor to me. It's really organic for us to work together. I can't get into details about what that experience was like — I'd want to talk about that down the road. But I will say he was very interesting, full of ideas, and I'm just grateful that he trusted me to guide him in the song ["Givin Em What They Love"]. It was one of the most amazing experiences I've had collaborating with an artist.
Did you see he recently tweeted at you?
Yeah, he tweeted about The Electric Lady album artwork. I don't even think he's even on Twitter anymore. But yeah, it was very hilarious having him on there. [Editor's note: He's still there.]
Your contemporaries, Miguel and Solange Knowles, also appear on Electric Lady. Do you see them as kindred spirits, switching up what R&B means?
At first, Miguel and I had a mutual respect and love for one another as artists. I had read that he wanted to work with me for quite some time. Miguel is an incredible producer, too: He did the music [for his album Kaleidoscope Dream] and wrote it and everything. Once I knew that, I was just really impressed. I think where we both want to go with R&B music is not marginalize it, not place limitations on it. Diversify the genre up. Same with Solange.
How did you meet her?
I met her at the BET Awards, and we exchanged information. I told her I was a fan of hers. She was a fan of mine. We [connected] pretty immediately. Then my director Al Ferguson, who directed "Many Moons" [her 2008 single], started dating Solange. She's like family now. We do a lot of work together. There's just something very special about her.
How does Electric Lady evolve on the theme of futurism in The ArchAndroid?
Well, The Electric Lady is kind of a prequel, because it's more about the love affair between a human and an android [Cindi Mayweather, Monáe's alterego]. So we think about the ups and downs of that relationship. And how they have to fight for their love and being torn apart. Love, politics, sexuality, religion — these are all things Cindi's speaking about. She really did help write those songs. So it's kind of like a prequel of the story of Metropolis, before she became the ArchAndroid.
What inspired you to write a song about the late female astronaut Sally Ride?
It was paying homage to her and so many other women who have been marginalized. She became an astronaut during a time when they were not allowing women in space. Sally Ride did something remarkable in an industry that really discriminated against women.
What works of science fiction most inspire you?
I love Octavia Butler — she was an African-American science-fiction writer. Also, I'm really inspired, of course, by Metropolis; [Fritz Lang is] the godfather of all science-fiction films. And George Lucas films. When I was little, I had a deep affection for science fiction. I grew up around my grandmother, and that's where all of my ideas behind science-fiction developed. She and I would always watch Star Trek. As I got older, I started to get into Blade Runner and Ridley Scott movies, The Matrix. I think science fiction is a great way to talk about current issues and the future. There are limitless possibilities, you know? You really get to use your imagination, and you can challenge ideas.
I read you went to George Lucas's wedding.
Yes, I did. Music is the universal language. They [Lucas and now-wife Mellody Hobson] were big fans of mine. His wife actually saw me perform once with the Chicago Symphony Orchestra. I filled in for Aretha Franklin. Mellody was in the audience. George Lucas didn't even know that I was coming to the wedding. When I got there, he was telling me how he's a fan. He knew about Metropolis and The ArchAndroid. I also got to meet Steven Spielberg, who was there. Talking to both of them was incredible. They really influenced my mind — put ideas in it.
Who would've thought your childhood love of sci-fi would culminate into that day?
Yeah! Somebody's watching out for me. I'm very humbled. I never would've been able to plan this out: "Hey, you're going to go to the Skywalker Ranch and perform for George Lucas." I would have never thought that was going to happen.
How did dealing with your father's substance-abuse issues as a kid shape you into the person you are today?
Well, first, my father is clean. He's sober. He had hard time. I was able to see firsthand what drugs do. I learned a lot from my dad. I learned how to be resilient, how to not hold on to the past. He's so much better, and I'm so proud of him: where's he's been, where he comes from, and where he is now. And it also made me want to write music. I was really inspired by the highs and lows of life. In this industry, there's so many highs and lows. So I have to remain balanced, with my head held high.
You've mentioned that you wear suits in homage to your dad and your mom — and anyone else who's had to wear a uniform to work. Who are your go-to designers to achieve that look?
I like designers where I can find myself in there, in their collection. Like Chanel — I can always find amazing fabrics. I enjoy Karl Lagerfeld. I enjoy Ralph Lauren — he's a great American designer. I find a lot in their designs.
Have you considered starting your own line?
I've thought about it. I look at my uniform as art with a message, paying homage to the working class. It's walking minimalism art. I keep a dash of color on my nails or on my lips.
Did you ever go through some mortifying fashion phases?
Of course, but I'm not really embarrassed. But more like, "Wow, I can't believe that was me, and I wore my hair like that." If I love something, I will wear it out. This uniform — it's transcendent, classic, never goes out of style.