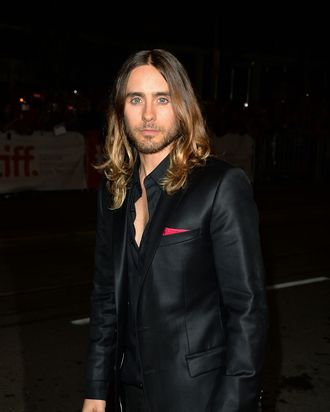 "Oh hello, we've met before," said Jared Leto at Saturday's Toronto Film Festival premiere party for Dallas Buyers Club. He locked into my eyes, grabbed my hand, and held on for many seconds longer than necessary as … sorry, professionalism, professionalism! His current look is so comically textbook rock god — tight black V-neck exposing half his chest (and chest hair), shoulder-length mane with blonde ombré, those skinny jeans — you almost hate your womanly hormones for being so easily taken under its thrall. Plus, he is a phenomenally gifted flirt; just ask the legions of females in Echelon, the ardent fan community worshipping his band, 30 Seconds to Mars, all of whom feel like he's singing directly to them. Clawing yourself out from under that intense gaze requires recognizing that flirting seems to flow out of Leto unconsciously, like a survival instinct, and likely has little to do with you; I'd experienced it this time last year during a memorably combative interview in which I poked fun at his hiking ability — as displayed in Artifact, the award-winning documentary he directed about 30 Seconds to Mars's fight against a $30 million lawsuit from Virgin Records — and somehow wound up with Leto offering to take me on a hike in L.A., which, alas, never happened.
That ability to charm the world, one set of locked eyes and lingering handshake at a time, should serve him well on the awards circuit this fall. What was most remarkable about Leto's appearance at the Dallas party was not how he's finally inhabiting that rock-star vibe but how shockingly healthy he looked compared to what the attendees had just seen of him onscreen — 40 pounds skinnier, as a gaunt, feisty, drug-addicted, transgender woman with AIDS, Rayon, in Dallas Buyers Club. The role is Leto's return to acting after a nearly five-year hiatus to concentrate on music and directing music videos and Artifact, and it's been notably well-received, with critics calling him "simply wonderful" and saying he "does the work of his life." Oscar talk, too, has been coming fast and furious.

In the movie, based on a true story and set in the eighties, Rayon becomes an unlikely ally to Matthew McConaughey's equally skeletal heterosexual cowboy Ron Woodroof, as they form a "club" with monthly membership fees to provide unregulated cocktails of vitamins, proteins, and smuggled foreign drugs to fellow AIDS patients. Leto has said his portrayal was inspired partly by a former roommate who kept his humor while dying of AIDS in 1991, and the great achievement in the role is less Leto's physical transformation than the way he individualizes Rayon, who slowly overcomes Woodroof's gruff homophobia by sheer undeterred pluck, and creates a rewarding slow-burn friendship that's also marked by the pathos of both their circumstances, along with Rayon's continued drug addiction. Plus, Leto really does make a beautiful woman.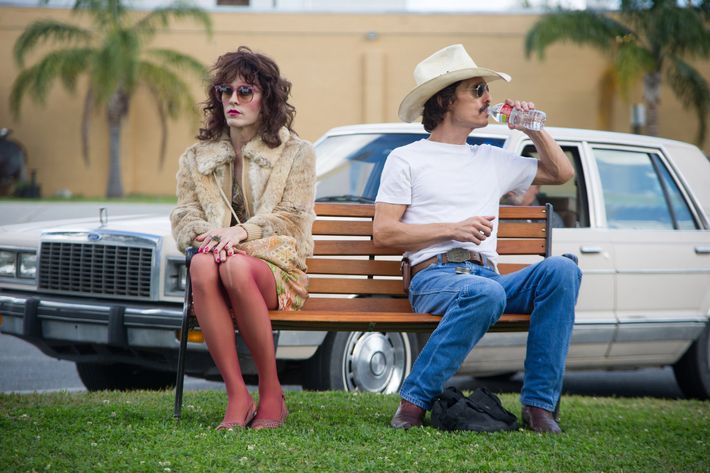 When I began interviewing him at the party, he grinned and wrapped his arm around my waist. "Are you going to be nice to me this time?" he asked. "You sassed me a little the last time we talked." I told him it seemed like he liked it. "Did I?" He asked, narrowing his eyes, then breaking out into another grin and laugh. "I think I did. I liked the challenge. Yeah, sure. Okay, whaddaya got? What do you got, New York–er? Come on! Are you ready?" I began by asking about our never-consummated hike.
I want to know why our hike never happened.
You chickened out on me. I was ready to take you on one.
You emailed me, "The hills of Los Angeles await!" and I wrote you back and you didn't write me back.*
Uh-huh. [He grins, nods skeptically.] What did you think? Did you see the movie?
I was shocked at your transformation.
[To his manager.] She has the most beautiful eyes. It's almost impossible to pay attention to what she's saying. I mean, it's ridiculous.
Oh, stop it. [Blushing hardcore.] You, talking about eyes.
I mean, like, my God. Seriously. They're, like, golden.
Anyway. You're just trying to throw me off.
I'm not. I'm telling the truth, okay. Don't be suspicious. Sometimes it happens. You know it. Okay, shoot. Hit me!
Way to make me forget what I was going to ask. Um, was it helpful to work with a fellow rock star, Bradford Cox from Deerhunter, who plays your character's significant other?
I don't think it really had anything to do with anything. He was great. He had never been on film before and he was a pleasure. Really interesting. I liked him quite a bit. You know, it was probably difficult for other actors, other people to come in, especially him, never having done a film. I was completely in character 24 hours a day for the entire film. The first time "I" met the director was today. He was joking all day saying we'd never met before because we've never had a conversation. I met Matthew today.
You've worked this way before?
I have, many times.
So you just showed up on set …
Yes.
Had lost all the weight…
Yes.
And were in drag constantly.
Yes.
Why did you stay away from acting so long?
I just got busy. You know, I was touring. We had more success than we ever dreamed. We were selling out arenas around the world and what, do you say no to that?
You were fighting a lawsuit …
We were fighting a lawsuit. Exactly. Our record label had sued us for $30 million. We made a movie about that. But I hadn't made a movie in over five years. So yeah, it was just impossible to say no to. It's the role of a lifetime.
Does it give you the thirst to do more acting now?
In some ways, yeah, in some ways it has. It's certainly exciting to be part of a film that's so well-received. It's exciting to have worked with this group of people that are super passionate about what they do. And I feel like the five years away from films, what I learned, how I grew up — I traveled the world — I think those experiences made me a better actor. I feel like I started again, you know, in some ways.
How does it make you a better actor?
Because I lived. I lived more. When you create, when you write, when you paint, you know, I think that what you have to say is really based on the experiences that you have in your life. And I lived a life, you know. I had greater resources to draw upon.
A lot of attention has been paid to your transformation — the weight loss, the makeup. What was the most difficult part about shooting this movie?
My biggest concern was to portray a living, breathing human being and not to put a cliché or stereotype or caricature up onscreen. We've seen that done so many times. You know, we have the drag queen who's got all the clever one-liners and is dancing on the table and always on twelve. And I thought there was an opportunity, really, to add a much more well-rounded person. A human being.
Specifically what did you do?
I listened. I met with people and I listened and I learned, and those people were great teachers. The transgender community, I mean, they taught me.
Taught you what? The walk, how to carry yourself?
Everything. But it started in a very simple way: sitting down and sharing. People opening up their lives and talking about what it was like to be a young person and make the decision to start living as a woman. You know, that is a very brave and terrifying thing to do. That affected me. I understood that. That's why I feel a bit of a responsibility to represent this with dignity, and that inspired me. It kept me going. Imagine doing that in 1985, deciding to live as a woman, to go out to a supermarket. In Dallas. That's a very ballsy, brave, and dangerous thing to do. So, I don't know, the movie is about a group of dreamers that all get together, believers, to survive. Kind of like making the movie, you know.
Leto's manager cut us off; an army of well-wishers had surrounded us as we talked and were awaiting their chance for a greeting and perhaps their own invitations to outdoor activity. "E-mail me," Leto said with another squeeze on the arm. "Next time you're in L.A., just shoot me a note. It will happen."
* Due to an editing error, his "The hills of Los Angeles await!" invitation was initially left our of this post. But come on, the world should know Jada got that.