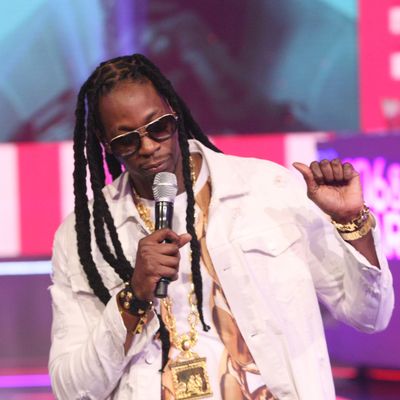 NEW YORK, NY - SEPTEMBER 09: Recording artist 2 Chainz attends 106 & Park at 106 & Park Studio on September 9, 2013 in New York City. (Photo by Bennett Raglin/BET/Getty Images for BET)
2 Chainz ft. Iamsu!, "Livin'"
There are a lot of things to love about the new 2 Chainz album, starting with the great title B.O.A.T.S. II #METIME. (Finally, 2 Chainz is taking a little 2 Chainz time — you know, spa day, mani-pedi, Thai hot stone massage. Leave the kids with a sitter! Pamper yourself, Chainz!) Another of the album's virtues: how tossed-off it feels, and how the rapper makes that a virtue. He pours out punchlines — some witty, some dopey, some gloriously both — giving every song the ramshackle feel of an off-the-dome freestyle. Even the album's afterthoughts have their moments. One of my favorite verses is in the deluxe-edition bonus track "Livin'," a gloriously scattershot mix of boasts and quips that climaxes in a couplet for the ages: "Brrraaattt, better duck, nigga!/Got a lake in my yard filled with ducks nigga!"
Emiliana Torrini, "Speed of Dark"
The singer-songwriter Emiliana Torrini is from Iceland — and, you might say, from Ice Land. She specializes in chilly wintry scenes, songs about longing, fraying romance, and heartbreak, in which the emotional temperature typically hovers at or below the freezing point. Torrini's music is always pretty, but her froideur has sometimes made it, well, hard to warm up to. Her new single "Speed of Dark" finds a solution: She jettisons the intimate folk arrangements, and turns up the synths and the beats — a clattery sound that puts oomph behind a shapely tune, and gives the lyric ("I don't even know right now/Who we are") the bite of a bitter February wind.
Romeo Santos, "Propuesta Indecente"
Bronx-bred Anthony "Romeo" Santos may be the most important New York pop star of the last decade. (Sorry, Jay.) For those who haven't been following along: It was Santos's former band, Aventura, who brought Dominican bachata to Latin hit radio, blending bachata's jittery guitars and lush melodies with hip-hop and R&B. Santos left Aventura to go solo in 2011, and has spent more or less the entire time since perched at the upper reaches of the Latin charts. Even when Santos himself isn't singing, his influence is audible. This week is typical: The Santos-copycat Prince Royce has the No. 1 song; Santos guests on Enrique Iglesias' No. 2 hit, "Loco." And then, at No. 4, there's Santos's latest, "Propuesta Indecente," the lead single from his second solo album, Formula, Vol. 2, out later this year. It's a fine introduction to the Santos style, a mix of sweetness and swagger: a tremulous falsetto as songbird-pretty as Aaron Neville's and a whole lot of saucy hip-hop 'tude.