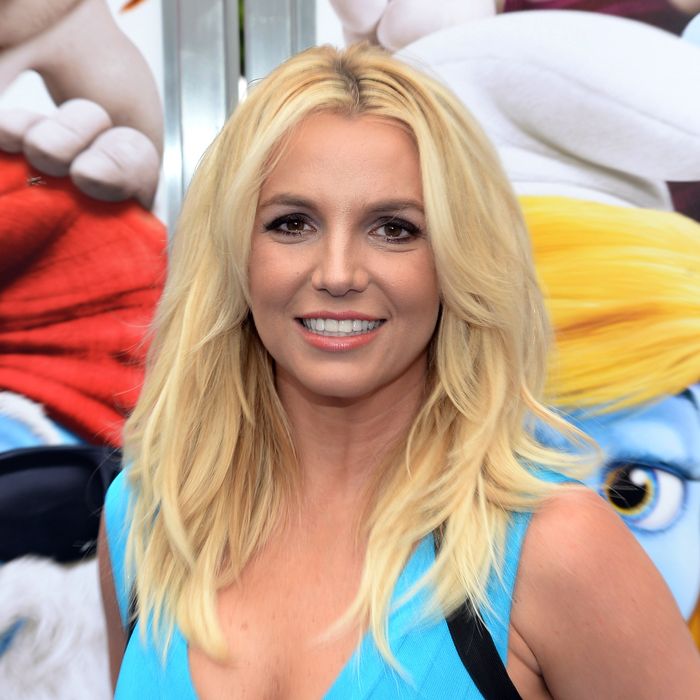 Britney Spears, "Work Bitch"
Give Britney Spears credit: while rival pop divas shape-shift and jump bandwagons, she is resolute, holding fast, album after album, to a crudely effective style. The essence of Britney is the erasure of Britney, or, rather, the merging of woman and machine: swathing her vocals in production and effects to the point at which any hint of humanity is wiped out. It's a strategy that was pioneered (and perfected) on the great 2007 hit "Piece of Me," and it's a smart one, given that Spears's voice is on the thin side and her personality is fuzzy to negligible.
The results have been so impressive — she's consistently put out great singles — that it leaves you scratching your head: Maybe she isn't so blank after all, maybe there is some ineffable but powerful Britneyness under there somewhere, beneath the beats and the Auto-Tune? In any case, "Work Bitch," produced by master of sonic excess will.i.am, is hot stuff: a sneering drill-sergeant routine that is all the weirder, and the funnier, because it's delivered by a bottle-blonde robot.
Four Tet, "Parallel Jalebi"
The British musician Kieran Hebden, a.k.a. Four Tet, has a restless muse: Over the years, his music has touched on genres ranging from jungle and dubstep to post-rock and jazz to, most famously, the woodsy beat-driven music that some have called (ugh) "folktronica." What sets Hebden's music apart is a quality that transcends style: beauty. His music is really pretty, even when, you suspect, he's aiming for a more visceral and abrasive effect. This new track, from his forthcoming album, makes no bones about the beauty. (The album, after all, is called The Beautiful Rewind.)  It starts out feeling claustrophobic — the track is built around some simple chord changes and a rattling, nattering beat — but when Hebden brings in the ethereal vocals, it's like sunlight bursting through tree cover.
Chrisette Michele, "A Couple of Forevers"
Chrisette Michele put out a fine album, Better, a few months back, but you may not have heard it, or even heard of it: In a pop landscape dominated by spectacle and gigantism, Michele was bound to slip below the radar. Michele is an R&B balladeer who finds sexiness in restraint, subtlety, the soothing slow burn. The lavishly romantic "A Couple of Forevers" is the song I keep coming back to. If you ever wondered what Anita Baker's heir would sound like, here is your answer.