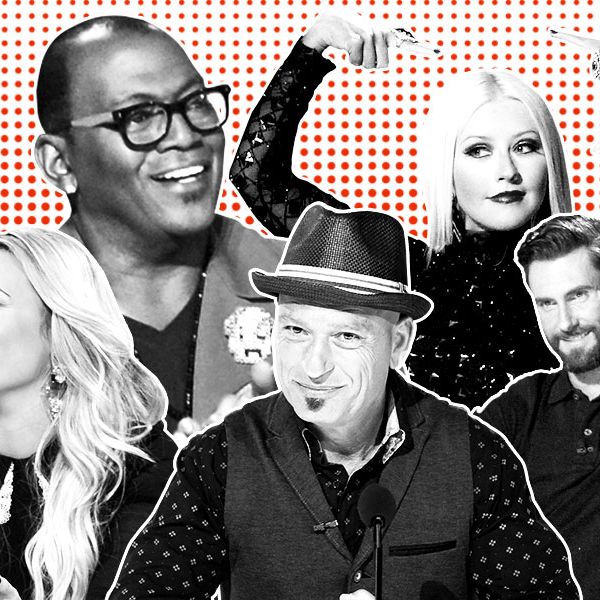 Photo: Maya Robinson and Photos by NBC and FOX
A talent show is only as strong as its judges. Not only do these opinionated, discerning panel members appear frequently, they also often select the contestants who get to compete on the program and directly or indirectly determine the competition's very outcome. They're important! But how to judge which reality show judges best? We examined the groups of personalities that have presided over four of TV's biggest talent competitions and scored each based on four factors: chemistry (i.e., whether they interact with each other in an entertaining way), conflicting viewpoints (it's important to have a nice mix of assessments!), résumé (do we even respect their various opinions?), and realness (do they genuinely seem to give a shit?). American Idol, America's Got Talent, The X Factor, and The Voice, show us what you got.
15. The X Factor, Season 1: Simon Cowell, Paula Abdul, Nicole Scherzinger, and L.A. Reid
If you needed proof that lightning doesn't strike in the same spot twice, all you had to do was tune in to the long-awaited Paula-Simon reunion on the first season of The X Factor. Things just weren't the same.
14. America's Got Talent, Season 8: Howie Mandel, Howard Stern, Mel B., and Heidi Klum
You know how they say that too many cooks in the kitchen spoils the soup, or whatever? Yeah, that.
13. American Idol, Seasons 10–11: Randy Jackson, Jennifer Lopez, and Steven Tyler
Call us purists, but going back to the three-judge model just didn't feel the same — especially with these three, whose utter lack of chemistry was glaring. Plus, we had to sit through multiple J.Lo performances. Oof.
12. American Idol, Season 9: Simon Cowell, Ellen DeGeneres, Randy Jackson, and Kara Dioguardi
Not even the upbeat Ellen could lighten up the glaring apathy of fellow judges Simon, Randy, and Kara. Long-timers Cowell and Jackson were officially over it, and Ellen was decidedly too nice, surprising no one.
11. America's Got Talent, Seasons 4–6: Howie Mandel, Piers Morgan, and Sharon Osbourne
Howie Mandel replaced David Hasselhoff on the panel following season three, and the comedian turned game show host too eagerly worked to please America's Got Talent's slightly older audience.
10. America's Got Talent, Seasons 2–3: David Hasselhoff, Piers Morgan, and Sharon Osbourne
After Sharon Osbourne took Brandy's spot, things started to pick up on America's Got Talent. Ozzy's wife sparred with Morgan after she thought he'd judged a child contestant too harshly: "I didn't sign up for this," she threatened. But, yeah, she stayed for six seasons.

9. America's Got Talent, Season 1: David Hasselhoff, Piers Morgan, and Brandy Norwood
It's strange to think that America's Got Talent debuted on TV with this hodgepodge threesome serving as its initial judges. Just as the show spanned genres, so did these three, almost to the point of mutual exclusion. Brandy only lasted one season, which is probably for the best.
8. America's Got Talent, Season 7: Howie Mandel, Howard Stern, and Sharon Osbourne
The pairing of Sharon Osbourne and Howard Stern makes for entertaining television — and they were also a strange enough combination of humans to award the top prize to the show's first non-singing winner: a dog-trick act called Olate Family's Dogs. Talent shows!
7. American Idol, Season 8: Simon Cowell, Paula Abdul, Randy Jackson, and Kara Dioguardi
You can read all about it in Kara Dioguardi's tell-all (sample: "I had gone from the heights of success to the depths of humiliation"), but things really did not work out for this group of judges. Kara was uncomfortable, and the rest were pretty much done with the show …
6. American Idol, Season 12: Mariah Carey, Randy Jackson, Nicki Minaj, and Keith Urban
Pitting Mariah against Nicki worked out nicely — although, if anything, it took focus away from the show's talent (but who really cares!). The two divas did their fair share of fighting but, in a minor surprise, Minaj emerged as a very solid judge. Keith Urban was there, too.
5. The X Factor, Season 3: Simon Cowell, Demi Lovato, Kelly Rowland, and Paulina Rubio
Simon and Demi are back together again, with help from Kelly Rowland of Destiny's Child and wacky Latina pop star Paulina Rubio. The Cowell-Lovato relationship remains strong, and there's a fun girl-power dynamic going on with the three women ganging up on grouchy Cowell.
4. The Voice, Season 4: Adam Levine, Blake Shelton, Shakira and Usher
When Usher and Shakira stepped in for Cee-Lo and Christina, there was a bit of magic missing from the show. Luckily, Blake and Adam kept up with their flirty antics and Usher sometimes even got up and danced.
3. The X Factor, Season 2: Simon Cowell, Demi Lovato, Britney Spears, and L.A. Reid
Britney's lucidness was a pleasant surprise, but the stand-out chemistry at this judging table was between Simon and Demi — whose playful teasing represented a relatable relationship between the Youngs and the Olds.
2. American Idol, Season 1–7: Simon Cowell, Paula Abdul, Randy Jackson
Seven seasons turned these three — a seemingly random and easy-to-dismiss mix of souls of the "Wait, is that the singer who danced with the cartoon cat?" ilk — into household names. So much so that they came to define the genre's preferred mix of judges: the Mean One, the Nice One, and the Cool One. Idol went on to produce some pretty big stars, even those who weren't the season winners; whether you credit the judges or not is up to you.
1. The Voice, Season 1–3, 5: Cee-Lo Green, Christina Aguilera, Adam Levine, and Blake Shelton
Are we biased because The Voice is such a wonderful show? Maybe, but the unexpected chemistry between these four (especially Adam and Blake) made the NBC ratings juggernaut more interesting than its chair-turning gimmick. Don't discount the importance of Christina and Cee-Lo: Season four had a noticeable emptiness without them. Now that they've returned for the fifth season, The Voice is back to its completely wonderful self.