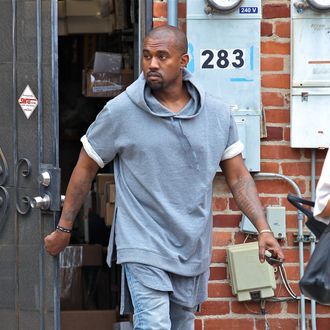 Earlier this summer when Jennifer Lopez was getting all that flak for performing for Turkmenistan leader Gurbanguly Berdymukhamedov's 56th birthday celebration, Kanye West was busy becoming a father and releasing a new album. That might be the only (barely acceptable) excuse for him not realizing the international criticism he'd face for accepting a reported $3 million to perform at the wedding of Kazakhstan president Nursultan Nazarbayev's grandson, Aisultan Nazarbayev, over the weekend. But because celebrities are who they are and several million dollars for a couple hours' work is almost always hard to turn down, that's just what happened.
West reportedly showed up at the Hotel Royal Tulip in Almaty, Kazakhstan's former capital, to celebrate the nuptials of Aisultan, 23, and Alima Boranbayeva, 20. Photographer Helen Gadjilova attended the wedding and took the Instagram video of Kanye now seen round the world. According to the New York Times, she refused to comment.
Yeezy was quickly called out for his trip to the land best known as "that place Borat came from." Per the Independent: "Human Rights Watch has singled out Kazakhstan for its 'serious and deteriorating human rights situation' which includes 'credible allegations of torture, the imprisonment of government critics, tight controls over the media and freedom of expression and association, limits in religious freedom, and continuing violation of workers' rights.'" Indeed, Nazarbayev's "repression and crackdown" against striking oil and gas workers is why Sting refused an invitation from the Kazakh government to headline their official Astana Day festival in 2011, and likely why Kanye should have said "thanks but no thanks" too.