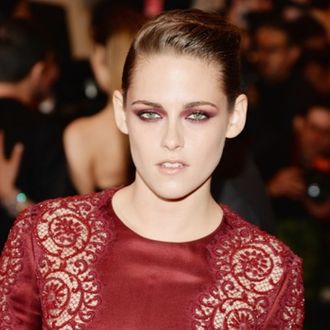 At the Toronto International Film Festival, the Weinstein Company premiered 12.12.12, a concert film about the big Hurricane Sandy relief concert. The New York Times hung out with Harvey Weinstein a little in the process, and boy did they catch a good, weird story involving Kristen Stewart, a half-million dollars, and a prince.
"Mr. Weinstein described persuading [Kristen Stewart] to accept an offer from a Middle Eastern prince, who said he would make a large contribution to the Sandy relief effort if she would speak with him. 'How much?' Ms. Stewart asked, according to Mr. Weinstein. He checked with the prince, who proposed a figure, which Mr. Weinstein promptly raised to $500,000. The money was delivered in advance, in cash, Mr. Weinstein said. [James Dolan, MSG's chairman] locked it up in Madison Square Garden, he said. 'And Kristen sits with the guy for 15 minutes.'"
Delightful anecdote, Harv. Surely K-Stew's sending flowers to thank you for sharing.