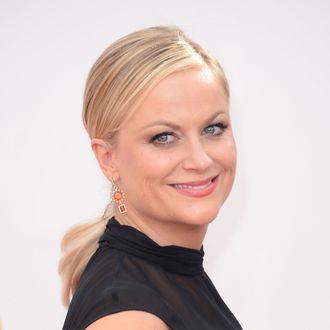 Amy Poehler, rapper.
Photo: Jason Merritt/Getty Images
Amy Poehler is great. This is a fact that we're constantly reminded of when she does basically anything, from talking about her kid's lisp to throwing a charity Emmy losers party with Jon Hamm. "But what about freestyle rapping?" you ask. Amy's great at that also – well, kind of. This week she appeared on the "Comedy Bang! Bang!" podcast and, as she has two other times (1 and 2), engaged in a good old-fashioned rap battle. The topic was butter, which we all know is a classic rap battle topic. Just so you know what you're listening to: First goes host Scott Aukerman, followed by Paul F. Tompkins as Alan Thicke (TV star, TV theme song writer, Robin Thicke's dad), then Amy, then Neil Campbell (head writer for the Comedy Bang! Bang! TV show). Amy goes on at about 4:45. It's all pretty great and pretty terrible.