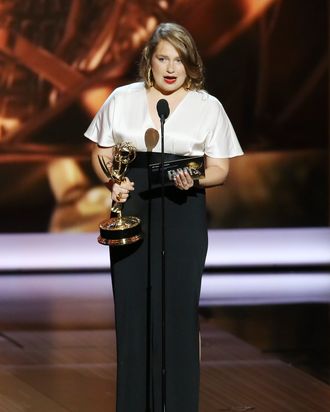 "I gotta go. Bye."
Photo: Michael Tran/2013 Michael Tran
Even though she just won the Emmy, Merritt Wever is already back at work on Nurse Jackie — no time off for this Outstanding Supporting Actress. Although she managed to squeeze in a few after-parties (the Governor's Ball, the HBO gala), Wever was promptly picked up at 5 a.m. the morning after the ceremony to get on a plane to go back to set. Upon her return, she was happy that her cast and crew opted not to make a fuss over her win ("I think they know me well enough that they knew they didn't have to do anything. Sunday night was big enough for me"). But not long enough, given her hit-and-run speech, one of the shortest on record. Vulture caught Wever during her break to find out what was going through her Emmy-addled brain.
Congratulations!
Thank you, thank you. I'm still recovering from Sunday, honestly. I have to say, one of the nicest things, unexpectedly, has been just having so many people that I've worked with or known get in touch with me and say they were happy for me. That's one of the nicest parts of it, just friends you haven't spoken to in like ten or fifteen years, or people you haven't worked with in many years, you know? I hadn't considered that as an aspect [of winning].
Were they already telling you to wrap it up when you got up there? Because they made a comment that they were already running over time, and then you were so quick …
No, I was just really surprised, so I hadn't prepared anything. I was really caught off guard. I think I was overwhelmed and I got a little flooded and then my mind went blank and it seemed like things were quiet for a really long time. So I didn't really have any other choice! That's what it felt like, you know? I … really got away with murder, didn't I?
People are calling it the best speech ever.
Well, that's a lot to live up to! I hope I never have to give another speech again. I kind of feel like I got away with something because nobody gets left out, and nobody gets bored. It's the best of both worlds, actually. I did not do it on purpose, but it worked out well, at least! And I think people would have been happy for any of the women in that category. I think people would have been really happy to see Jane Krakowski win, you know? We had so many people in that category. It was packed with funny ladies. And I couldn't have picked two people that I wanted to get an award from more than Tina Fey and Amy Poehler. I honestly couldn't. That was another best-case scenario. That was cool, seeing the ladies up close. That was really, really cool. [Laughs.]
Did you think afterwards, Oh, I should have said … or I should have thanked … ? Was there anyone you planned to mention?
There are so many people I want to thank, and that might have been why my brain crashed. Edie [Falco] is the first person to come to mind, and probably the strongest. The people who created the show to begin with. I kind of just feel really lucky that I landed on, not just any gig, but a gig this good with people who are this nice and this talented. I hadn't worked in a year when I got this job. Sometimes I wonder what would have become of me if I hadn't gotten this. It's been really, really great, you know? I watch television, I know what the TV landscape looks like, and I know that I don't always see a lot of people like me, so I'm very grateful in many more ways than just one for this job.
When you say "people like me," do you mean body type? Because I think the landscape is changing …
Yeah, in part, sure. And you're right, the landscape's changing, but it ain't changing all that quickly! So I meant that, but also, they were so open and generous, the people who were creating and writing the show. I was really lucky that they were observant and that they liked things that I did that I guess I've continued to enjoy doing. I think they were really smart in what they chose to have Zoey [her character on Nurse Jackie] become and do. I just have a really nice time playing Zoey, so I'm glad that they made her who she was.
I wish I had a Zoey in my own life, just to do all that organizing.
I know! I wish I had a skill like that. Like a life skill you could actually utilize?
You have one! You just won an award for one!
[Laughs.] Okay. All right. Thanks. I'll take it.
And you're actually using that life skill on two shows at once, at least so long as Schmidt is still deciding between Elizabeth and Cece, and seeing both of them.
Ah, Schmidt! Schmidt can keep up the shenanigans for a while. They're good at shenanigans at New Girl. They do them well. They shenanigan well. So he can keep plates spinning for a while, but I'd call that an inevitable fail, even if it's delayed.
What were some of your other highlights of Emmy night?
I was very happy when Bobby Cannavale won, and he seemed shocked as hell. I think that's the nicest way to win. And I didn't get to see it, but I was pretty happy about Tony Hale winning, too. Again, not happy about anybody losing, but I really like Veep and I like all the actors on it. I heard about his bit with Julia Louis-Dreyfus, and it's hard to get away with a bit, especially while accepting an award, so good for them. I'd assume they worked it out in advance, that he didn't just leap up from his chair and join his beloved co-star onstage while she accepted her award, too.
Do you think you guys could work out a bit for Nurse Jackie for next year?
[Laughs.] I would never in a million years be so presumptuous. Not that they were! But I don't think I would ever have the guts to even think about winning again. Of course, that will just get me in trouble if I ever had to make another speech!