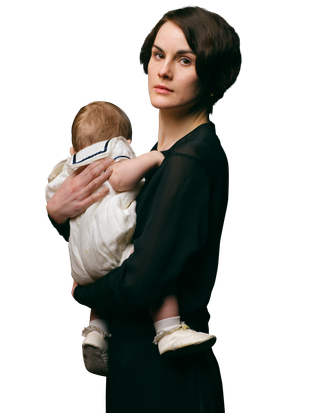 Photo: Nick Briggs/Carnival Film and Television/PBS
First, Matthew's killed in a freak accident (a car crash! In 1920!). Then, a handful of handsome new actors are cast to woo the newly widowed Mary next season. Michelle Dockery understands why this might be upsetting for Downton Abbey fans who'd invested three years in Matthew and Mary's romance. She agrees Dan Stevens's exit was "brutal" — even though all of the actors had apparently been predicting a bloody good-bye — but promises the aftermath of Matthew's death will be worth it. "It just feels like it gets better every year," she says. If it makes you feel better, and despite the arrival of the very dashing Tom Cullen, Dockery swears Mary won't soon replace Matthew. Vulture caught up with the Emmy-nominated actress last month to talk about losing her leading man and pondering her own exit from the show. She also revealed Downton's new heir to be a real crybaby.
So where do we pick up?
It's six months on, which is long enough, but Mary still refuses to wear anything but black. She doesn't really leave the house; she's pretty much in the same place. So it's almost like we pick up where we left off in a way. Mary hasn't moved on.
Did Dan give you any warning he'd be leaving? It obviously affects you.
Yeah, I knew quite early on, before we started series three. Everyone knew when we started series three that he wasn't coming back. We didn't really know where the story line was going, but we were all predicting it would be that finite.
Why?
Because Matthew is the heir, so it was impossible to do anything else, really, other than having him die because he couldn't very well disappear and run off with another woman [laughs]. Also, I think Julian didn't want to make the Christmas special be all about the death of Matthew, which is why I think it happened very, very quickly at the end. Quite shocking.
My abuela watched the episode for the first time the other day and when it got to that part, she began to whisper to herself, "No me digas. No me digas." Then she cursed a lot.
I get it. I was the same about Sex and the City. I was obsessed. I had to watch it when it aired so I could talk about it the next day. Then I would watch it over and over again. I would be devastated by certain story lines, like when Samantha gets cancer, it was the worst thing in the world. "She can't possibly die! She can't!" So, I get the reaction. I've been the same about other shows. 
Did you try to talk him out of leaving? 
The thing is, we all had that choice, and any one of us could have left. There was a point where I thought, Yeah, I'm done after three, because that's what I was expecting to happen: I would do three series and that would be it. And then of course the success of the show was huge and I had my doubts. I discovered there isn't any rush. I wasn't ready to finish whereas Dan was very ready to leave. But Dan has done some great work in the space of time since he's left. He's already got three films he's doing, so for him it was the right decision.
It just feels like the show gets better every year, though. I mean, we'll see. If more people start leaving, that's when it can't go on. Like if Maggie Smith decided not to do any more, I think that really is the end. One of the great things about the show is the ensemble: It's as much about Edith and Mary as it is about Daisy and Ivy. So if more people start dropping off. I just don't think it will work. 
You and Dan both filmed movies with Liam Neeson. Did you swap stories?
I actually haven't seen him since he's worked with Liam, but I'm going out to New York soon, so I'm looking forward to seeing him and chatting about it. Liam's that badass Bond-type character mixed with vulnerability. And the voice. You know. It's that accent. He was great fun.
Who do you play in Non-Stop?
I play a flight attendant who knows Liam's character, Bill. He is a recovering alcoholic and she's seen him in a state on certain flights, so she kind of becomes his ally throughout the story after he discovers there's a threat onboard. It was such a change for me going from corsets to being thrown around a plane in turbulence. I loved that. Julianne Moore is also in it and she really enjoys Downton, so that was really nice. I'd come in and give her tidbits, here and there.
Mary's going to have new suitors this year. Do you think viewers are going to be ready for that?
Yeah, it was a given. It's the nature of a woman of her particular class at the time. Mary needs to tie the knot again with someone soonish because of the responsibility that she has, so she needs the right person to replace Matthew. That's not going to be easy. She's not going to settle anytime soon. I think for the audience that's important because they invested so much in that romance between Matthew and Mary. It would be wrong for her to have wedding bells ringing by episode three. This series for Mary is very much about recovery, it's about starting again, building up her strength again. You'll see, she just doesn't want to go on anymore. 
But she's got her baby, George. How have the baby actors been? 
It's tricky, because you can only use them for a certain time. We've got twins. When they're below a certain age, you've got to swap them out. When one starts crying, you're like, "Next!" It's sort of a happy coincidence, really, that their parent in the show is an aristocrat. Mary wouldn't really have spent that much time with the baby [laughs]. There's a nanny. Mary's not the most maternal of the women in the show. That's another big adjustment.