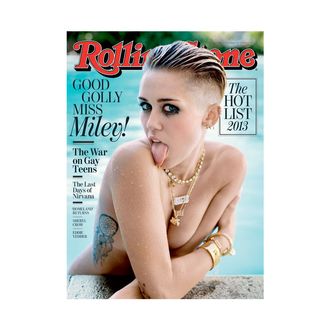 Photo: Theo Wenner/Courtesy of Rolling Stones
Miley Cyrus is on the cover of the new issue of Rolling Stone, and in the accompanying profile, she does what Miley does: gets a tattoo, parties with her friends, talks about Breaking Bad ("I could literally cook meth because of that show"), and gets texts from Lil Kim and Pharell. She takes the reporter sky-diving. She also says that Kanye was a major source of support both before and after her controversial VMAs performance.
Miley admits that before the telecast, she was feeling a little nervous. But then she got a visit in her dressing room that made her feel better. Kanye West had seen her rehearsals and wanted to talk to her before she went onstage. "He came in and goes, 'There are not a lot of artists I believe in more than you right now,'" she recalls. "The whole room went quiet. I was like, 'Yo – can you say that again?!'" She laughs. "I just kept repeating that over and over in my mind, and it made me not nervous."

After the show, Miley and Kanye met up at a Manhattan recording studio to work on a remix for his song "Black Skinhead." The next day he sent a text: "He said, 'I still can't quit thinking about your performance,'" Miley says. She also happened to mention that a pair of fur Céline slippers she'd bought were falling apart, and Kanye bought her five more pairs. "Kanye is the shit," she says. "I kind of have a good relationship with him now. It's good to have someone you can call and be like, 'Yo, do you think I should wear this?' 'Do you think I should go in the studio with this guy?' 'Do you think this is cool?' That's what homies are supposed to do."
Fair enough. That is what homies are supposed to do.