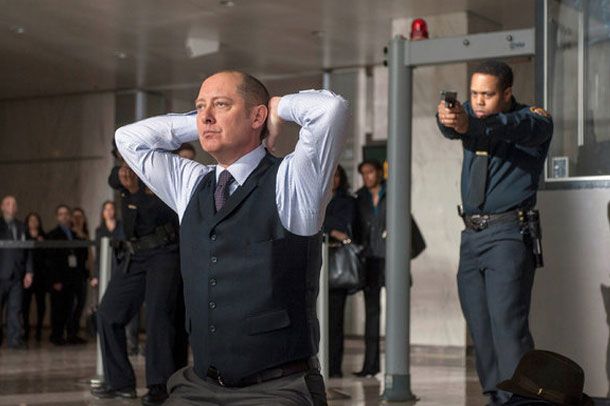 When Raymond "Red" Reddington tells newbie agent Elizabeth "Liz" Keen, "I'm gonna make you famous, Lizzie," she has no idea what she's getting into. NBC's hotly anticipated new show The Blacklist, premiered last night at 10 p.m. Starring James Spader as Red, a.k.a. "the Concierge of Crime," the season debuts with this ex-agent-gone-bad inexplicably turning himself in to the Feds and suggesting he's ready to start sharing his classified black book of global criminals—if they're willing to play by his rules. Rule number one? He's only willing to speak with newbie agent Elizabeth "Liz" Keen, played by Megan Boone.
Red tells Liz, she's going to need to learn to think like a criminal and "see the bigger picture." Her first task is catching an elusive terrorist, Ranko Zamani, who was long presumed dead. Without revealing why he's suddenly sharing his contacts list of crooked politicians, violent mobsters, spies, and terrorists, Red becomes a sphinx-like informant, blurring the lines between black hats and white hats. With its shaded plot and unexpected twists and turns, The Blacklist is firmly in the gray zone of justice.
Stay up to date on The Blacklist on Facebook, follow on Twitter, and visit nbc.com/the-blacklist/.