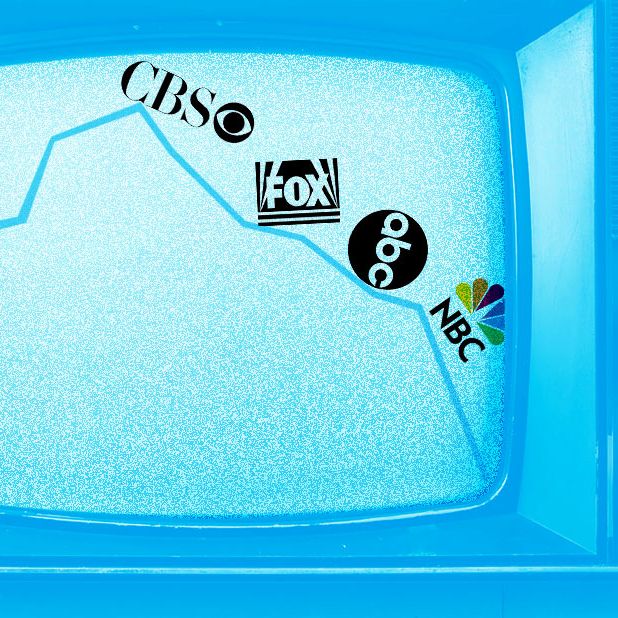 The beginning of the broadcast networks' fall season used to be a time of hope and cockiness. They spent millions on new shows, and more millions to market them, then inundated viewers with 60-plus hours of new episodes all in the space of a few weeks. Back before DVRs, cable hits, and the Internet, that was a great, profitable approach. Now, with year after year of declining ratings, this tradition can seem like suicide. The annual ritual kicks off again tonight with the debut of Fox's Sleepy Hollow, and after a disastrous 2012–13 season that saw some networks lose as much as a quarter of their audience in just one year, broadcasters are nervously girding themselves for the worst-case scenario. "It's gonna be ugly," worries one network executive with decades of knowledge. Actually, it already is: NBC's multi-night "event" Million Second Quiz and the third season premiere of Fox's The X Factor, despite the benefit of heavy marketing and debuts outside of the premiere week crush, both posted numbers far lower than industry insiders expected. "When I saw the numbers for The X Factor, I got a little scared," another broadcaster admits. This angst may be more than the usual preseason jitters: It's hard to look at the ratings declines of recent years and not wonder whether the network TV model that worked so well for a half-century is quickly dying, if not already expired. NBC chief Robert Greenblatt recently joked that in the ratings game, "Flat is the new up." But, to borrow the title of one of the Peacock's failed shows from last season, what if down is the new normal?
The case for pessimism about premiere week isn't grounded in any specific critique about the quality of this year's new crop of shows, though it doesn't help that the nearly 40 new shows about to debut are generally being greeted by critics with a collective "meh." (USA Today's Robert Bianco, bemoaning the lack of any new "must-see" broadcast series, prefaced his list of the season's best shows by warning viewers they "might have to settle for falling in like.") But what's driving this fall's Big Worry isn't about quality, it's the growing realization that the on-demand viewing mentality that has defined millennial viewing for years now is quickly spreading to older viewers. "People now watch what they want, when they want," one network long-timer concedes. "It's no longer a question of what viewers watch, but when or how. Do I want to watch three episodes in a row? Do I want to watch a Tuesday show on Friday?" Another source agrees: "You can no longer program a show that's somebody's second choice for what to watch."
In other words, there's a rapidly shrinking pool of viewers who will simply lean back in their recliners and settle for whatever the broadcast networks are serving up in prime time. So come premiere week, it's getting harder and harder to convince viewers to immediately sample the networks' shiny fall models. Last year, just three first-year shows managed to debut at or above a 3.0 rating among adults under 50 — half as many as during premiere week 2011, and down from eight as recently as 2009. "My hope is that everyone does okay, but my fear is that we won't," one of our stressed-out suits says. "I'm sure there will be some glimmers of hope on everyone's schedule. But I think there will also be some 'Holy shit, I didn't think that could premiere so low.'"
Not everyone in TV land is walking around with furrowed brows or knotted stomachs. (Botox and juice cleanses help with that.) "I'm actually slightly optimistic," one veteran suit tells Vulture. There are a lot more well-known stars coming to TV this fall (Michael J. Fox, Robin Williams, James Spader) than last year, along with more family comedies (historically more likely to break out early), an intriguing spinoff of an existing hit (Once Upon a Time in Wonderland), and one very big presold concept (Agents of S.H.I.E.L.D.). Whether viewers ultimately fall in love with these newbies is obviously unknown, but history suggests viewers may at least show up to check out the premieres. What's more, there are plenty of returning shows that ended with buzzy cliff-hangers, like Scandal, New Girl, and The Good Wife. However, this exec's sunny demeanor is relative: He thinks the Big Four may look a little better this fall because last fall was such a disaster. "The good thing about a bad year is that you get the benefit of comparisons to the year before," he explains. Of course, The X Factor had a pretty underwhelming premiere last year, only to come back even lower last week.
Broadcasters are also going all-out to manage expectations for premiere week ratings. Earlier this month, in an almost unprecedented level of cooperation, the Big Four invited a number of journalists to group meetings where reps from various networks talked about the increasingly incomplete nature of overnight Nielsen numbers. Because of the combination of high-capacity DVRs and the growing acceptance of cable video on demand, "We won't know if a show is a hit until several weeks," Fox chief operating officer Joe Earley told reporters, per an account of the meeting in the Los Angeles Times. Fox is now sending reporters estimates of how many viewers a show is likely to add once DVR data gets factored in a few weeks after an episode airs. The insiders we spoke to last week also insisted networks will be very cautious in how they react to seemingly low overnight ratings. The popular game of observers handicapping which show will get the ax first may take longer to be decided. One exec predicted that, barring a complete rejection of a show, we may not see any new shows canceled for at least a month. "It takes a lot these days to call something a total failure," the source says.
Networks aren't ready to toss out their seasonal approach yet; rather, they've been experimenting with financial approaches that aren't as dependent on ratings. "It used to be this sort of straight line, where X ratings meant X [profit]," one source says. "But it's so much more complicated now. All of these new economics are starting to come into play." There are early streaming rights deals with Netflix and Amazon that help pay for series like Under the Dome, and preselling of international rights. And as CBS's recent smackdown of Time Warner Cable demonstrated, networks are intent on squeezing out as much subscription revenue as possible from companies that distribute their content. These new models have some execs arguing that TV shows now need to be judged like movies — not just on their box office, but their overall profitability. Just as a microbudget art-house feature that pulls in $25 million in ticket sales can be a far bigger moneymaker than a studio tentpole that pulls in just under $100 million (ahem, The Lone Ranger), these days it's possible for some TV shows to be bigger successes than their ratings suggest. "Every show is its own business now," avers one exec.
But is all this spin? Yes, to a point. When networks tout the improved DVR numbers, keep in mind that advertisers still don't pay for most DVR viewings, so it's mostly academic. And while NBC might be able to financially justify the tiny ratings of a show such as Hannibal by citing its relatively small price tag (it's an international co-production, so networks around the world share the cost), low same-day ratings weaken a network's ability to launch new shows (fewer people see the on-air promos) and can be hellish for local affiliates who depend on 10 p.m. network shows to funnel viewers to their local newscasts. But as sexy (and old) as stories predicting the end of network TV as we know it are (I've written a few!), there is still a giant difference between the old model radically transforming itself and the networks themselves going belly-up. Broadcasters are a shadow of their former selves, but they still cast a larger shadow than all the other forms of TV. As one of our suits told us, "When you look at all the premieres during premiere week, except for maybe ten shows on cable, everything on the networks will still be bigger than what's on cable." For now, at least.