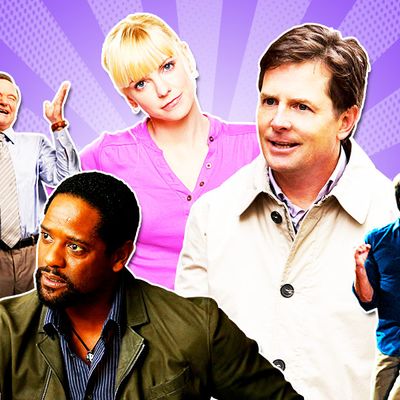 It's fall TV, the most glorious — and overwhelming — time of the year. The networks shower viewers with new shows, and it's hard to tell them apart; before actually seeing them, they all just seem like one big indistinguishable mass of TV about cops and filthy-talking parents and returning stars. You can fuzzily and indistinguishably recall seeing the titles all summer in posters and TV ads, but if someone specifically asks, "Are you gonna watch The Millers," who can remember whether that's the one with Jeff Garlin, Robin Williams, or Anna Farris? (It's none of the above!) To that end, we've put together a helpful guide to help you remember which show is which, based on the fuzzy details you remember from the barrage of run-up marketing.
If you're thinking, I know there are a bunch of spinoffs, but which shows are being spun off again? 

The Vampire Diaries: The new show is the CW's The Originals (Tuesdays at 8 p.m., starting October 3), set in New Orleans. It's a lot like TVD, so if you like the original, you'll probably enjoy the ironically titled Originals.
Once Upon a Time has cloned itself into ABC's Once Upon a Time in Wonderland (Thursdays at 8 p.m., starting October 10). It's only sort of about the Alice from Wonderland — like the original OUaT, there are tons of other fairy-tale characters jammed in there.
The Avengers has begat Marvel's Agents of S.H.I.E.L.D. on ABC (Tuesdays at 8 p.m., starting September 24), which resurrects Agent Coulson from the movie. He assembles a team of elite crime-fighters, like one does.
I feel like I've seen a lot of middle-aged and older famous stars waved in my face, right? Which ones?

Michael J Fox is in The Michael J. Fox Show, which is easiest to remember. He plays a news anchor who retired when he was diagnosed with Parkinsons but, with the support of his wife and kids, decides to go back to work. Breaking Bad's Betsy Brandt plays his wife. (NBC, Thursdays at 9:30 p.m., starting September 26)
Robin Williams is in The Crazy Ones, a half-hour dramedy from David E. Kelley. Williams plays the eccentric (of course) head of an ad agency that he runs with his daughter, played by Sarah Michelle Gellar. It's a lot of Robin Williams being Robin Williams, but it also has Mad Men's James Wolk, so that balances the energy. (CBS, Thursdays at 9 p.m., starting September 26)
Sean Hayes is in Sean Saves the World, a multicamera sitcom where Hayes plays a dad whose teenage daughter moves in to live with him full-time. So many high jinks! (NBC, Thursdays at 9 p.m., starting October 3)
James Spader realized through The Office that sitcoms aren't his thing, so now he's in the FBI thriller The Blacklist; you've seen the posters of him in a trenchcoat and fedora, handcuffed. That's because he's a brilliant, very Spader-y globally wanted criminal who turns himself in — on the condition that he gets to work with a newbie FBI agent to take down the other crime lords on his "blacklist." (NBC, Mondays at 10 p.m., starting September 23)
Blair Underwood is in a reboot of the classic cop show Ironside, playing the titular wheelchair-using detective. (NBC, Wednesdays at 10 p.m., starting October 2)
James Caan is a boozy, sports-crazed dad who ends up coaching his grandson's lousy Little League team when his single-mom daughter (Maggie Lawson) comes home to live with him, in the single-camera comedy Back in the Game. (ABC, Wednesdays at 8 p.m., starting September 25)
There are quirky families, right? How do I tell them apart?

You know the one with the pregnant teen? That's Welcome to the Family. Mike O'Malley and Mary McCormick play the parents of a ditzy white girl who announces she's been knocked up after her high-school graduation; Justina Machado and Ricardo Chavira play the parents of her boyfriend, a studious Latino boy. The kids are in love; the dads don't get along; the moms demonstrate patience. (NBC, Thursdays at 8:30 p.m., starting October 3)
There's the one set in the eighties. That's The Goldbergs, starring Wendi McLendon-Covey and Jeff Garlin, who you've seen on posters in matching, loud Cosby sweaters. It's told mostly from the perspective of 11-year-old Adam, who films his family's antics on his VHS camcorder. The show is based on creator Adam F. Goldberg's real life, which he really did film all the time. (ABC, Tuesdays at 9 p.m., starting September 24)
I noticed there are a bunch of ensembles that are pretty overwhelming, because everyone looks familiar from different past shows.

Let's break this down by the faces you've seen coming at you. First: Tony Shalhoub, Kal Penn, and Jerry O'Connell. That's We Are Men, a single-camera comedy about recently divorced men who all live in the same apartment complex. One is lovelorn; one is playing the field like crazy; they all support one another in their own weird ways. (CBS, Mondays at 8:30 p.m., starting September 30)
Anna Farris, Allison Janney, Nate Corddry, French Stewart, and Matt Jones. That's Mom, a half-hour sitcom with Farris as a newly sober single mom who finds herself back in touch with her own also-now-sober, still-pretty-crazy mom (Janney). It has that Chuck Lorre signature set-'em-up, knock-'em-down joke writing. But there's a dark streak here, too, that's more reminiscent of Grace Under Fire than Two and a Half Men. Lots of sitcoms are about dumb problems – how will these two crazy kids ever get along? But Mom is unabashedly about grown-up problems. (CBS, Mondays at 9 p.m., starting September 23)
Will Arnett, Beau Bridges, Margo Martindale, and J.B. Smoove. That's The Millers. Arnett plays a recently divorced dude whose oppressive parents (Bridges and Martindale) descend upon him, bringing with them their own warped dynamic. (CBS, Thursdays at 8:30 p.m., starting October 3)
Malin Akerman, Bradley Whitford, Marcia Gay Harden, Michaela Watkins, and Natalie Morales. That's Trophy Wife. Akerman plays Whitford's third wife and sudden stepmom to his three children — think Modern Family, with only one narrator. (ABC, Tuesdays at 9:30 p.m., starting September 24)
Karl Urban, Lili Taylor, Minka Kelly, Michael Ealy, and Michael Irby. That's Almost Human. It's a futuristic cop show from J.J. Abrams's production company: In the future, cops are partnered with robots! But one cop (Urban) gets partnered with a discontinued robot (Ealy), who has learned to love. (Fox, Mondays at 8 p.m., starting November 4)
Toni Collete, Dylan McDermott, and Tate Donovan. That's Hostages. Collette plays a surgeon preparing to operate on the president when — dun dun DUN — a team of assailants, led by Dylan McDermott, invade her home and say they'll kill her husband (Donovan) and kids unless she kills the president while he's on the operating table. (CBS, Mondays at 10 p.m., starting September 23)
A lot of these seem like they're trying to channel some HBO shows.

Does the trailer remind you of the many flashbacks on True Blood? That's Dracula, with Jonathan Rhys Meyers as the legendary vampire. Dracula is set in the 1890s, which means it has corsets and vampires. (NBC, Fridays at 10 p.m., starting October 25)
If it makes you think of Game of Thrones, it's Reign, the CW's stab at historical fiction. It's like Gossip Girl, except Serena is actually Mary Queen of Scots, but it's like GoT in that there's a ton of sex, a rigid monarchy, a lot of vengeance afoot, and the score includes a lot of pensive cello riffs. (The CW, Thursdays at 9 p.m., starting October 17)
Does it give off a Girls vibe? That's Super Fun Night, a single-camera comedy from Rebel Wilson. It's not that much like Girls, really, but it is about female friendship and humiliation. (ABC, Wednesdays at 9:30 p.m., starting October 2)
A couple of these shows feel really familiar, like they're left over from 2006 or 2007.

There's a serious post-Lost identity to Lucky 7, about a group of people who win the lottery. They're connected by this lottery thing, but they also are different and have different lives and goals! It's very much in the vein of The Nine or The Class, both of which debuted in 2006. (ABC, Tuesdays at 10 p.m., starting September 24)
But if there's a sort of sexy-fiasco energy, something more reminiscent of rich-people-behaving-badly soaps Dirty Sexy Money and Big Shots, that's Betrayal. (ABC, Sundays at 10 p.m., starting September 29)