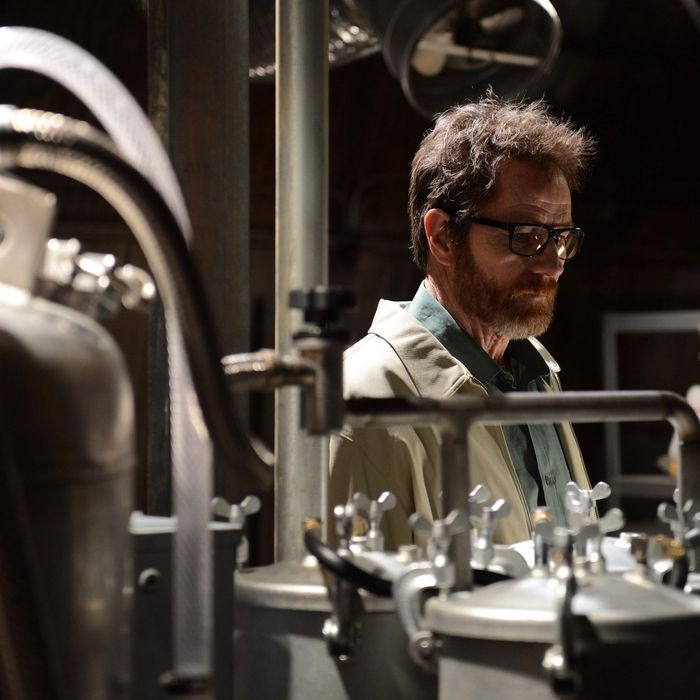 Walter White (Bryan Cranston) - Breaking Bad _ Season 5, Episode 16 - Photo Credit: Ursula Coyote/AMC
Photo: Ursula Coyote/AMC
(Spoiler Alert, etc.) Last night's Breaking Bad ended with Walt lying on the lab floor, dead, with Badfinger's "Baby Blue" playing. The song felt like a wildly appropriate closer for a crime epic centered around blue meth, what with the opening lyric "Guess I got what I deserved" and the refrain "the special love I have for you, my Baby Blue." It seems like an obvious choice, but there were countless other obvious "blue" options (Except for Eiffel 65's "Blue," which should never be an option): As Joni Mitchell sings, "Blue songs are like tattoos." Here are fourteen other "Blue" songs that could have perfectly capped the entirety of Breaking Bad, give or take an episode.
1. "Mr. Blue Sky" by Electric Light Orchestra
"Mister Blue Sky please tell us why
You had to hide away for so long"
Mister Blue Sky is Walter. And he shouldn't have hid in New Hampshire for so long, because his family needed closure and Jesse was trapped as a meth-making slave.
2. "My My, Hey Hey (Out of the Blue)" by Neil Young
"And once you're gone,
you can never come back
When you're out of the blue
and into the black."
The show's over. Walt is out of the meth game (a.k.a. "the blue") and into the death game (a.k.a. "the black").
"It's better to burn out
than it is to rust
The king is gone
but he's not forgotten."
Walt could've lived out a life of nebbishness, but he decided to become a drug "king." And then he was a national story and everyone will remember him. (Side note: Neil Young played with Crazy Horse, and people get crazy when they're on "horse," slang for heroin. Which isn't meth, but a band called "Crazy Meth" would be too on the nose.)
3. "Daydream in Blue" by I Monster
"Daydream
I fell asleep amid the flowers
For a couple of hours, on a beautiful day"
Walt's dead.
4. "Tangled Up in Blue" by Bob Dylan
"Lord knows I've paid some dues getting through
Tangled up in blue."
Getting kicked out of the house by Skyler, many threats by Gus, getting Hank killed: nothing but dues-paying thanks to the tangly blue meth.
"Said to me 'Don't I know your name?'
I muttered something underneath my breath
She studied the lines on my face"
Remember the "What's my name?" scene? Also, to play Walter, Bryan Cranston had to study a lot of "lines" and delivered them to Anna Gunn's "face." It's as if Dylan were in the Breaking Bad writers' room.
"Then he started into dealing with slaves
And something inside of him died"
Todd.
5. "Blue Light" by Bloc Party
"You'll find it hiding in shadows
You'll find it hiding in cupboards" 
Walt did so much hiding in the finale.
"You are the bluest light"
His meth is the purest.
6. "Off We Go Into the Wild Blue Yonder (the U.S. Air Force Song)"
"If you'd live to be a grey-haired wonder, 
Keep your nose out of the blue!" 
Old people shouldn't do meth, and if they do, they definitely shouldn't snort it.
"Souls of men dreaming of skies to conquer 
Gave us wings ever to soar, 
With scouts before and bombers galore, Hey!
Nothing'll stop the US Air Force!"  
Heisenberg is the U.S. Air Force in this example and no one could stop him. Not even scouts and bombers galore, by which we mean Nazis.
7. "Blue Monday" by New Order
"Those who came before me
Lived through their vocations
From the past until completion"
Walt was all about his vocation, stroking his precious cook tank right up until his last breath.
8. "Blue Orchid" by the White Stripes
"You got a reaction
You got a reaction, didn't you?
You took a white orchid
You took a white orchid turned it blue"
Chemistry, bitch!

"How old are you now, anyway?"
9. "Blue Tulip" by Okkervil River
"They're waiting to hate you
So give them an excuse
They say that it changed you
I know that can't be true"
Heisenberg was in him all the time.
"Good-bye"
Good-bye.
10. "Blue Mind" by Alexi Murdoch
"Got no time
Got no mind
For the line
In this life
No time to think
Time for sleep now
Time to sink way into the blue, dear"
Walt's dead.
11. "Blue" by Joni Mitchell
"Acid, booze, and ass
Needles, guns, and grass
Lots of laughs lots of laughs"
We sure had a lot of fun with all of this kingpin stuff!
"Blue here is a shell for you
Inside you'll hear a sigh
A foggy lullaby"
Umm … Walt's dead?
12. "The Blue Route" by the Walkmen
"You keep replaying through the days
That have brought you to this place
You wandered down an open road and you kept going

What happened to you?
What happened to you?
What happened to you?"
About to die, Walt sees his reflection in the meth tank and asks, "What happened to you, Walt?" "I became super great at cooking meth," he replies. "Cool! Mission accomplished!"

13. "Go Big Blue (the New York Giants Song)"
"From the Meadowlands,
All across the land,
You can hear em chant:
'Go Big Blue! Go Big Blue!'" 
People loved Walt's blue meth "all across the land" while Hank kept trying and failing to tackle Heisenberg.
14. "Rhapsody in Blue" by George Gershwin
There are no lyrics, but the high-pitched clarinet intro would represent the cries of all the fans that the show is over. And all the bouncy piano stuff would represent recappers pounding on their keyboards.
Or maybe throw out all the blue nonsense and go with this: