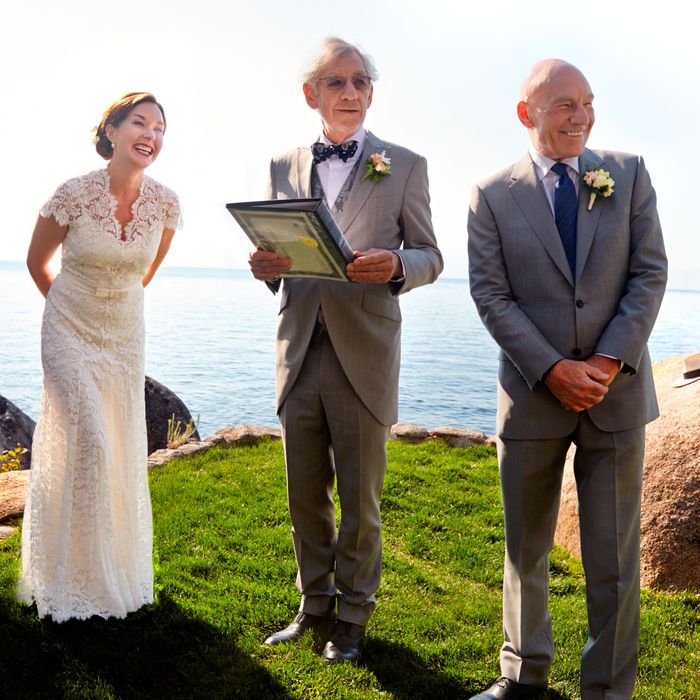 Sunny Ozell and Patrick Stewart getting married by Ian McKellen on September 7, 2013
Yesterday Patrick Stewart — thespian, Knight Bachelor, recent Brooklynite, and pizza-slice neophyte — released the above photo of his recent nuptials with longtime girlfriend Sunny Ozell. I was talking with Stewart and Ozell Sunday for a forthcoming profile of the actor in New York Magazine and pried loose some details about the intimate Lake Tahoe ceremony, held September 7 and officiated by X-Men compatriot Ian McKellen.
The ceremony was held on the banks of Lake Tahoe in Nevada, near where Ozell grew up. "The water was lapping almost against our feet," said Stewart. "Our photographer took a tumble, and literally if he'd been standing on the other side of us, he would have ended up in the lake." The location happily remained a well-kept, paparazzi-free secret, even if the ceremony itself was not. "We have Ian to thank for letting the cat out of the bag in the first place," said Stewart, referring to a TV interview in which McKellen said he would be "marrying Patrick." "But he also put down the wrong scent." In the interview, McKellen alluded to doing so "in Massachusetts, or in the middle of America somewhere." "I like to imagine hordes of paparazzi scouring Massachusetts and having a really miserable afternoon looking for signs of a wedding," said Stewart, letting out a roar of laughter and glancing sweetly over his shoulder toward his new wife.
As seen in the photograph, Ozell, a singer, wore an elegant white lace gown, while Stewart wore a gray suit, custom made just for the ceremony. But both Stewart and Ozell agreed that the best outfit might have belonged to the always dapper McKellen, who wore a gray three-piece suit. ("Were our grays too similar?" asked Stewart after the fact.) McKellen also initially sported a straw Panama hat, which he playfully tossed off at the beginning of the ceremony. McKellen, said Stewart, created a tone of "relaxed, spontaneous informality."
"His remarks were not only full of wisdom and humor and poetry but knowledge of the two of us," Stewart said.
"He got a little choked up at one point," added Ozell.
"There wasn't a person there who didn't," said Stewart. "I certainly did."
One of Stewart and Ozell's favorite moments was when Ozell's maid of honor, Jillian LaVinka (with whom Ozell waitressed at Brooklyn's artisanal pizza staple, Franny's), got up to do a reading. She had a large Bible in her hand, and the secular-leaning audience let out a heavy sigh. But in the middle of the Bible's pages, LaVinka had pasted a sheet of selected lyrics from classic rock songs that she proceeded to read, including a bit from Sting's "Englishman in New York."
After the ceremony, the 100 or so guests — including the entire cast of Star Trek: The Next Generation, which should make Trekkies feel like everything is right in the world  — enjoyed a raucous reception. There was food, liquor, and all the usual wedding trappings, but Stewart and Ozell really reveled in the dancing. "It was wild," said Stewart. The band, led by Erik Deutsch, played mostly soul covers, while the group Harper Blynn played a short set in the middle. (All the musicians are close friends of Ozell.) How late did the party go?  "Not that late," said Stewart, "We were thrown out." Said Ozell, "And that's a good thing, because everyone was really, properly drunk."
Read more about Patrick Stewart in the upcoming issue of New York Magazine, on stands Monday, and here on Vulture.