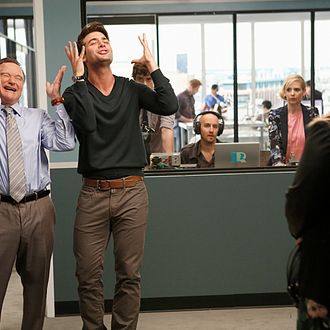 Photo: Cliff Lipson/?'?? 2013 CBS Broadcasting, Inc. All Rights Reserved.
What Clicked on Thursday
CBS's attempt to expand to a two-hour comedy block is off to a good start, thanks to the power of The Big Bang Theory. The Chuck Lorre sitcom had its best season premiere ever with 18.3 million viewers and a 5.3 rating among viewers under 50 at 8 p.m.; a second episode at 8:30 p.m. was even bigger (19.5 million, 5.8 rating). This ensured lots of folks were under the CBS tent at 9:01 p.m. for the first episode of Robin Williams's The Crazy Ones, which drew a preliminary 15.6 million viewers and 4.0 demo rating. For now, it's the most watched new series of the young season and the second biggest debut among viewers under 50 (behind Agents of S.H.I.E.L.D.). What's more, The Crazy Ones also doubled the audience of NBC's The Michael J. Fox Show, which aired back-to-back episodes at 9 and 9:30 p.m., averaging 7.3 million viewers and a 2.1 demo rating.
It'd be easy to dismiss Fox as a loser, given how poorly the show did relative to The Crazy Ones and preseason expectations that viewers would flock to see the return of a TV legend. But I'm actually going to argue that Fox did reasonably well last night considering the fact that NBC's Thursday lineup has become a critically praised ghost town in recent years. Fox actually more than doubled the tiny audience that watched the one-hour premiere of Parks and Recreation (more on that later), while also finishing 75 percent ahead of Parks in the demo. It also was NBC's No. 1 show for the night, added a few viewers for its 9:30 p.m. episode, and matched the demo numbers The Office drew last September with its final season premiere. The Michael J. Fox Show is not the out-of-the-box hit NBC wanted, but neither is it an instant failure. Elsewhere on the night, Grey's Anatomy was down 25 percent from its season premiere last year, but it's still one of TV's bigger dramas. Parenthood (5.2 million, 1.6 demo) didn't soar on its new night, but it didn't sink (and it nearly doubled what Hannibal did in the same slot last spring). And in a good sign for its future, a repeat of the pilot of ABC's Agents of S.H.I.E.L.D. drew another 5.2 million viewers and notched a 1.4 demo rating.
What Didn't
Leslie Knope last night launched a rant against the "pee-pee heads" of Pawnee, but she might as well have been talking about the rest of America. Just 3.3 million viewers bothered to watched the show's one-hour jaunt to London last night; even in the demos, the show tanked, scoring its lowest-rated premiere ever. It even finished below what 30 Rock did in the same slot last fall. CBS also has to be bummed that sophomore drama Elementary didn't benefit at all from CBS's comedy momentum. In fact, dear Watson, it was down 32 percent from its 2012 debut and had virtually the same demo rating as its season one finale. It's not that Elementary is some sort of Nielsen disaster for CBS — hardly — but the Eye really wanted the show to grow between its first and second seasons, and the evidence so far suggests it didn't. Over at Fox, Glee returned with 5.2 million viewers and a 2.0 in the demo. That's down 35 percent from last fall, and a bit of a surprise given this was the show's first new episode since the passing of series star Cory Montieth (though the Glee tribute to him won't come until next month). Glee has already been renewed for next season, however, and the show does very well in delayed viewing.
Instant Analysis
Thursday was a good night for CBS and a not-very-good night for NBC. The Eye needed to get people to sample The Crazy Ones, and thanks to that huge lead-in from Big Bang, they did. (Whether viewers liked what they saw, however, is unknown.) It hoped that Big Bang would still be big, when so much on network TV is in decline, and it was. And while Two and a Half Men has virtually zero buzz these days, the series still draws over 10 million viewers and drew three times the demo audience as NBC's beloved Parks and Rec. CBS won't debut new comedy The Millers until next week, and it's very possible The Crazy Ones will go way down in the coming weeks. But for this week, at least, the Eye can be happy it got people to wander over to its remodeled Thursday.
As for the Peacock, any hopes of a quick return to Must-See glory evaporated the moment execs saw the numbers for Fox. Once again: The show is hardly a disaster, at least for now. It did well relative to what surrounds it. But when NBC agreed back in 2011 to buy 22 episodes of the show before a single frame of film had been shot, it no doubt anticipated that Fox's Return to Television would be a major event. It wasn't. What NBC can take comfort in is that Fox didn't crater and that viewers who came to the 9 p.m. episode stay tuned at 9:30. What's more, the show shifts to 9:30 p.m. next week, where it won't be facing Robin Williams. NBC's Sean Saves the World, debuting next week, is unlikely to be a better lead-in than Parks, but it probably (probably!) won't be worse. If Fox can keep pulling around a 2 demo rating, NBC should be happy. If it drifts down back toward Parks territory, then comedy may disappear from NBC's Thursday lineup next fall. And speaking of Parks: It's true that the show will go way up once DVR data is factored in. Still, it's depressing that far more people chose to watch a rerun of S.H.I.E.L.D. than an all-new Parks. The odds are that this will be the final season of Parks (at least on NBC).