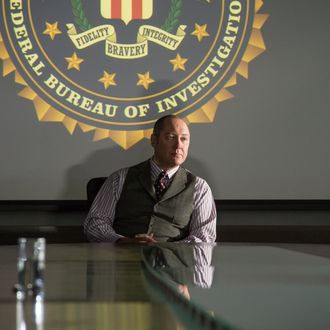 NUP_155716_5548.JPG
Photo: NBC/2013 NBCUniversal Media, LLC.
And they're off! The new TV season officially kicked off last night, and all this week, Vulture will be crunching the numbers and breaking down how all the new and returning broadcast shows have done in their debuts. First up: Monday.
What Clicked
Two of the new season's biggest dramas — The Blacklist and Hostages — went head-to-head with their debuts last night, and only one made it out alive. With a big boost from The Voice, NBC's Blacklist dominated the 10 p.m. hour Monday, drawing 12.6 million viewers and a 3.8 rating among viewers under 50. That's a very good number, though not particularly surprising: Blacklist's lead-in was The Voice, which did a 4.9 among those under 50, up 17 percent from last fall. What's more, Revolution actually had a bigger debut last fall in the same time slot, even though The Voice wasn't as strong. Still, Blacklist faced much stiffer competition in its debut, and the fact is, it doubled the demo numbers of Hostages (more on that later). For a change, the Peacock has to be feeling plucky this morning, rather than plucked.
The folks at Fox also have to be psyched at how well Sleepy Hollow held up in its first big test opposite serious competition. After an eye-popping premiere last week, the spooky-crazy drama (8.6 million, 3.1 demo) lost just 11 percent of its same-day under-50 audience last night, and easily beat CBS's comedies and ABC's Dancing with the Stars. Meanwhile, CBS's How I Met Your Mother continues to thrive as it begins its final season: 9.2 million watched the one-hour opener, which did a 3.6 demo rating (exactly the same as last year).
What Didn't
CBS had set modest expectations for Hostages, saying only that it wanted the show to improve upon the meh numbers posted by Hawaii Five-0. Welp: Hostages debuted to 7.5 million viewers, down a bit more than 5 percent from the 8 million who checked out last fall's Five-0 premiere. Among viewers under 50, Hostages only managed a 1.8 rating, exactly the same number Five-0 did last year, and, of most concern, less than half the number of Blacklist (and behind ABC's Castle, too). It didn't help that CBS's 9 to 10 p.m. comedy block was relatively weak last night. 2 Broke Girls (8.8 million, 2.8 demo) had its lowest season premiere ratings in its three-year history, down 25 percent in the demo. As a result, Chuck Lorre's latest, Mom, settled for a so-so debut (7.9 million, 2.5 demo). While it held on to most of its lead-in, Mom came in nearly 20 percent below what Mike & Molly did in the slot last fall, and it ranked fourth at 9:30 p.m. in total viewers.
Instant Analysis
NBC had a great Monday, but the biggest winner Monday night was Fox. Sleepy Hollow seems to have clicked with a core audience, and while it's always possible viewers will grow wary of the show's over-the-top craziness, it's just as possible that viewers are actually digging the insanity of it all. Fox may wait a beat to announce it, but the odds are good that there will be more Sleepy beyond the thirteen episodes already ordered. This is big for Fox: The network had been struggling on Mondays ever since 24 began its decline a few years back, but with The Following clicking last winter, Fox now looks to have launched two consecutive hits on the night.
Fox's success on Monday takes nothing away from NBC, which literally won the night in viewers and the key demos. The Voice shows no sign of tapering off as it pushes further ahead of American Idol in terms of ratings and buzz. And Blacklist got off to a very promising start, dispatching its chief rival in one night and potentially giving NBC a huge new hit. The key word, however, is potentially: A year ago, NBC execs were confident they'd reversed momentum with Revolution, which had an even bigger debut. And then viewers got tired of the show, and other big problems emerged on the NBC lineup. Working in Blacklist's favor is the fact that it's not nearly as serialized as Revolution, nor is it stuck in a sci-fi niche; also, James Spader is awesome. NBC needed a big open for Blacklist, and it got it. Now let's wait a month and see if the show can maintain the momentum the network thought it had with Revolution (and Smash).
Finally, while things look grim for CBS's Hostages right now, all is not lost — yet. The series is very much outside the Eye's wheelhouse, and it suffered from the lackluster lead-in provided by CBS's 9 to 10 p.m. comedy block. We do live in the era of DVRs and VOD, so plenty of folks could still sample the show and like it. Is this likely? Honestly, no. CBS is a broadcaster with a capital B; if it can't get people to come to a show its first night out, no network can. But given the series' limited order (fifteen episodes for season one) and the Eye's lack of other options, the network will likely be patient before it decides to shoot its Hostages.