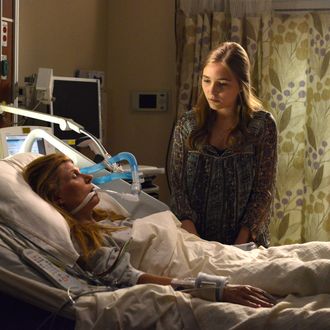 Nashville
Photo: Katherine Bomboy-Thornton/ABC
What Clicked Wednesday
Modern Family was the night's biggest show among viewers (11.4 million) and crushed everything else on TV in the key demo of adults 18 to 49 (4.1 rating). Here's how dominant Modern Family was with those under 50: It out-rated its closest demo rival, CBS's Criminal Minds (2.8 rating), by nearly 50 percent. (With an overall audience of 11.3 million, however, Criminal Minds virtually tied Modern Family in viewers.) The not-so-good news for Modern Family is that its same-day audience continues to evaporate, declining 25 percent from last year's 18 to 49 performance during premiere week. But the Emmy-winning ABC comedy also gets a huge boost from DVR playback, last season adding over two demo points to its rating via recorded viewing.
Elsewhere, crime continues to pay, both for the aforementioned Criminal Minds and NBC's amazingly resilient Law & Order: SVU. The Dick Wolf dynamo notched 9.5 million viewers and a 2.7 demo rating, soaring nearly 30 percent versus last year's debut and attracting the show's biggest audience in nearly two years. It was the only returning series last night to gain viewers over last fall; everything else declined. And let's give The X Factor its due: The much-maligned singing competition is still an enormous disappointment against expectations, and it's still losing viewers compared to last fall. But the show (7.6 million, 2.5 demo) actually ticked up 15 percent this week versus last (despite stronger competition) and allowed Fox to just edge out CBS and NBC among adults under 50.
What Didn't
They'll be crying in their beers today over Nashville (6.6 million, 2.1 demo), which shows absolutely no sign of momentum at the start of its second season. The increasingly telenovela-like country drama lost half of its Modern Family lead-in among viewers under 50, and it was down 25 percent from its modestly rated mid-October 2012 fall premiere. If Nashville stays at this number for the next few weeks, ABC will be okay. But with Super Fun Night likely to do much worse than Modern Family, odds are Nashville will be back to doing the sub-2 demo ratings it did for most of last season, rather than experiencing a Scandal-like sophomore surge. ABC also has to be bummed that new comedy Back in the Game (7.9 million, 2.2 demo) improved just 10 percent from last fall's meh premiere of The Neighbors, despite having a bigger The Middle lead-in than The Neighbors did. It's not that Game had a bad night; it did fine. But ABC has now scheduled four new fall comedies after The Middle since the Patricia Heaton comedy moved to 8 p.m. in 2010: Better With You, Suburgatory, The Neighbors, and now Back in the Game. The only one of those four to consistently build on its Middle lead-in, Suburgatory, is currently in ABC scheduling purgatory. If ABC has a strategy here with this constant 8:30 p.m. churn, it's not readily apparent what it is.
Meanwhile, NBC can easily spin the second season debut of Revolution (6.8 million, 1.8 demo) as a win, and that's what it's already doing, saying the show is matching what it did last May with a lead-in from The Voice. And it's true: The core audience that stuck with the show through its rocky first season came back for season two, unlike the Smash audience, which fled once the show was de-coupled from The Voice. Revolution is also likely to continue to marginally improve NBC's ratings in the 8 p.m. Wednesday time slot versus its DOA comedies from last fall. But Revolution is nowhere near the hit NBC thought it had at the beginning of last year, and there's zero evidence to suggest it will blossom into one.
Instant Analysis
Wednesday is one of the most boring nights of the week this fall, with no blockbuster new shows and no big scheduling shifts (though it'll be interesting to see whether Ironside can surprise when it debuts at 10 p.m. next week). The night's big hits are all between five and fifteen years old, and the networks are (wisely) milking them for all they're worth as they focus on trouble spots elsewhere during the week. That said, change could be coming over the next year. CBS has to be thinking it can do better on Wednesday, what with Nashville going nowhere and the as-yet-untested Ironside vulnerable to a challenge if CBS were to move a younger show into the hour. (Hostages might do well to shift out of the line of fire of NBC's nascent hit The Blacklist.) And if Fox has a really good development year, it might choose to risk the stability of The X Factor next fall in order to free up some real estate for new dramas. For now, though, Wednesday is just … boring.