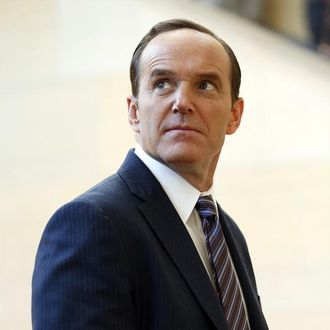 Agents of S.H.I.E.L.D.
Photo: Justin Lubin/ABC
What Clicked Tuesday Night
ABC's Agents of S.H.I.E.L.D. debuted with 11.9 million viewers and a 4.6 rating among those under 50, earning the biggest demo numbers of any new drama debut on a Big Four network since 2009 (when ABC's premiere of V notched a 5.2 rating in the very same 8 p.m. Tuesday time slot). This is a very good premiere number for ABC, which invested the bulk of its marketing resources this summer into hyping S.H.I.E.L.D. and very much needed to get viewers invested in the show early on. Most industry insiders had expected the show to debut a tick lower than it did, so S.H.I.E.L.D. managed to slightly exceed most expectations.The show did not, however, deliver the sort of jaw-dropping ratings performance some inside ABC might have quietly dreamed about. It was enough, however, to easily beat both the first hour of NBC's red-hot The Voice and CBS's dominant NCIS. And it also was big enough to allow new ABC comedy The Goldbergs to get sampled: The retro-laffer notched 9.1 million viewers and a preliminary 3.1 demo rating, doubling the overall audience of Fox's New Girl and easily beating that show in the demo.
As for other winners Tuesday, NBC is on a hot streak: The Voice (14.1 million viewers, 4.6 demo) tied S.H.I.E.L.D. as the biggest show of the night among viewers under 50, while Chicago Fire (9.3 million, 2.8) took advantage of its new lead-in to score its best ratings ever and grow 47 percent from its 2012 fall debut. The duo allowed NBC to claim an overall win on Tuesday, marking the second consecutive nightly win for the Peacock this young season. NBC hasn't won the first Tuesday of a new season since 2005. Over at CBS, while NCIS and NCIS: LA declined against tough competition, both shows notched a 3 or higher rating among viewers under 50 and won their respective time slots in total viewers. At 10 p.m., a relocated Person of Interest did slightly worse than last fall's Vegas premiere, but the show still won its slot in total viewers and promises to hold up a lot better in the coming weeks than Vegas did.
What Didn't
Having the biggest hit in four years wasn't enough to save ABC's new drama Lucky 7, which opened to just 4.6 million viewers at 10 p.m. and a just plain sad 1.3 rating in the demo. Perhaps ABC's plan is to be patient and hope folks catch up with the series in the coming weeks, but that seems unlikely given the flood of new shows out there. But Lucky got virtually no promotion from ABC — which was betting viewers would just stay tuned to it all night after watching S.H.I.E.L.D. — and also generated terrible reviews. It's hard to understand why ABC even bothered spending money on the show, rather than simply sucking it up and ordering more episodes of a middling performer such as Body of Proof. Meanwhile, the so-so numbers for the very funny new ABC comedy Trophy Wife (6.6 million, 2.3) don't really make it a loser; indeed, it easily beat Fox's established The Mindy Project (3 million, 1.5 demo) and did better than the comedies ABC aired on Tuesday last season. But given the big lead-ins from S.H.I.E.L.D. and Goldbergs, the numbers can't be seen as all that great, either.
Meanwhile, the influx of new competition pummeled Fox's Tuesday comedy block. After an okay debut last week, Dads (3.7 million, 1.5 demo) and Brooklyn Nine-Nine (4 million, 1.8 demo) tumbled 30 percent from their debuts; New Girl (4.1 million, 2.1 demo) suffered a similar drop. The Mindy Project actually had the smallest week-to-week decline, but it still tied Dads to score the lowest demo numbers of any of the Fox comedies. Fox execs have to be praying all four shows bounce back in the next two weeks, once folks have sampled ABC's new wares and The Voice shrinks to an hour.
Instant Analysis
ABC had the best debut of the night, but Tuesday's biggest winner is NBC. The Voice won't be two hours every week, and if history is a guide, the show's ratings will decline notably over the next few weeks. But once The Voice settles into its regular 9 p.m. slot, it should continue to provide a great lead-in to Chicago Fire, the little Dick Wolf drama that could, and allow the Peacock to win at two of three hours on Tuesday. ABC, however, still has reason to be happy: If S.H.I.E.L.D. can hold onto 80 percent of its premiere ratings over the next few weeks, it will qualify as a major success. And with New Girl and NCIS: LA softening at 9 p.m., there's an opportunity for The Goldbergs to become a comedy anchor. ABC could then afford to be patient with Trophy Wife. It will almost certainly have to find something new for 10 p.m. before November, however.