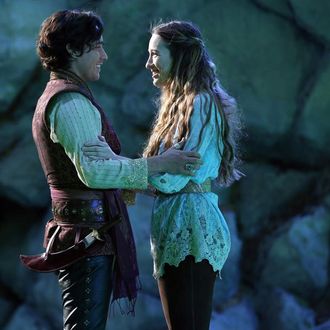 What Clicked Sunday Night
It was a weird end to network premiere week, as the most buzzed-about series last night wasn't a premiere, but a cable show's finale (Breaking Bad, in case you've been cave-bound). What's more, not a single entertainment series on the networks cracked 10 million viewers, and almost all were way down versus last year. With all those caveats, it's fair to call ABC's Once Upon a Time a Sunday winner: Without any artificial boost from football, the third season of the fantasy series managed a respectable 8.5 million viewers and a 2.6 rating with those under 50, making it ABC's top show for the night. Sunday's other big network attractions did get help from football: The Simpsons (6.2 million viewers, 2.8 demo rating) was the night's top network entertainment show thanks to its NFL on Fox adjacency, while CBS's lineup dominated in overall viewers (but did typical meh demo numbers).
What Didn't
The truth is, nothing on broadcast TV resonated Sunday (save, of course, for NBC's Sunday football). As noted, Once Upon a Time was a winner relative to its broadcast competition, but the show lost fully one third of its under 50 audience versus its fall 2012 premiere. Schedule-mate Revenge (8 million viewers, 2.4 demo) was down by 25 percent. And ABC's latest generic soap, the critically despised Betrayal, fell to just 5.3 million viewers and a 1.5 demo score, down about 30 percent from where the short-lived 666 Park Avenue premiered a year ago. (Betrayal joins Lucky 7 as the second new ABC drama to flatline out of the box.) Fox's Sunday toons did oaky, but they were all down between 15 and 25 percent versus last fall, while CBS's combo of The Amazing Race and dramas The Good Wife and The Mentalist were also down by a lot (though exact numbers aren't in yet owing to NFL overruns). After a surprisingly good start to premiere week, the broadcast networks showed zero spark Sunday.
Instant Analysis
If there's any good news for broadcasters regarding Sunday, it's that these declines aren't all that surprising — and that many feared they might have been worse. Because as awful as the year-to-year comparisons look, the fact is that many of the Sunday shows experienced big declines over the course of the 2012–13 season, which means that execs knew that big chunks of the audience had either abandoned these shows or simply started watching them days later via DVR. So as awful as Once and Revenge look against their fall 2012 kickoffs, both shows were actually doing much worse last spring. Once, for example, did a 2.3 with its May finale, while Revenge only managed a 1.7; both shows are actually up when you compare May to September. This is spin of a sort, since May's good weather tends to depress TV watching across the board. There is no reasonable way to call the demo numbers for the ABC and CBS dramas "good." However, put in context, and factoring in the huge competition of Breaking Bad, these numbers aren't disastrous, either.