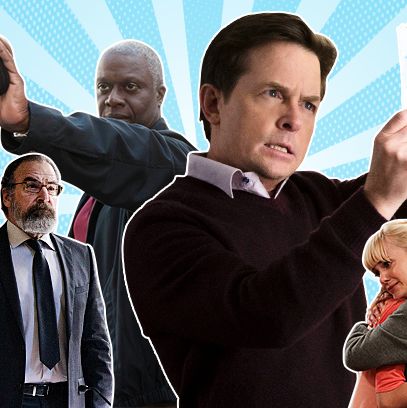 Photo: Kent Smith/Showtime, Eddy Chen/FOX, Eric Liebowitz/NBC, Monty Brinton/CBS
The 2013-14 television season is finally in full swing (although we're still waiting on Scandal and The Walking Dead to return) and our own Matt Zoller Seitz has diligently been weighing in on notable new shows and returning favorites as they premiere. Here's a handy round-up of what he's liked, hated, and meh'd so far, with many more of his insightful reviews to come as the fall season rolls on.
Agents of S.H.I.E.L.D.
Seitz's spin: Marvel on the small screen looks, well, small.
The Blacklist
Seitz's spin: This latest criminal-mastermind show is exciting and deeply silly.
Brooklyn Nine-Nine
Seitz's spin: As long as Andre Braugher is employed, this show is a force for good.
The Crazy Ones
Seitz's spin: a McDonald's ad starring Robin Williams.
Dads
Seitz's spin: a bad sitcom.
Derek
Seitz's spin: the gooiest thing Ricky Gervais has ever done.

The Goldbergs
Seitz's spin: Remember the eighties? This show sure does.
Homeland (returning)
Seitz's spin: It's time to get back to the good stuff.
Hostages
Seitz's spin: a treasure trove of dumb.
Luther (returning)
Seitz's spin: a show smart enough to just let Idris Elba be Idris Elba.
The Michael J. Fox Show
Seitz's spin: A once-lovable imp earns some gravitas.
Mom
Seitz's spin: With a great cast and uncruel humor, it has tons of potential.
Sleepy Hollow
Seitz's spin: It may be about a headless horseman, but it's not brainless.
Trophy Wife
Seitz's spin: There's real wisdom buried beneath its frenzied comedic surface.