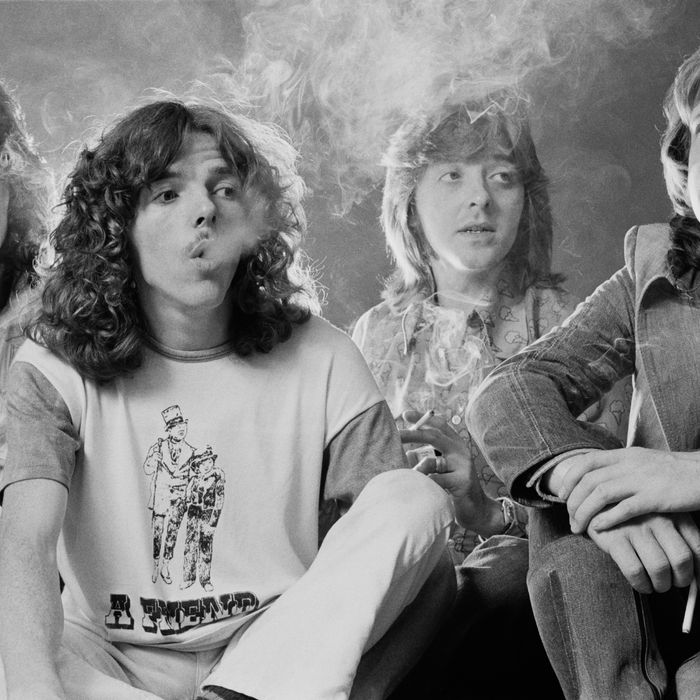 British rock group Badfinger, September 1973. Left to right: bassist Tom Evans, drummer Mike Gibbins, guitarist Joey Molland and singer/guitarist Pete Ham (1947 - 1975).
Photo: Michael Putland/2013 Michael Putland
When Sopranos creator David Chase chose the valedictory song for his show's 2007 finale, he made a high-lowbrow move, exhuming Journey's 1981 schlock-rock anthem "Don't Stop Believin'." Last night, Vince Gilligan went in a different direction with the song he selected for the closing moments of Breaking Bad's final episode. Badfinger's 1972 hit "Baby Blue" was a high-middlebrow choice: a rock-snob pick, a crate-digger's special.
Badfinger were a power-pop band; you could almost call them the power-pop band. They have the kind of scruffy underdog profile that the genre's diehards love to love, the classic power-pop cri de coeur being: [Insert name of adorable also-ran quartet] is the greatest; if there was any justice in the world, [insert song title] would be No. 1 on the charts, not [insert title of hit by pop diva]! In Badfinger's case, the hard-luck story has a tragic dimension. Lead singer Pete Ham hanged himself in 1975; Tom Evans, one of the band's principal songwriters, also committed suicide, in 1983.
Musically speaking, Badfinger certainly played to power-pop type. The genre's classic sound merges Beatlesque chord changes and melodies with hefty guitars, a formula Badfinger hewed to on their early releases Magic Christian Music (1970), No Dice (1970), and Straight Up (1971). Badfinger were also the one power-pop band that could claim the imprimatur of the Beatles themselves. Their first four albums were released by the Beatles' label, Apple. Paul McCartney was the band's mentor; he wrote and produced their hit "Come and Get It." George Harrison also produced, and played guitar on, several Badfinger records.
The group's love for McCartney, in particular, is almost laughably audible: You might say that Badfinger had too little anxiety of influence. In hits like "Day After Day" and "No Matter What," lead singer Ham is a vocal dead ringer for McCartney, and the symmetrical tidiness of the melodies — the mathematical precision of its moves from verse to chorus to middle eight and back again — bears the imprint of the master as well. To my ear, Badfinger's records sound like the most middling stuff on McCartney's most middling solo albums. The music's tunefulness, its pop fluency, is undeniable, but there's a distinct dearth of magic. Badfinger was a fine band, but they're deservedly minor.
As for "Baby Blue": nice song. Gilligan said on last night's "Talking Bad" postgame show that the song is meant to be Walter White's love ode to crystal meth. (The song also winks at Bob Dylan's "It's All Over Now, Baby Blue" — an apt curtain-closer.) In any case, Breaking Bad looks likely to do for "Baby Blue" what The Sopranos did for "Don't Stop Believin'." At this writing, "Baby Blue" is at No. 23 on the iTunes Top Songs countdown, one notch above Justin Timberlake and closing in fast on Imagine Dragons.