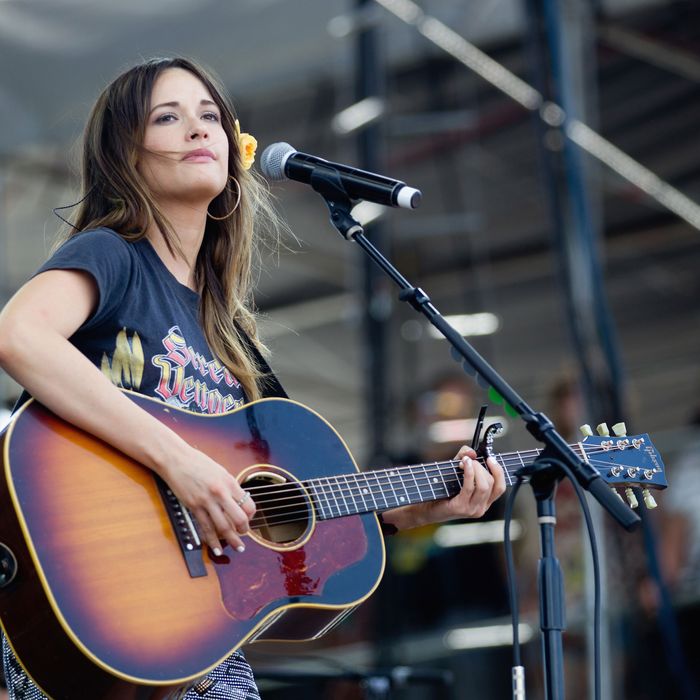 There were a whole lot of girls on last week's Billboard "Hot Country Songs" chart.
There's the girl in the current country No. 1, Luke Bryan's "That's My Kinda Night": "You got that suntan skirt and boots / Waiting on you to look my way and scoot / Your little hot self over here / Girl, hand me another beer." Bryan's hottie bears some resemblance to the girl in the Nos. 2 and 3 songs, "Cruise" and "Round Here," both by bro-country tyros Florida Georgia Line. (In "Cruise," she wears a "bikini top on her" and boasts "them long tanned legs"; in "Round Here," she has "Wild Cherry on her lips" and "the jeans with a tear that her mama never fixed.") There's the girl in the song at No. 4, "Night Train," whom Jason Aldean takes to the edge of town to snuggle under a blanket and sip Southern Comfort, and there's the girl who's serenaded by Thomas Rhett's gallant — "Hey, girl, you make me wanna write a song / Sit you down, I'll sing it to you all night long" — in the No. 5 hit, "It Goes Like This."
In the song at No. 6, Keith Urban's "Little Bit of Everything," there's a dream girl, who evidently was born prior to the publication of The Feminine Mystique: "I want a cool chick that'll cook for me / But'll dance on the bar in her tan bare feet / And do what I want when I want." I'm a bit concerned about the girl in Tyler Farr's No. 7 hit, "Redneck Crazy," who by the sound of things could use a restraining order. ("You know you broke the wrong heart baby, and drove me redneck crazy," Farr sings, promising, "I'm about to get my pissed off on … I'm gonna aim my headlights into your bedroom windows / Throw empty beer cans at both of your shadows.") The girl in Brett Eldrige's "Don't Ya" (No. 8), like the one in "Round Here," has a pair of surgically altered dungarees ("Girl, you cut those jeans just right"); and Bryan also has fashion on his mind in his No. 9 hit, "Crash My Party": "Girl, I don't care / Oh, I just gotta see what you're wearing." The top ten is rounded out by Billy Currington's new single, whose title says it all: "Hey Girl."
What's missing here, besides any trace of post-1960 sexual politics, are actual girls — or, as they're sometimes called, women. If you look at the rest of last week's top twenty, you'll find only one female artist — Carrie Underwood, at No. 14 — unless you count the guest appearance on Blake Shelton's "Boys Round Here" by the Pistol Annies, who croon backing vocals while Shelton rap-sings lyrics like "The girls 'round here, they all deserve a whistle / Shakin' that sugar, sweet as Dixie crystal."
Retrograde sex roles are nothing new in country music, pop's bastion of conservatism. It's been fascinating, in recent decades, to see the ways country women have reconciled traditional values with changing times — whether slyly embracing feminism or stubbornly upholding the patriarchal status quo.
But in 2013, women in country are more marginal than at any time in recent memory. It's not that there aren't female stars. In fact, there are three huge ones: the large-lunged diva Underwood; Miranda Lambert, the feisty solo superstar who moonlights in the Pistol Annies; and, of course, Taylor Swift, the biggest commercial force in country, period, although her ties to the genre are becoming more tenuous. There are also some second- and third-tier stars, like Sugarland's Jennifer Nettles, Kimberly Perry of the Band Perry, and Lady Antebellum's Hillary Scott.
But these women are outliers — exceptions that prove the rule driven home by all those girls in the country top twenty. When women turn up on country radio, they're usually fantasy figures, collaged together from back issues of Maxim and Field and Stream: hot chicks, in jeans strategically shredded For His Pleasure, doing modified pole dances in a pasture, behind a barn, in the glare of their boyfriends' pickup truck headlights. Sometimes, in songs like "It Goes Like This," they are sung to — but they're not doing any singing themselves. They're ornamental: pretty scenery at a sausage party.
This would be a problem even if Underwood and Lambert and Swift were the only worthwhile female country singers on the planet. As it happens, this is shaping up as an outstanding year for country women. If we were measuring by the sheer volume of excellent albums released alone, I'd call women in country music the story of 2013 in pop music. There's the trailblazing Same Trailer, Different Park by millennial torchbearer Kacey Musgraves; a sparkling traditionalist-flavored album by the Pistol Annies' Ashley Monroe; the Annies' own delightful Annie Up; smart, sharp, moving music from Court Yard Hounds, Holly Williams, hard-drawling Ashton Shepherd, and Nashville carpetbagger Sheryl Crow. There's more in the offing, too: a new album by the soulful Julie Roberts, a solo record by Nettles, and, best of all, 12 Stories, the stupendous debut by singer-songwriter Brandy Clark.
These records aren't just packed with fine songs and excellent performances. They're a relief from, and challenge to, the dumb-dude monotony of Nashville's macho clichés. Albums like Same Trailer, Different Park and 12 Stories actually are kind of macho themselves. They tell tales of sex, drugs, infidelity, unwanted pregnancies, lean times, and other real-world stuff, rough-hewn stories full of wit and grit. It's the kind of hard-hided, tough-minded music that country's lunks pretend to offer, while serving up fluff — songs as soft and frothy as meringues.
It's often noted that the country music audience is disproportionately female. When Bryan, the genre's biggest star, was asked by Entertainment Weekly to account for country radio's gender imbalance, he threw up his hands: "What's funny is that the majority of listeners are females, but then you'd feel like they would want to hear women too." You would think so: If women didn't want to hear songs made by women about women's experiences, that would be a world historical first. The real problem is structural and institutional. In the places where the meaningful decisions are made and the hits anointed — record label executive suites, Music Row songwriting sessions, radio station program directors' offices — Nashville remains a boys' club.
There is at least one moderately progressive sector of the country industrial complex. On Tuesday, the nominations for the Country Music Association Awards were announced, and they were dominated by women. The field was headed by Swift and, shockingly, Musgraves, who garnered six nominations apiece; Lambert and Underwood each received three. Even Brandy Clark got a nomination, for her co-writing work, with Musgraves and Shane McAnally, on Lambert's "Mama's Broken Heart." It's refreshing to see the CMAs getting behind Musgraves, whose album balanced commercial appeal with an uncompromising artistic vision. It would be better if radio programmers followed suit. "To look at the list of nominations … you'd think female singers actually got played on country radio," quipped Brian Mansfield in USA Today. "The girls" deserve more than a whistle — or an award. A little airplay would be nice, too.