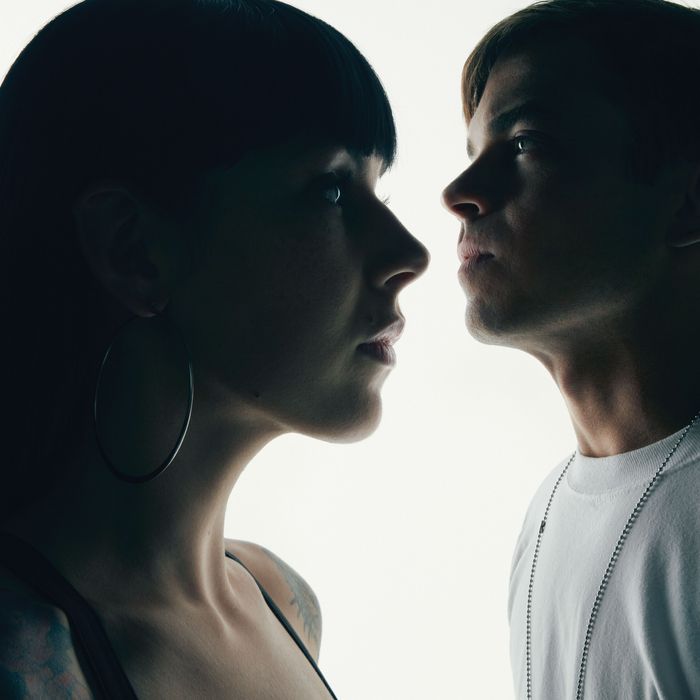 Photo: Hair and Makeup for Strauss by Akiko Sakamoto for Chanel at See Management
In Derek Miller's apartment in Williamsburg, there is a poster on the refrigerator door of Larry Bird, the Boston Celtics legend. Bird's mouth is agape, his right arm fully extended, his body nearly horizontal as he lunges for a basketball that is just beyond the reach of his fingertips. Across the top of the poster is a quotation from Bird: "It makes me sick when I see a guy just watching it go out of bounds."
On a bright fall afternoon, Miller, the guitarist and producer of the indie-pop duo Sleigh Bells, is lounging on his sofa with his bandmate, singer Alexis Krauss. The Bird poster isn't the only thing that gives the apartment a man-cave feel. Miller is pecking at his MacBook, whose desktop wallpaper is a photo of Michael Jordan. There is a pair of boxing gloves in a corner against a wall. The U.S. Open is on the flat-screen.
Sleigh Bells actually look like athletes—they aren't the wan, scraggly figures we associate with indie rock. Miller could be a point guard or a second-baseman: He's slight but lean and wiry. Krauss is tall and rangy; take away her tattoos and Elvira, Mistress of the Dark tresses, and she could pass for a professional volleyball player. Recently, Miller and Krauss took up boxing; they begin most days by meeting up at a gym to train. The band's sound, meanwhile, is nothing if not muscled-up. The music on Sleigh Bells' first two albums, Treats (2010) and Reign of Terror (2012), is lean, loud, and galvanizing, full of burly guitars, raucous beats, and shout-along choruses. A song like "Infinity Guitars," from Treats, is the closest indie ever gets to a jock jam—a perfect soundtrack for an NFL Films highlight reel.
Still: a Larry Bird poster on the fridge?
Miller laughs: "I mean, it's a cool poster. But it's mostly up there for the quote. I'm not above using clichéd motivational techniques. I open my fridge in the morning, and I'm like: Why am I spending the day on my couch again?"
In truth, Sleigh Bells spend very little time sitting around: Their career thus far has been a testament to hustle and quick work. Miller and Krauss met in the summer of 2008, at Miss Favela, the Williamsburg Brazilian restaurant where Miller, who'd recently arrived in Brooklyn from his native Florida, was a waiter. (Miller had played guitar for several years in the Florida hardcore band Poison the Well.) One evening, Miller waited on Krauss and her mother. Krauss, who grew up on the Jersey shore, in Manasquan, was working as a schoolteacher but had sung professionally for a number of years, including a stint in her early teens in the teen-pop group Rubyblue. When Miller mentioned that he was a musician and was searching for a female vocalist, Krauss's mom volunteered her daughter for the gig.
Sleigh Bells released a debut EP in 2009; Treats arrived, to huge acclaim, the following spring. Now, after spending much of the past three years on the road, the band has a third album, Bitter Rivals, which extends—and significantly revamps—its trademark sound. "I think people are surprised how quickly we're pushing out a new album," Miller says. "I think they'll be more surprised by what they hear."
Sleigh Bells have served up surprise from the beginning. When their songs first blasted into earshot, the shock was that no one had made them before. Their first official single, "Tell 'Em," released in April 2010, was a triumphal blare that placed pummeling beat-box rhythms against hard-rock guitar fanfares, while Krauss cooed a tongue-in-cheek pep talk: "All the kids, all the kids these days / Do you really wanna be that way?… / Champagne, cocaine, Champagne, cocaine, Champagne, cocaine, Champagne / You better just manage your heat." The sound was one of those hidden-in-plain-sight flavor combinations, a perfect high-concept musical elevator-pitch: the ­Shangri-Las meet AC/DC meet Run-DMC. In 2010, girl-group revivalism was rampant, the hot retro move from indie bands like Beach House and Best Coast to pop divas like Adele. But Sleigh Bells took a novel, outlandishly brawny approach. Simply put, they replaced Phil Spector's wall of sound with Rick Rubin's, surrounding Krauss's wispy, teen-dream vocals with brutishly pumped-up hip-hop beats and power-chord riffing. The results made all the others sound unimaginative, old-fashioned, a little dull.
"It's a pretty simple idea, but I guess it hadn't been done before," Miller says. "I was mostly playing just my guitar real loud over kick-drum parts. No one ever called me on 'Infinity Guitars' [from Treats], but I ripped the kick pattern from [Kanye West's] 'Gold Digger.' I mean, obviously I remade the beat and played guitar, and with Alexis singing and shouting over it, it was a totally different vibe. I was just listening to all these records, and these songs were the only way for me to reconcile all the different sounds that I loved. I played what I wanted to hear."
Bitter Rivals preserves the essence of the formula, framing Krauss's vocals with noisy guitar, kick drums, and 808s. But the record stands apart from its predecessors, sonically and otherwise. Amid the usual hints of Brill Building pop, Motown, and arena rock, other styles move to the forefront: the lavish harmonies of Abba, chirrupy eighties radio pop, nineties R&B, a girl-group sound that, rhythmically and melodically, owes as much to TLC and Destiny's Child as the Ronettes. "Young Legends," a song about beautiful corpses, has the bright tang of early Madonna. "Sing Like a Wire" has a beat that stutters and thumps, with obvious genetic links to Michael Jackson's "Smooth Criminal" and the early-aughts hits produced by the Neptunes and Timba­land. On Reign of Terror, where Sleigh Bells pushed their guitars to deliberately cartoonish levels of bombast, a song titled "To Hell With You" would have been a mock-metal anthem; here, it's synth-pop, with a plaintive tune that's as pretty as anything the band has recorded.
For Miller, taming the band's guitar attack was a no-brainer. "I was using that really dense, thick, high-gain guitar for pretty much all of Reign. It was uniform—I was using, like, one or two colors. I like that cohesiveness, but I got a little tired of it. This record, simply by virtue of having slightly less intense guitar work, is a lot cleaner. It's a really thin guitar sound."
The real secret behind the sonic makeover, though, is Krauss. On the first two albums, she was tasked with executing Miller's vision; on Bitter Rivals, Sleigh Bells have become, in the fullest sense, a band. Miller still handles the production and lyric-writing, but for the first time, he ceded the melody-writing duties almost entirely to Krauss. It was a wise choice. She has a way with a tune, a knack for crafting a hook—often hooks, plural—that nests comfortably amid the clamor.
"Derek would give me a Word document with lyrics," Krauss says. "I'd take home the track, put it in GarageBand, sit on my bed, and just work. I was trying to write as many parts as possible that were different and had unique ideas. I've always been obsessed with girl groups and multiple singers. When I write melodies, I love to think about backup parts, harmonies, counterpoint. We would listen to an M.J. song, or things like Ace of Base's 'The Sign,' and obsess over how many great ideas are in one song. I tried to bring some of that to our music."
The biggest change on Bitter Rivals can be heard when Krauss sings. You could almost say that the change can be heard because Krauss sings. On Treats and Reign of Terror, Krauss had two vocal modes: full-throated shouting and, as Miller puts it, "whispering, overdubbed to infinity, and panned really hard." It served the songs well, but it was a difficult sound to replicate live, and it was frustrating for Krauss, a talented and versatile vocalist who was constrained from doing what she does best. ("Ms. Krauss' singing voice isn't a huge one," sniffed the Times.)
"I had to sing in this high head-voice, you know," Krauss says. "But for this record, Derek said, 'Go ahead, sing the way you sing.' So I got to sing with a lot more breath. I got to belt."
You can hear Krauss belting on one of the best new songs, "Love Sick," a bristling ballad that finds the golden mean between Sleigh Bells' old and new approaches. There is the familiar guitar crunch and a fusillade of beats. There's also a chorus with a tune worthy of a Katy Perry song, a spooky coda, and plenty of room for Krauss to flaunt her vocal range. And there are Miller's lyrics, which are wittier than you might suppose: "When I found you were still alive / I must admit, I laughed, I cried / I found a stranger to high-five / I did the Twist / I nearly died." All in all it's the sound of a band that has progressed to a more fully realized record-making—from, you could say, trademark "sonics" to songwriting.
"It's definitely a rebirth for the band, because of this new working relationship that Alexis and I have," Miller says. "I think this is our best record. I know bands always say that but—hey, I just feel more ­confident."
*This article originally appeared in the October 7, 2013 issue of New York Magazine.