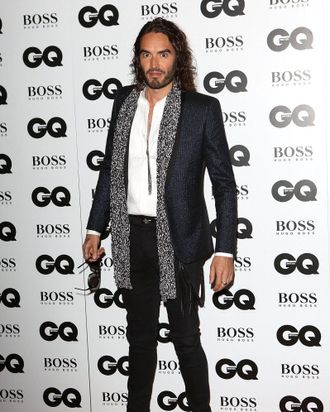 Word to the wise: If you invite Russell Brand to your awards show, be prepared for him to misbehave in spectacular fashion. And if you kick him out of your after-party for doing so, do not be surprised when he writes an op-ed searing not only your organization, but the entire industry of which you are both a part. In case you missed it: Last week, British GQ invited Brand to their Men of the Year awards at London's Royal Opera House. The comedian accepted the Oracle award (you can watch his speech here) by first mocking the honor ("sounds like a made-up prize you'd give a fat kid on sports day"), and then bringing up sponsor Hugo Boss's past a uniform-maker for Nazi Germany ("They did look fucking fantastic, let's face it.") Brand was eventually escorted out of the event's after-party.
Today, Brand published a lengthy op-ed in the Guardian that begins with a play-by-play of his appearance at the awards show and ends with a critique of show business in general: "In case you don't know these parties aren't like real parties. It's fabricated fun, imposed from the outside. A vision of what squares imagine cool people might do set on a spaceship." After excusing his "daft joke" and likening Boss's sponsorship of the event to energy companies donating to the Tory party, Brand tells readers what he thinks actually matters in life:
"I do have some good principles picked up that night that are generally applicable; the glamour and the glitz isn't real, the party isn't real, you have a much better time mucking around trying to make your mates laugh. I suppose that's obvious, we all know it, we already know all the important stuff like: don't trust politicians, don't trust big business and don't trust the media. Trust your own heart and each another. When you take a breath and look away from the spectacle it's amazing how absurd it seems when you look back."
Publicists, take note: Russell Brand definitely cares more about his own brand than he does yours.