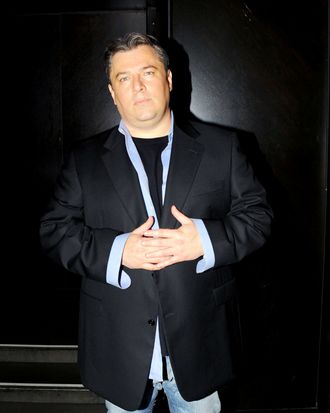 Shane Salerno.
Photo: Paul Bruinooge/Patrick McMullan
J.D. Salinger may be known as the "Howard Hughes of the literary world," but Shane Salerno, who wrote and directed Salinger, a documentary about the author out this week, insists the mystery man was not a recluse. "There was nothing reclusive about J.D. Salinger," he told us last night at the New York premiere hosted by Harvey Weinstein and the Peggy Siegal Company. (We'd specifically asked him if he felt guilty for exposing the life of a recluse to the world.) "J.D. Salinger was a private guy, but when he wanted to, he called the New York Times and granted a 30-minute interview. He saw Joyce Maynard on the cover of The New York Times Magazine, he didn't have a problem calling her up and pursuing her. When he saw actresses on television shows in the eighties, he obsessively chased after them. The truth is, he was a public figure, and we're compelled to tell this great story of his life. I don't feel guilty."
The documentary, which took Salerno ten years and 2 million of his own dollars to make, tells us details about Salinger's life as a young man, his service in WWII, and his struggles as a young author. It also shows us his arguably creepier side as a guy who liked much younger women. "He had a lot of reasons to be private, especially with his attraction to younger women, younger girls," Salerno said. "I don't think it ever veered into anything that would qualify as grossly inappropriate, but it's certainly unusual and it's certainly odd. There's clearly something that's deeply rooted in him and I think it's more to do with an attraction to innocence than I think it's an attraction to particularly underage girls. Once those girls become women, he does not have the same focus or passion for them." And with that knowledge, let's all get excited for the never-before-seen Salinger works coming out as early as 2015!