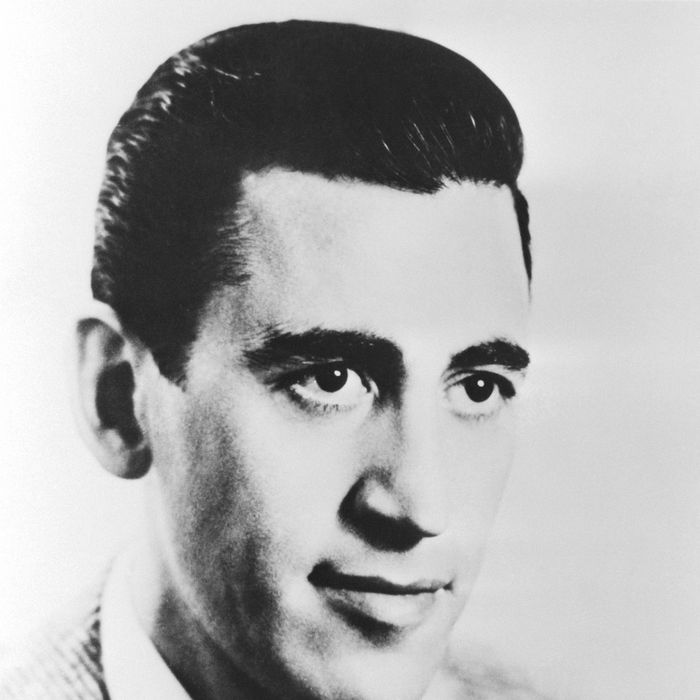 1951 — Author J.D. Salinger, best known for Catcher in the Rye. — Image by © Bettmann/CORBIS
J.D. Salinger died on January 27, 2010, but the quest to solve the mystery of who he was and what he'd been doing since 1965 — the year The New Yorker printed his last work of published fiction, a 50-page letter from a seven-year-old Seymour Glass — has never ceased. Now comes Salinger, a two-hour-plus documentary by Shane Salerno that, along with its huge companion book by Salerno and author David Shields, attempts to answer this longtime literary riddle.
The film and book gather interviews with more than 200 people, along with never-before-seen photographs of the famous recluse, and promise something that fans have been waiting for for years: the release of Salinger's first published work in half a century — five books of new or revamped material to come out between 2015 and 2020. (Full disclosure: I was interviewed by Salerno for the film, and my comments also appear in the book. See also: "The Salinger File.")
Those in search of J.D. Salinger, whether they're solipsistic solitary stalkers, rarified would-be literary detectives, or well-intended filmmakers, might do well to let their fingers do the walking. Almost everything you ever wanted to know about Salinger can be found on the written page — in Salinger's own unmistakable voice — in his slim oeuvre of four famous volumes; the plethora of letters he sent to friends, editors, and lovers; the 22 uncollected short stories published from 1940–48 in Story and other magazines; and the handful of unpublished stories stashed in libraries.
Salinger is among the most autobiographical of postwar American authors. "If you really want to hear about it, the first thing you'll probably want to know is where I was born, and what my lousy childhood was like … and all that David Copperfield kind of crap, but I don't feel like going into it, if you want to know the truth," reads the famous first line of The Catcher in the Rye.
Yet Catcher is sprinkled with a Hansel and Gretel–like path of autobiographical crumbs, from Holden's visit to the Museum of Natural History, near where Jerome David Salinger grew up from the age of nine, at 221 West 82nd Street, to his various hobbies. When he was at Valley Forge, the probable prototype for Pencey Prep, Salinger, like Holden, managed the fencing team, acted in plays, and worked on the school newspaper. And like Zooey, he fancied tropical fish. And so it goes through the three other published Salinger books, Nine Stories, Franny and Zooey, and Raise High the Roofbeam, Carpenter, and Seymour — an Introduction. (Consider Buddy Glass's interest in Buddhism; the psychic war wounds of his older brother, Seymour, who commits suicide in "A Perfect Day for Banana Fish"; and Franny reciting the Jesus prayer.)
Even if Salinger didn't reveal so much of himself on published pages, he did on those that were never published. Throughout his life, Salinger wrote hundreds of letters to everyone from his teenage lover, Joyce Maynard, to the eminent Judge Learned Hand, a close friend and neighbor, to pretty young women he never actually met, like Marjorie Sheard, an aspiring writer in Toronto — and some he did, like the one he eventually married, his third wife, Colleen O'Neill.
Salinger's letters and postcards open a window onto Salinger's early life, from his first attempt at creating Holden Caulfield, to his interest in Eastern religion, to his brief marriage to the mysterious Sylvia, whom he met when he was a Nazi-hunter in Germany during World War II. (Like Seymour Glass, Salinger was at the U.S. Signal Corps in Fort Monmouth, New Jersey from 1942 to 1943, before joining the Counter Intelligence Corps in early 1944, where he was stationed in Devonshire, England, a town like the one where Sergeant X meets Esme in "For Esme With Love and Squalor.")
His letters, like his books, are written in a voice that remains totally unique. Droll, hypersensitive, heartbreakingly clever — anything but phony; it's a voice very similar to Holden's. And it can be clearly heard in the many revealing letters and postcards on file at the Library of Congress, including those he wrote to his childhood friend Elizabeth Murray about planning to marry Sylvia, his happiness with his new bride, and their "telepathic" relationship. (The marriage would be short-lived.) It's also apparent in nine letters, written to Sheard between 1941 and 1943, that are on display at the Morgan Library from September 10 to January 12.
Salinger discusses his interest in Eastern religion in 28 letters acquired by the Morgan Library that he wrote to his spiritual mentors at the Ramakrishna-Vivekananda Center of New York and at the Vedanta Hindu temple on the Upper East Side between 1967 and 2006. And, interestingly, in a cache of eleven letters written between 1951 and 1993 to E. Michael Mitchell, an artist friend in Westport, Connecticut, Salinger confessed that he has been working on two stories "books, really — that I've been hoarding at and picking at for years."
Salinger's unpublished short stories are also full of autobiographical nuggets. There are five at Princeton, including "The Magic Foxhole," about the shell-shocked Lewis Gardner, a possible prototype for Sergeant X; "Two Lonely Men," about several army officers having an affair with their captain's wife; "The Last and Best of the Peter Pans," about Vincent Caulfield (Holden's brother); "The Children's Eschelon," a 26-page story written in the voice of a ditzy 18-year-old girl; and, finally, a poignant Caulfield saga, "An Ocean Full of Bowling Balls," in which Vincent recounts the death of a younger brother, Kenneth. (It's not impossible that the two "books, really" and the unpublished stories are part of the cache that the film states will be coming out.)
If you really want to know about Salinger, the proof is on the page — from his preoccupation with precocious young girls to his continued fiction writing. You don't even have to read between the lines.
Phoebe Hoban is the author, most recently, of the 2010 biography Alice Neel: The Art of Not Sitting Pretty, and an upcoming biography of Lucian Freud.