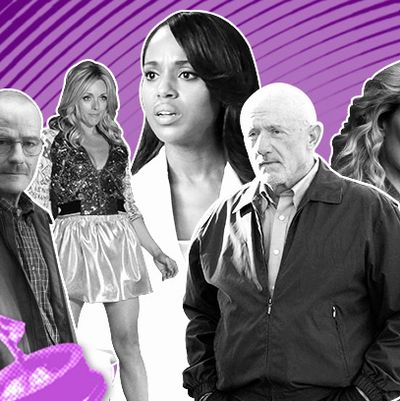 The Emmys don't usually rivet me — I go in expecting certain "usual suspect" shows to win things, just as they did before — but each year there are a few individual races that I become personally invested in. This year, most of them are acting categories. I've listed the five I'll be watching most closely. If my guy or gal wins, I'll do Jesse's lab dance, complete with inflatable yellow hazmat suit.
1. Outstanding Lead Actor in a Drama Series
Nominees: Bryan Cranston, Breaking Bad; Hugh Bonneville, Downton Abbey; Damian Lewis, Homeland; Kevin Spacey, House of Cards; Jon Hamm, Mad Men; Jeff Daniels, The Newsroom
If Bryan Cranston wins again, you'll hear no complaints from me; in the first half of season five, he took Walt into increasingly dark and disturbing places, to the point where he began to seem less a man than a horror-movie monster. But I'm pulling for Mad Men's Jon Hamm this year, and not just because he's been nominated for nine Emmys and never won. In an often problematic season of Mad Men, his acting was consistently strong, often heartbreaking, and consistently subtler and more imaginative than even the best script he was given.
2. Outstanding Lead Actress in a Drama Series
Nominees: Vera Farmiga, Bates Motel; Michelle Dockery, Downton Abbey; Claire Danes, Homeland; Robin Wright, House of Cards; Elizabeth Moss, Mad Men; Connie Britton, Nashville; Kerry Washington, Scandal
I'm pulling for either Kerry Washington or Vera Farmiga in this category. Washington is giving a world-class stylized soap opera heroine performance in Scandal (a type of acting that's rarely honored in this forum). As the paradoxically warm yet cool Norma Bates, Farmiga has as difficult a job as Bryan Cranston or Jon Hamm — arguably more so, because we know where the tale of Norma and her son Norman will end, yet we're still riveted by the psychological road she travels to arrive at that predestined conclusion.
3. Outstanding Supporting Actor in a Drama Series
Nominees: Bobby Cannavale, Boardwalk Empire; Jonathan Banks, Breaking Bad; Aaron Paul, Breaking Bad; Jim Carter, Downton Abbey; Peter Dinklage, Game of Thrones; Mandy Patinkin, Homeland
I'd be happy if any of these actors won, but my heart's with Breaking Bad's Jonathan Banks, and not just because of the memorable circumstances of his character's departure. This role was transformative for Banks, deservedly so. He's always been one of those totally reliable character actors that you could plug into any part and not worry, but he brought something else to Mike — a sardonic sense of humor and a private melancholy that made you care deeply about a man who wasn't all that much better as a person than most of the scum Mike dealt with. It was a supporting role, but Banks invested it with the kind of star quality that the likes of Jack Nicholson, Al Pacino, and Robert DeNiro brought to similar roles in the late eighties and early nineties. I'll never be able to read or hear the name "Walter" without hearing Banks's voice saying it. Give him the award already.
4. Outstanding Actress in a Comedy
Nominees: Tina Fey, 30 Rock; Laura Dern, Enlightened; Lena Dunham, Girls; Edie Falco, Nurse Jackie; Amy Poehler, Parks and Recreation; Julia Louis-Dreyfus, Veep
Laura Dern's show got canceled, so neither she nor Enlightened have much of a chance this year, period, but she's still my fantasy winner, because she's always awesome, and especially awesome in season two of the best prematurely canceled HBO comedy since The Comeback. But if Julia Louis-Dreyfus wins for Veep, I'll be content. The show's a lot of sound and fury signifying not too much — and it seems to be okay with that — but her portrayal of a pathologically self-centered and frighteningly powerful politician is Seinfeld-worthy.
5. Outstanding Supporting Actress in a Comedy
Nominees: Jane Krakowski, 30 Rock; Jane Lynch, Glee; Julie Bowen, Modern Family; Sofia Vergara, Modern Family; Merritt Wever, Nurse Jackie; Mayim Bialik, The Big Bang Theory
I want Jane Krakowski to take this one. She's been nominated in this comedy for her work on 30 Rock four times and never won, and this is her last chance in the role — and as it happens, she played some of the wildest, "biggest" material of her career during 30 Rock's final season and consistently rose to every challenge. She's a Lucille Ball–quality fearless clown, making desperation, vanity, and delusion wildly funny. I get the feeling she'd light herself on fire if she thought it'd get a laugh. And if she did it, it would.