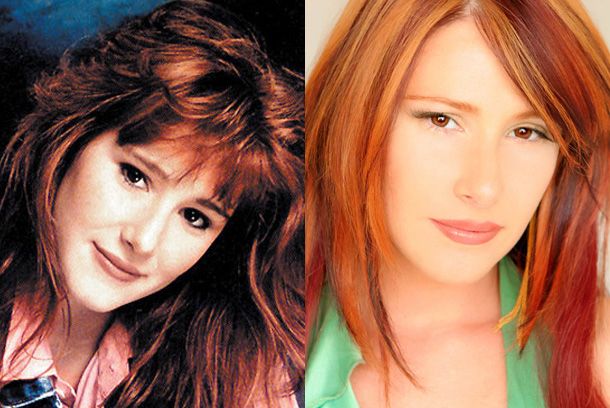 Tiffany ruled the malls and the charts in the 1980s—just ask Erica Goldberg, who likely had "I Think We're Alone Now" on constant rewind much to her brother Barry's disdain. In the lead-up to the September 24 premiere of The Goldbergs, a new ABC sitcom that turns back the digital clock, Tiffany reminisces about first cars, Aqua Net, and nagging parents.
What do you miss most about the '80s?
The music was awesome, and at that point, things were really on the cutting edge. Even if it was a goofy little keyboard sound, I think people were really experimenting and trying stuff for good—and for bad. Whether it was with fashion, with laying down beats, with lyrics, with different instrumentation, there was this feeling that we're on to something, that we're creating a style of music. I mean obviously, we're still creating now, but there was an enthusiasm to it all that I kind of miss.
Why do you think there is so much nostalgia for the '80s?
It was a great time, not just because my dreams came true, but because we were seeing things we had never seen before. Music videos had just come out, MTV veejays were going behind the scenes for interviews, and they were making it possible to really get to know artists more than ever before. You could also be as crazy as you wanted to be, or as simple as you wanted to be. I was pretty simple, jean jackets were about as crazy as I got.
How do you think family dynamics have changed since the '80s?
I recently re-watched The Breakfast Club with my 21-year-old son, and there were a lot more boundaries back then. Now it's gotten to a point where parents want to be their kid's friend, and not to be the bad guy. In the '80s, parents were still supposed to be the bad guys, which sucks when you're a teenager, but you really do need an authority figure.
Do you think friendship has also changed?
It's harder to have someone's undivided attention now. When I go out to dinner with my friends, some of them are on their iPhones the whole time. It's a little distracting when you're trying to be in the moment and someone's talking to 10 other people on Facebook. In some ways, you're not having that time together anymore and it's become the norm. Being alone has become a rare occasion.
Do you have any crazy memories of the mall tour?
I have so many. Some of my best memories were of just walking around malls in different cities, hearing different accents, seeing different styles and ways of life. It made a big impression on me just how different life in California was to say, Buffalo. I remember being yelled at by old ladies for being too loud and having pizza with my fans after the show. I really got to know my fans. You're never bigger than your fans and your fans are real people.
What kind of car were you driving in 1985?
My first car was a Saab Turbo convertible. It was black with tan interior. It was very, very cool. I ordered it when I was in Sweden and it came on a boat to the L.A. Harbor. When I went to pick it up, I was like "Yay! It's a good day to be Tiffany!"
Are there any fashion statements you wish you didn't make?
How many hours do you have? I had a fan from Texas drop by my boutique in Tennessee the other day and she had a scrapbook. Looking at the pictures, it was like "What was I thinking?" with every other picture, but I didn't have stylists involved or hair and makeup people. I was a tomboy, I was experimenting, and I didn't know what I was doing. Bad hair, blue eye shadow, color combinations that were too old for me. I was 16 though. On my first album cover, one of my friends pointed out that my nail polish was chipped. I had come right from school. I didn't even think to get my nails done.
What is on your '80s cassette mixtape?
Lisa Lisa, Beastie Boys, Duran Duran, anything early Madonna—"Holiday," "Borderline"—I love all the old school stuff—Adam Ant, Shiela E. The '80s were just a really great time for music.
Break out the leg warmers and go back to the 1980s. The Goldbergs totally premieres Tuesday, September 24 at 9|8c on ABC!