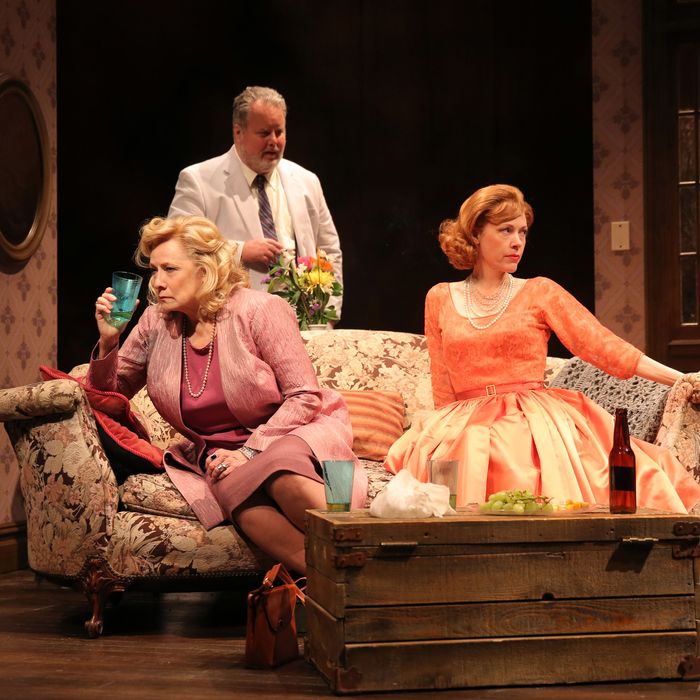 The Old Friends (at the Signature Center through October 6)
From beyond the grave, crafty Horton Foote just keeps on evolving: The Old Friends, a companion to Foote's 1944 Broadway debut, Only the Heart, was begun in the sixties and semi-staged in the eighties. Now doughty Foote soldier Michael Wilson (The Orphan's Home Cycle, The Trip to Bountiful) has brought the final version to fruition in a sizzling, spitting skillet of a production, where nary a performance is short of deep-fried perfection and every backhanded compliment and drunken indiscretion lands like a javelin in someone's back. This is the rare show in which Betty Buckley — as vulgar, manipulative, perma-toxicated farming empress Gertrude Ratliff — delivers a perfect monster of a performance, and there's still room for eight more. Cotter Smith is superbly deployed as Howard Ratliff, brother of Gertrude's late husband and manager of her estate, kept as a kind of pool boy Vanya to her whims and wants. Hallie Foote is Sybil, Howard's old beloved, who skipped town for foreign travel and slo-mo despair long ago, and now returns on a riptide of tragedy that upends the carefully calibrated dysfunction of Harrison, Texas. Lois Smith as an eclipsed matriarch, Veanne Cox as a redneck Hedda Gabler courting destruction at the hands of her shuddering Vesuvius of a husband, brilliantly undertaken by Adam Lefevre — this is Foote as unapologetic potboiler, half-Chekhov, half-Dallas, and great gooey gobs of grim Suhthun' fun.
Fetch Clay, Make Man (at New York Theater Workshop through October 13)
Some historical moments seem so ready-made for dramatization that they can seem pre-fabricated. Take, for example, the mid-sixties friendship of heavyweight boxer Muhammad Ali (Ray Fisher, doing an astonishing full-body Ali effect) and Hollywood icon Stepin Fetchit (K. Todd Freeman), who, between his many on-screen naps and pratfalls, found time to manipulate Golden Age racism and become a highly paid black actor. Director Des McAnuff downplays the pedantry and footnoting in Will Power's script and focuses on its tangy characterizations and the rich situational humor inherent in an outspoken boxer attempting to learn a mystical punch from a misunderstood Hollywood type. (The urgency of this mission waxes and wanes a little nonsensically as the play lopes easily along.) Step's presence at Ali's training sessions chafes the Champ's jumpy Nation of Islam minders, who see in Fetchit everything weak and false and shameful about black life in America. But that's not how Fetchit seems to Ali's first wife, Sonji (irrepressible Tony winner Nikki M. James); to her, he's a trickster God who, in the most threadbare of the play's many composite story lines, inspires her rather rapid reversion from Islam to mid-sixties paganism. Fetch Clay, for all its abundant humor and saucy style, isn't the deepest meditation on the changing nature of black manhood in a changing America, but it's a delightful showcase for its talent — especially Freeman, who, despite being a bit young for the role (Step was in his seventies when he met Ali), creates in Fetchit a tragedy of Shakespearean dimensions. It's a subtly massive performance, taking the role beyond the literal and into myth: Doomed to walk the earth misunderstood by both the masters he served and those he helped elevate from servitude, this Step is a kind of hobo god, lonely, marked — but never without hope, and always full of life and a belief that there'll be a fuller accounting of his achievements.
The Machine (at the Park Avenue Armory through September 18)
In the tradition of Enron, here's yet another arena-rock British megaplay that tackles heady, dense subject matter (the 1997 matchup between world chess champion Garry Kasparov and the IBM supercomputer Deep Blue) and butterflies it open with stylized movement, flash production design fit for a game show, and characterizations so broad, they can be seen from space. On one side of the table: Kasparov (dashing Hadley Fraser, lasers set to "smolder"), a machine of a man, guarded by a formidable, if stereotypical stage mother (Francesca Annis); on the other, the deeply flawed man behind the machine, Dr. Feng-Hsiung Hsu (an excellent, oft-heartbreaking Kenneth Lee), a striving immigrant who's working hard to rid himself of his residual humanity. Matt Charman's script, with its dutiful flashbacks and screenplay-ish compressions, is clever but (my apologies) machinelike — the show is pure math, and characters never really develop beyond the skins they enter in. The Machine flirts with big, familiar ideas — a society growing less human with each chess match lost — and touches of paranoia that echo nicely in the Armory's dark maw. But really, this is an Icecapades show for nerds. And thoroughly enjoyable as such.