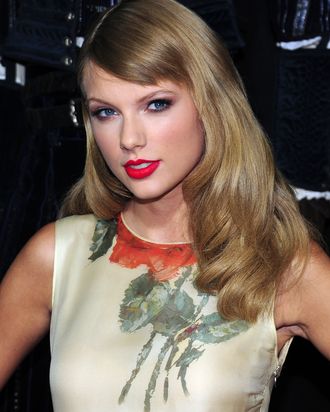 Taylor Swift poses on arrival on the red carpet at the World Premiere of the film 'Romeo & Juliet' in Hollywood, California, on September 24, 2013.
Photo: Frederic J. Brown/AFP/Getty Images
"Page Six" reports that Taylor Swift has just closed a deal to star alongside Meryl Streep, Jeff Bridges, and that too-old Australian guy in The Giver. Update: The Weinstein Company confirms it. Swift will play Rosemary, the previous Giver-in-Training, who (spoiler alert) cannot handle all the sad memories and chooses to be released from society. So lots of capital-A Acting from Taylor Swift, coming soon.