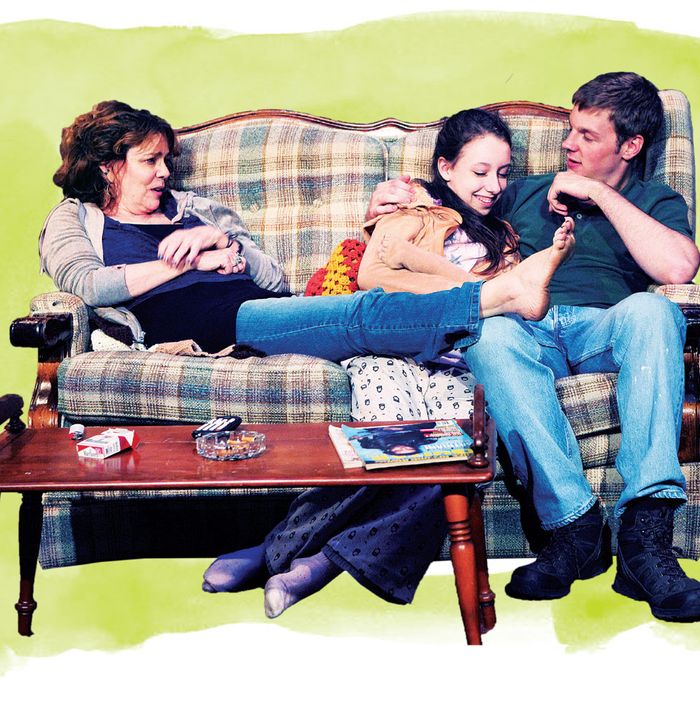 Coastal lowlanders, trying to find Lucy Thurber's Americana on a map, will likely point to Kentucky, or Wyoming, or the Ozarks, or somewhere in the smoky foothills of Southern Appalachia. At one show in her Hill Town Plays cycle—five high-tar stories of despair and escape, always revolving around a smart young girl fighting her beleaguered, impoverished, violated upbringing—my seatmate asked, "What part of North Carolina is this supposed to be?"
It's the part that's in Western Massachusetts, in stony crannies untouched by the splendors of distant Boston, the idylls of nearby Northampton, Deerfield, and Amherst, or even the tourist dollars of the resort towns. The hermetic, airless penury of small-town life in the un-Berkshires is being superimposed over the West Village this month as Thurber's knockaround plays colonize small theaters all over the neighborhood. They're the inaugural offering of the Rattlestick's Theater: Village festival, which looks to be a sort of mini–Signature series for lesser-known, still-developing Off Broadway playwrights. And if you're Christmas shopping for an actor friend, these shows (most previously produced, but collected as a cycle for the first time) will supply you with every stocking stuffer: Accents. Rural poverty. Stage violence. Stage sex. Power plays. Playing drunk. Violent stage sex. Smokin'. (There aren't many evenings out in New York that'll leave you smelling like the pre-Bloomberg Odessa anymore; this is one of them.)
The results are mixed, and appropriately dyspeptic. There's one truly great production in the rotation: Scarcity, which might be Thurber's signal work, inflamed and ennobled here by scorching performances from the masterful veteran Deirdre O'Connell and the pulse-quickening newcomer Will Pullen. The others (minus the robustly performed, pseudo-Chekhov meander Ashville, a new work that cries out for another turn on the lathe) flirt hard with wallowing and melodrama but are wrought with good, knotty stuff about gender and power and pain as a currency, the limits of empathy and the roots of cruelty. In sum, the Hill Town Plays comprise an unapologetically lurid portrait of an artist as both victim and exploiter, predator and prey, and the path is a crooked one.
But is it a cycle? Or a fixation, a singularity? I'd call it both. Squaring that paradox requires a full-immersion baptism in Thurber's world, which is more than the sum of its (sometimes inchoate) plays. This is a universe that stubbornly refuses to expand from play to play, opting instead to collapse in on itself; it doesn't even put one foot in front of the other, in a Footean fashion. Time doesn't really pass so much as accrue. In any writer's work, the same characters recur, the same conflicts and tensions obtain, the same battles are reenacted, over and over; but Thurber's whiskey-soaked hillbilly head-butts are so stark, so deliberate, so recursive in their accursedness, she often seems to be rewriting the same play. Distance is hard-won; pitiable and predatory men from the past—brothers, boyfriends, everything in between—are never far from the door; and progress always comes with a beery undertow of regression. It's how Thurber's archetypal girl-woman lives. (She goes by different names over the arc of the cycle.) More important, it's how she writes. Back home, the Girl depends on men for sex, protection, and a crucial sense of superiority to her toxic surroundings; out in the world, the Woman loves other women and seeks a bond that isn't mortgaged on psychosexual violence. This dynamic plays in a loop, with the plays checking in at different mile-markers. By the end, Thurber's heroine—who has become a writer and academic, at work on her second book—is forced to acknowledge as much.  "You tell one part over and over again," chides a guardian angel (Jenny Seastone Stern) to Rachel (Hani Furstenberg) in Stay. "You're like a sheet of paper that's been copied too many times."
Scarcity—the first of the plays, in terms of narrative chronology—is the strongest stand-alone offering. It's a play about betrayal and abandonment, the most frightening of the bunch, probably because the stage isn't dominated by children (or even man- or woman-children), but by terrifyingly ruined adults. Failure to slip the small-town snare isn't just a Last Picture Show tableau of abstract desolation. It carries immediate and palpable consequences: Look, they're sitting right there in the kitchen, getting wasted and playing cards, looking for new ways to cadge a drink or a box of cornflakes, getting their dudgeon up for their next chair-breaking donnybrook. Chief among demons is O'Connell's Martha, boozy, blowsy matriarch of a volatile family that includes two child prodigies, high schooler Billy (Pullen) and middle schooler Rachel (Izzy Hanson-Johnston), and their father, a hapless, violent drunk (Gordon Joseph Weiss). Hanson-Johnston is an impressively disciplined young actress, and she grasps that she's more observer than participant: Center stage belongs to the quietly Oedipal pas de doom between Billy and Martha, two hunters circling a kill they can't share. Their dance is mediated by a clueless outsider, Billy's New York–bred high-school teacher (Natalie Gold). She offers him a way out—with strings attached that Billy can see long before his would-be deliverer does. Everything is a ready weapon in Scarcity.
Physical threats mount in the other plays, cresting with Killers and Other Family, a bottle horror where everything, except the acting, feels a bit forced, but the urgency of escape never returns with quite the same vinegary suspense. Instead, we enter a long "now" (set, a little fuzzily, in what seems to be the late eighties and early nineties) that doesn't really lift until Stay, the final entry. Furstenberg's grown-up Rachel is trying, quite literally, to close the book on her broken childhood. She can't quite do it, and the play can't quite end; it dissolves into a mist of magic. "Cycle" might be the right term for the Hill Town Plays; I'm not certain Thurber's finished with them, or if she'll ever be. The pleasure of spending a week with her isn't in the closure; it's the slow burn of a holiday in hell, also known as the inside of a still-evolving writer's head. If you're looking for a showcase of masterpieces, look elsewhere. If you're interested in why and how people write, pack a bag, and for the love of God, bring a bottle. That's just hospitality.
The Hill Town Plays by Lucy Thurber. Rattlestick Playwrights Theater. Through September 28.
*This article originally appeared in the September 16, 2013 issue of New York Magazine.