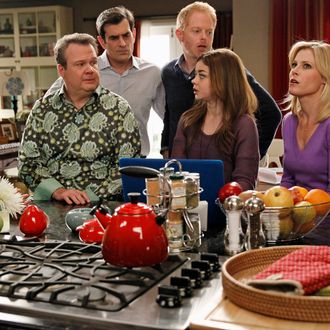 MODERN FAMILY - "Flip Flop" - Phil is pretty confident in his ability to sell Claire and Cam's flipped house, but when it proves to be a little harder than he thought, he recruits the whole family into taking some desperate, borderline crazy measures. Meanwhile, Javier (guest star Benjamin Bratt) is visiting Manny and brings along his new girlfriend (guest star Paget Brewster), which doesn't sit very well with Gloria, on "Modern Family," WEDNESDAY, APRIL 10 (9:00-9:31 p.m., ET) on the ABC Television Network. (ABC/Peter "Hopper" Stone) ARIEL WINTER, ERIC STONESTREET, TY BURRELL, JESSE TYLER FERGUSON, SARAH HYLAND, JULIE BOWEN, NOLAN GOULD
Photo: Peter "Hopper" Stone/? 2013 American Broadcasting Companies, Inc. All rights reserved.
Emmy regular Modern Family is reportedly worth $1 billion to its network and producers, so Deadline's report that ABC and 20th Century Fox Television are talking about doing a spinoff is not very surprising. Nothing has been decided yet, but co-creator and showrunner Steve Levitan and co-executive producers Paul Corrigan and Brad Walsh would likely oversee the project, while co-creator and other showrunner Chris Lloyd would stay focused on the original series. While we'd be interested in watching something about the adventures of Gloria's unpredictable ex, Javier (also known as Benjamin Bratt), Deadline and The Hollywood Reporter say that one of the ideas being explored is a show about Phil's real-estate industry nemesis Gil Thorpe (Rob Riggle), who probably has a lovable, more successful family of his own.