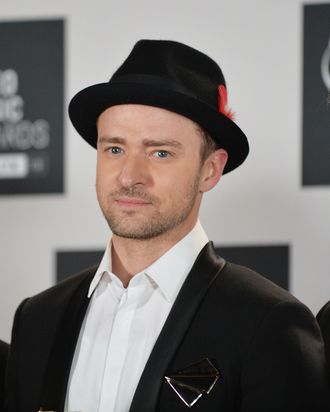 Justin Timberlake at the MTV Video Music Awards August 25, 2013 at the Barclays Center in New York.
Photo: Stan Honda/AFP/Getty Images
While we know Justin Timberlake is no stranger to late-night TV, it seems Jay Leno isn't his favorite host. Citing the all-important "source with knowledge of the situation," Deadline reports that while Timberlake will still sit down with the Tonight Show host this evening, he has canceled his performance on the show. If you'd still like to see someone sing at 11:30, head over to ABC where they're taking attention away from Leno and marking the first day of the official 2013-14 broadcast TV season tonight by shutting down Hollywood Blvd. for Sir Paul McCartney's first appearance on Jimmy Kimmel Live. Though JT claims he's feeling a little sick, there's speculation that he didn't want an NBC set to steal the thunder from his own Kimmel/Hollywood Blvd. appearance tomorrow night. Let's hope whatever he's fighting off clears up by then.