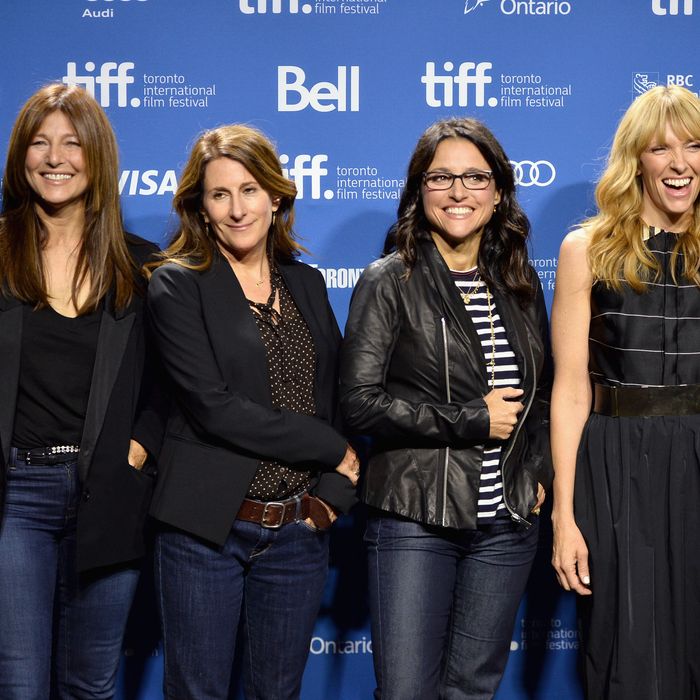 A few years ago at the Toronto Film Festival, I remember James Gandolfini spending the entirety of a party for his underrated teen-girl-assassins movie, Violet & Daisy (directed by Precious screenwriter Geoffrey Fletcher), standing on the sidewalk, having jovial conversations with a string of seemingly random passersby. It's unclear whether he ever set foot inside his own premiere party, but by the time I worked up my nerve to ask him for an interview, he'd already gone home, at a pretty early hour in the evening.
I never did meet him, but I was reminded of that moment — and how much I admired him skipping his own party to hang out on a sidewalk — Saturday afternoon while attending the premiere of Enough Said, one of his final movies, in the same theater as the Violet & Daisy premiere. Sometimes at festival screenings there's a very particular charge in the air; you could just feel how excited everyone was to support the movie, and how linked we all felt in our melancholy over Gandolfini's absence.
The cheering started as soon as director Nicole Holofcener (Please Give, Lovely & Amazing) stepped onstage, and went a decibel higher, it seemed, for each badass actress who followed her onstage, including Catherine Keener, Toni Colette, and — rapturous applause — Julia Louis-Dreyfus. Those actresses wrapped their arms around the younger actresses who play their daughters (including wunderkind Rookie Magazine editor Tavi Gevinson), and smiled broadly and squeezed tightly as if to brace for the final introduction, when Holofcener acknowledged "the beautiful person who's not here with us, and we all know who that is."
No one applauded then, but as soon as Gandolfini's name appeared in the opening credits, the theater erupted like thunder. It was incredibly moving.
And then seconds later, we were laughing. The film opens with the image of tiny Louis-Dreyfus as masseuse Eva, lugging a giant massage table to the homes of a series of horrible clients: The old man with terrible breath, the woman who never stops talking, the able-bodied young man who lives in a steep walkup but never offers to carry her things. Gandolfini's first appearance is at a party, where Eva and his character, Albert, strike up adorable banter about how unattractive they find everyone there. They've both been through bad divorces, both have daughters about to go to college, and are both having trouble coping. (And in a critical plotline, Eva will find out she's accidentally befriended Albert's ex-wife, played by Keener.) There's chemistry for sure, but a lot of caution on Eva's end, who bluntly talks about how Albert is kind of fat and not that attractive — until she has the best first date of her post-divorce life. And you believe every minute. Of course Eva would let down her guard for this guy; Gandolfini is that incredibly charming and sexy.
Which makes it all the more wrenching, after spending that immersive time with Gandolfini and seeing him so vibrant and funny, when the movie ends, and a simple note, "For Jim," rolls across the closing credits. The audience rose to their feet as Holofcener and the actresses came back onstage for the Q&A. You couldn't help but feel for everyone up there, particularly Louis-Dreyfus, who shares so many great moments with him.
They all seemed to have had a rough time watching the movie, but also seemed moved by the reaction. Toni Colette and Louis-Dreyfus grabbed hands and held on tightly. It took only twenty seconds for someone to ask Louis-Dreyfus about her favorite scene with Gandolfini. "Well, there are an endless number of fond memories," she began, before her voice failed her and she choked up. It was the final scene, she said once she recovered, which they tried over and over again, improvising different lines and different sentiments. "And when we nailed it, or felt like we nailed it and we did what you see is in the final cut here," she said, "we just went off and fell into each other's arms because we knew that it felt right." As they stepped offstage a few minutes later — the Q&A had been mercifully short, but full of good humor — several cast members, likewise, fell into each other's arms. Colette and Louis-Dreyfus were still holding hands, and didn't look like they planned to let go anytime soon.