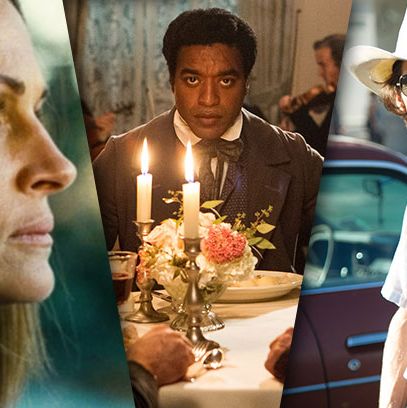 Photo: The Weinstein Company/FOX/Focus Features
The Toronto Film Festival is a movie lover's smorgasbord, and an Oscar pundit's most essential stop: It's where Ben Affleck brought last year's Best Picture winner, Argo, and it's where we predicted that Jennifer Lawrence would win the Oscar the day after Silver Linings Playbook had its gangbusters world premiere. Will this year's lineup prove to be a similar awards season bellwether? Time will tell, but one thing's for sure: There is a seriously impressive-looking array of movies slotted in the TIFF lineup this year, and your Vulture editors will be checking out all of them and reporting back to you. Here are fifteen of the films we're most excited about; ten of them are Toronto world premieres, while five debuted this past week at film festivals in Venice or Telluride.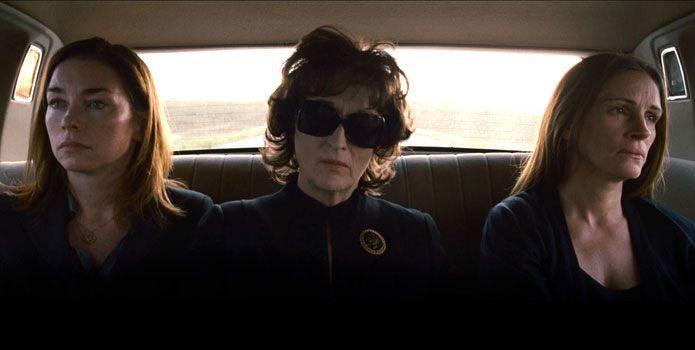 August: Osage County
We heard your grumbling when the first trailer for this family dramedy — starring Julia Roberts and Meryl Streep — seemed to capture none of the scabrousness of the Pulitzer-winning play it's based on. But we remain hopeful: Playwright Tracy Letts adapted his own work to the screen for director John Wells, and you've got two Oscar-winning actresses in the lead roles plus two more nominees in the supporting cast (Juliette Lewis and Abigail Breslin). Toss in the Toronto Film Festival's most ubiquitous actor, Benedict Cumberbatch, and we can't help but get excited for this one.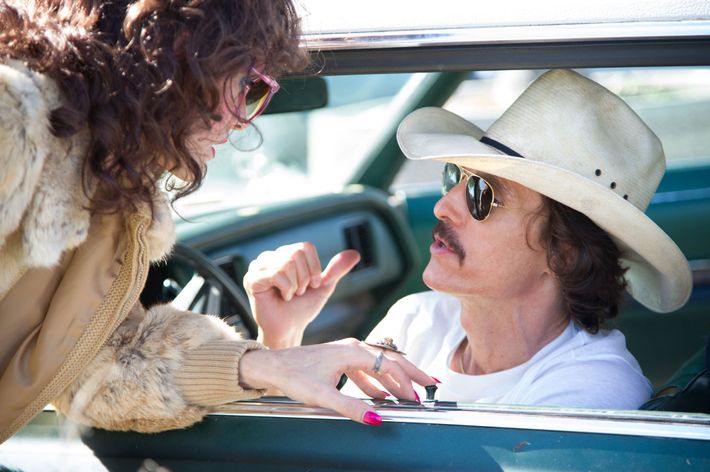 Dallas Buyers Club
The McConaissance continues as Matthew McConaughey stars in his toughest project to date: the true-life story of Ron Woodruff, an AIDS-afflicted Texan who set up a drug-smuggling ring to get treatment meds over the border and into the States. (It's the movie that McConaughey lost all that weight for.) Jennifer Garner and Jared Leto costar; the latter is already attracting some awards buzz for his role as a transsexual who befriends the formerly intolerant Woodruff.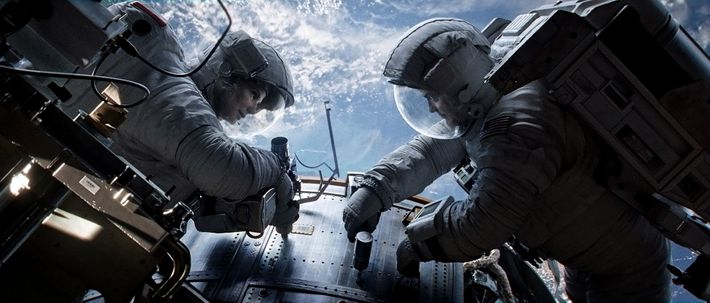 Gravity
It feels like we've been waiting forever to see Alfonso Cuaron's outer-space epic: Gravity was originally slated to come out last year (then delayed for further post-production), and besides that, it's been seven years since Cuaron made his last movie, the instant classic Children of Men. But hopefully it's proved worth the way, because initial word out of Venice and Telluride is that Gravity — starring Sandra Bullock as an astronaut marooned out in space — is a 3-D wowser.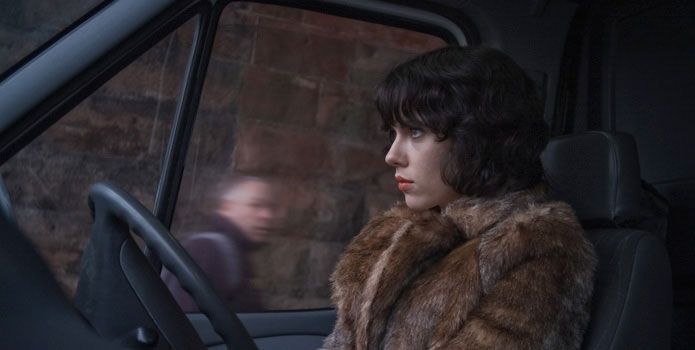 Under the Skin
As a director, Jonathan Glazer has adopted a pace that makes Alfonso Cuaron seem like Woody Allen: Since the one-two punch of Sexy Beast and the exquisite Birth, Glazer has spent nine years working in commercials and music videos without a new big-screen credit to his name. Suffice it to say, then, that we're incredibly curious about Glazer's return to form in Under the Skin, not least because it stars Scarlett Johansson as a sexually rapacious alien. Yeah, you read that right.
You Are Here
The feature directorial debut of Mad Men mastermind Matthew Weiner, You Are Here follows Owen Wilson and Zach Galifianakis as they head back to their hometown to collect a big inheritance, where they tangle with Wilson's sister, Amy Poehler. The comedy sounds like a real departure from Mad Men, but it's a passion project several years in the making for Weiner; let's also not forget that before Weiner created the AMC drama, he wrote for sitcoms like Andy Richter Controls the Universe and Becker.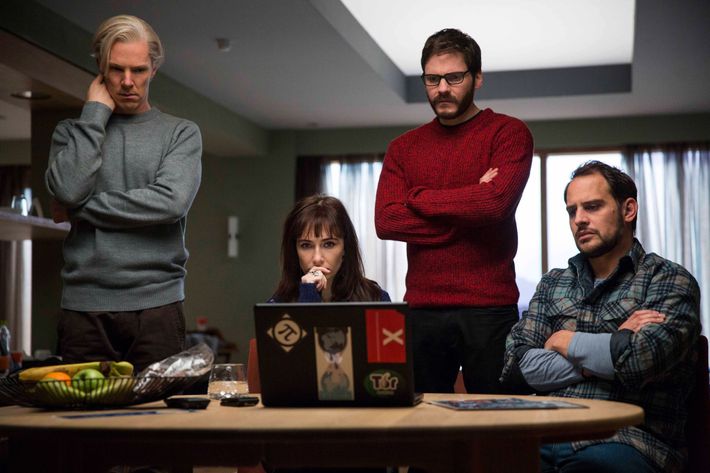 The Fifth Estate
Hardest working man in show business Benedict Cumberbatch plays WikiLeaks founder Julian Assange in this Bill Condon-directed biopic, which is opening the festival. Word is, Cumberbatch has nailed Assange's accent and haughty manner; we know he got the hair right, at least.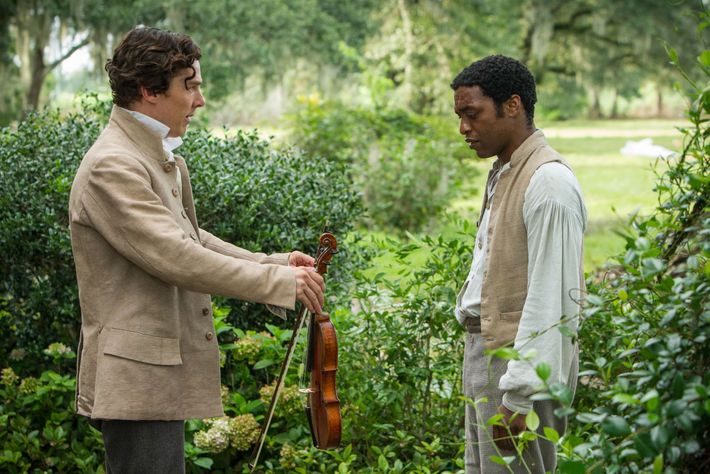 12 Years a Slave
Django Unchained took a more irreverent look at slavery last season, but 12 Years a Slave should act as a bracing corrective: Word out of Telluride is that the latest drama from director Steve McQueen (Shame) is his best film yet. Chiwetel Ejiofor stars as a free Northerner who's tricked and sold into Southern slavery; as the titular twelve years of servitude play out, Ejiofor must summon all his strength to survive. Michael Fassbender, Brad Pitt, and Benedict Cumberbatch (of course) fill out the supporting cast.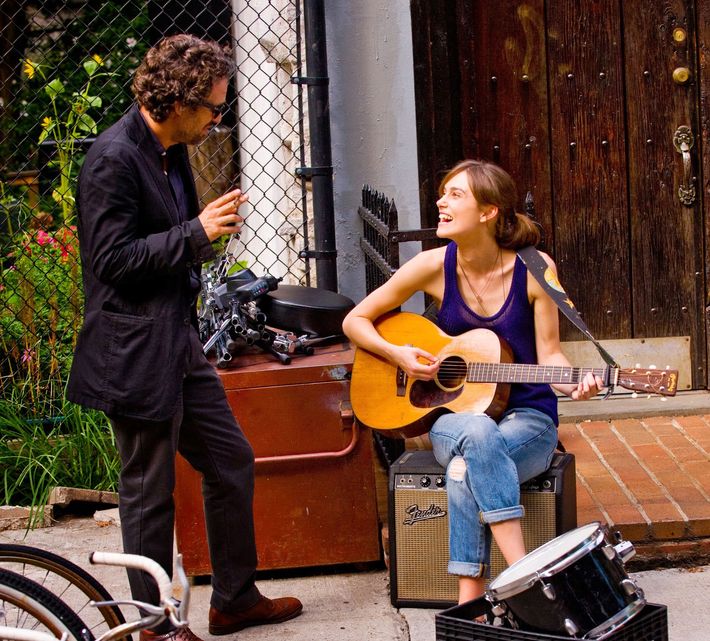 Can a Song Save Your Life?
Once helmer John Carney has corralled some big names for his new music-infused drama: Mark Ruffalo and Keira Knightley play our lead lovers — an A&R man and aspiring singer, respectively — while Hailee Steinfeld and The Voice judges Adam Levine and Cee-Lo Green round out the cast. (That's fine, Blake Shelton was busy washing his hair that month anyway.) Can Carney recapture the modest magic that made Once an indie success and Broadway smash?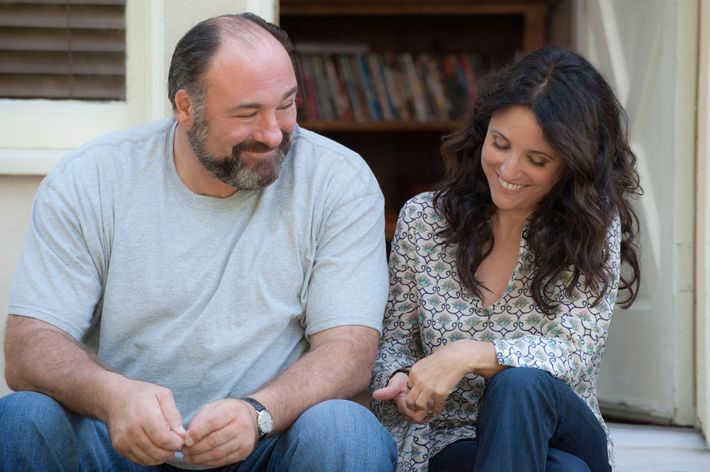 Enough Said
We'd be looking forward to the new comedy from director Nicole Holofcener no matter what, but now that it reps the last big credit from the late James Gandolfini, our anticipation is tinged with a bit of sadness. Julia Louis-Dreyfus stars as a woman who makes two pivotal new acquaintances — a cool gal pal (Catherine Keener) and a potential love interest (Gandolfini) — but things get complicated when she realizes that Gandolfini is the dreaded ex that Keener keeps badmouthing.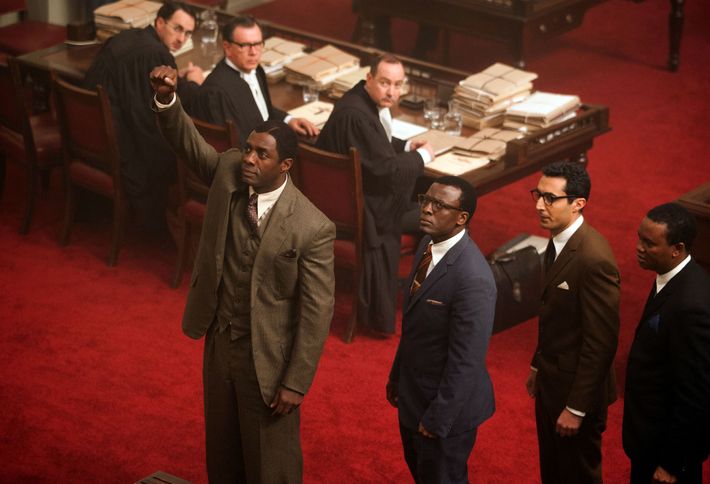 Mandela: Long Walk to Freedom
Harvey Weinstein likes to tout his Nelson Mandela biopic by saying, "This is not your daddy's HBO version of Mandela," and indeed, Idris Elba's depiction of the South African political icon seems brawnier than you might expect from a movie about a freedom fighter. Will this be the film that finally makes Elba a certified A-lister? Here's hoping.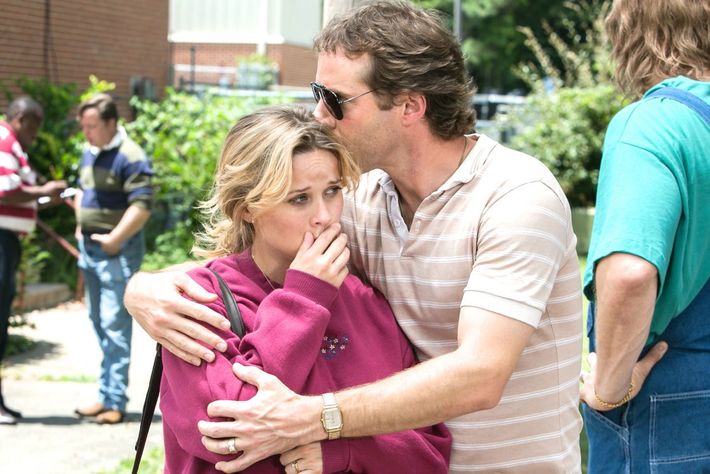 Devil's Knot
Now that romantic comedies are all but dead, Reese Witherspoon is taking more chances on-screen: In addition to her small supporting role in this summer's well-reviewed Matthew McConaughey vehicle Mud, she's starring in Devil's Knot, director Atom Egoyan's take on the West Memphis Three case. Witherspoon will play Pam Hobbs, the mother of one of a young murder victim who decides that the three men accused of killing her son are actually innocent. A who's-who of character actors co-star in the film, including Colin Firth, Amy Ryan, and Dane DeHaan.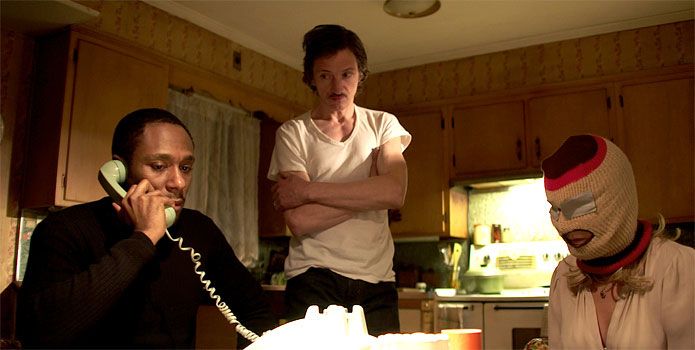 Life of Crime
Before he passed away last month, legendary novelist Elmore Leonard executive produced this adaptation of his book The Switch, starring Jennifer Aniston as a wealthy man's wife who is kidnapped by two criminals expecting a big ransom … only her husband (Tim Robbins) has no interest in paying the bounty now that he's free to be with his mistress (Isla Fisher). Let's hope the movie turns out to be a fitting tribute to Leonard's late genius.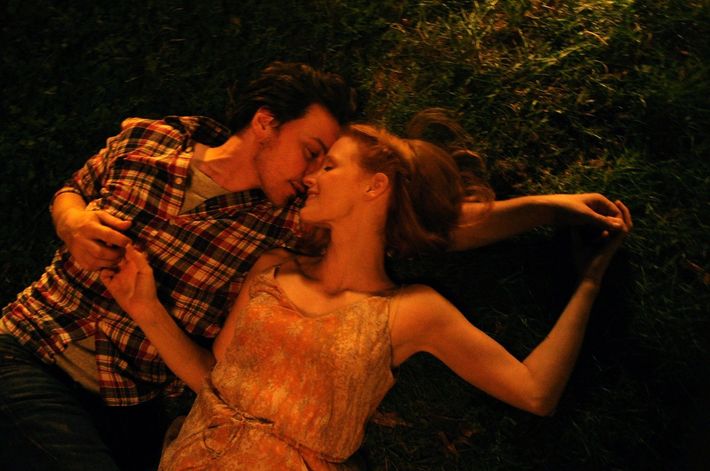 The Disappearance of Eleanor Rigby
Jessica Chastain is no slouch. The Oscar-nominated actress regularly tops our tally of the year's most prolific thespians, and The Disappearance of Eleanor Rigby is further proof of her frequency: It's actually two separate films, one told from the perspective of Chastain and the other from her husband James McAvoy as their marriage begins to fall apart. They'll both be screening in Toronto as a work in progress.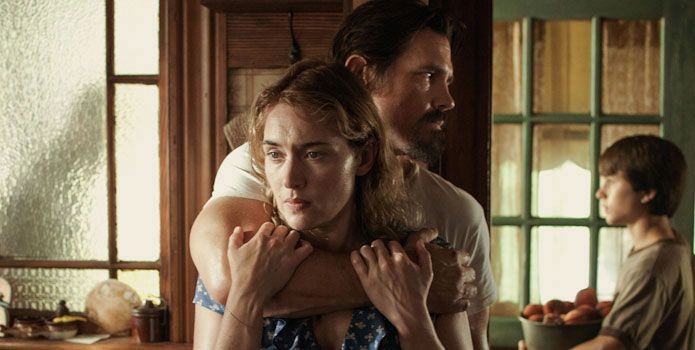 Labor Day
To judge from the reviews out of Telluride, Labor Day marks something very different for director Jason Reitman (Juno, Up in the Air), who adopts a more earnest, romantic tone for this adaptation of Joyce Maynard's story about a mother (Kate Winslet) and son who are taken hostage by a potential criminal (Josh Brolin) who's much more hunky and sensitive than he first appears. There's always a bright side!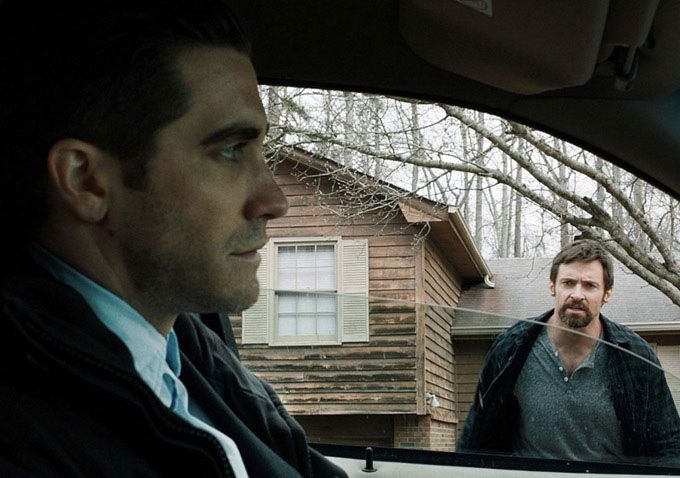 Prisoners
Based on the trailer, you might have thought that this kidnapped-kids drama was some run-of-the-mill studio flick, but Telluride audiences were raving over Prisoners and its leads, Hugh Jackman and Jake Gyllenhaal, were said to give career-best performances. Credit director Denis Villeneuve, who actually has another Gyllenhaal-starring drama at Toronto: Enemy, which casts the actor in dual roles as a man who meets his doppleganger.