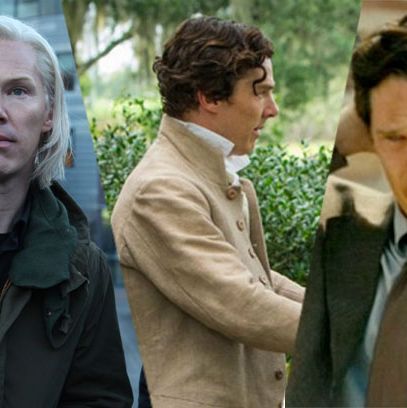 If you're a fan of Benedict Cumberbatch, allow us to assume three things about you: You know all the best sites to torrent Sherlock episodes from, you spend way too much time trolling Tumblr for shirtless GIFs of the 37-year-old Brit, and the movies premiering at this year's Toronto Film Festival will make you very, very happy. Cumberbatch had his breakout big-screen role earlier this summer in Star Trek Into Darkness, but he's having an even bigger moment now, seeing as he stars in three of the most talked-about movies of the fest. Here's a breakdown of what he's got going on in The Fifth Estate, 12 Years a Slave, and August: Osage County, including his various hairstyles, accents, and special talent-show moments.
The Fifth Estate
Character: Julian Assange, the prickly spiller of government secrets who founded WikiLeaks
Accent: An Australian accent, deemed "grating" by the real-life Assange
Hairstyle: A long, lustrous white mane
Monstrous family member: His mother's ex-boyfriend, who supposedly plied Assange with drugs at a young age and abused him
Romantic attachments: None are portrayed in the film, though a closing-credits crawl notifies us that Assange was accused of sexual misconduct by two Swedish women in 2010
Special skill: At an Iceland nightclub, Cumberbatch's Assange takes to the dance floor and busts out moves that resemble a demented, flailing octopus.
12 Years a Slave
Character: William Ford, a genteel Southerner who is the first to purchase our protagonist, kidnapped slave Solomon Northup (Chiwetel Ejiofor), at auction
Accent: A nineteenth-century Louisiana drawl
Hairstyle: Brown and wavy, with a forelock often coming loose just so
Monstrous family member: His preening wife, who looks askance at a grieving slave who's just been separated from her son and daughter, purses her lips, and counsels her: "Your children will soon be forgotten."
Romantic attachments: Ford is at least faithful to his wife, unlike Northup's next owner, the vile Edwin Epps (Michael Fassbender), who regularly rapes prized slave Patsey (Lupita Nyong'o).
Special skill: Cumberbatch's glorious oratorical skills are in full bloom during the scenes where Ford, a Baptist preacher, reads scripture at loud and at length.
August: Osage County
Character: Little Charles, the most derided member of a family that includes his aunt, vicious matriarch Violet (Meryl Streep), as well as cousins Barbara (Julia Roberts), Karen (Juliette Lewis), and Ivy (Julianne Nicholson)
Accent: Midwestern and slightly dim
Hairstyle: Parted to one side and combed assiduously
Monstrous family member: It would be hard to select just one, but even though the hot-tempered Violet is the family's lead gorgon, Little Charles endures most of his insults from his mother Mattie Fae (Margo Martindale), who constantly calls him stupid and aimless.
Romantic attachments: To reveal the object of his affection could be considered a spoiler, but let's just say that Little Charles keeps it in the family.
Special skill: In the movie's sweetest, swooniest scene, Little Charles plays and sings a song he wrote for his secret girlfriend, and even though the character is presented as unemployed and not too bright, women in the audience had to be stopped from hurling themselves into the movie screen to be with the tender Cumberbatch.