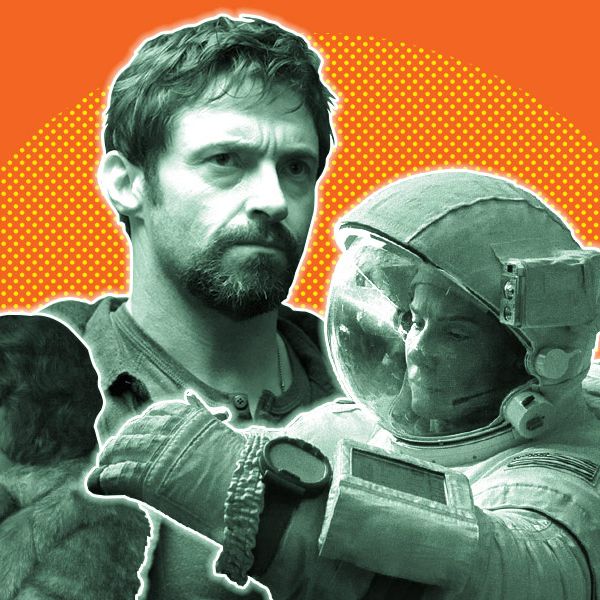 That's a wrap on the Toronto Film Festival, and if you couldn't tell by our coverage, it was a pretty terrific lineup fronted by seminal films like 12 Years a Slave and Gravity in addition to a wide range of pretty-good efforts and sterling performances. Which films had the most to offer, and which left us scratching our heads? Let's take a look at the best, worst, and everything in between that Toronto had to offer.
Most Exhilarating: Gravity
We're still catching up on all the breath we held while watching Gravity, Alfonso Cuarón's seamless, pulse-pounding space epic. One wag dubbed it Movie: the Ride, and while it does resemble a roller coaster at times, it's the most stunningly made, expertly engineered thrill ride we've experienced in years, not to mention a light-years leap forward in special effects.
Best Catchphrase: August: Osage County
Remember "Drink your juice, Shelby," the command repeatedly levied at the diabetic daughter played by Julia Roberts in Steel Magnolias? Twenty-four years later, we've come full circle, as Roberts barks a similar command at her mother in August: Osage County, shouting, "Eat the fucking fish!" over and over. When someone inevitably stitches those two moments together in a YouTube loop, we will begin each day with an obligatory viewing.
Least Necessary: Devil's Knot
Yes, there have already been four movies about the West Memphis Three, but in theory, this new one could have worked: By taking the story out of the documentary realm, director Atom Egoyan should have been able to investigate this true-crime tale from a different angle and show us scenes that we simply couldn't have experienced in that format. Alas, the incredibly mild Devil's Knot fails to make the most of its opportunity, and twenty minutes in, it becomes a litany of endlessly recited court transcripts, stranding a solid cast that includes Reese Witherspoon, Colin Firth, and Dane DeHaan.
Most Curiously Formatted: The Disappearance of Eleanor Rigby
Two movies lashed together, The Disappearance of Eleanor Rigby tells the story of a failing marriage from two perspectives: James McAvoy's and Jessica Chastain's. At the premiere, audiences watched the three-hour double feature in that order, but at the first press screening, Chastain's entry ran before McAvoy's, sapping the enterprise of its central mystery: Why does her character want out of her marriage to nice-guy McAvoy so badly? McAvoy's entry withholds most of the answers that Chastain's gives freely, so if you watch hers first, his is just an exercise in frustration.
Craziest Final Shot: Enemy
This Denis Villenueve–directed Jake Gyllenhaal vehicle already has a bizarre premise: Gyllenhaal's rumpled professor becomes obsessed with his look-alike, a failed actor also played by Gyllenhaal. But nothing can prepare you for the startling, super-weird, impossible-to-guess final shot … not even this blurb touting it.
Weirdest Character Names: Prisoners
In Enemy, Gyllenhaal and Villenueve prove adept at grounding concepts that could potentially seem silly, and that's a talent that serves them well with their other TIFF collaboration, the kidnapped-child mystery Prisoners, where Villeneuve's sober style anchors a narrative that's powered by airplane-novel plot twists. If it weren't for the grim mood, you'd have more time to dwell on the ridiculous character names: Hugh Jackman is playing a man named Keller Dover (come again?) and Gyllenhaal's case investigator is called Detective Loki (I'm sorry, but no).
Least Sexy Sex Scenes: Under the Skin
Film festivals always overdeliver on nude scenes, and Toronto was no exception: Chris Hemsworth, Olivia Wilde, and Daniel Radcliffe were just a few of the many stars who shed their clothes for their art up north. But Scarlett Johansson's fleshy turn as an alien in human guise for Under the Skin came with some caveats: Whenever her bombshell is about to seal the deal with a willing, beguiled one-night stand, the action cuts to a weird place between worlds, where the nude and erect victim follows the undressing ScarJo into an inky alien pool, which drowns him. What a way to go, huh?
Best Mommy Porn: Labor Day
In Labor Day, a depressed divorcée (Kate Winslet) and her young son have been taken hostage in their own home by an escaped convict … but when the convict is played by hunky Josh Brolin and most of his hostage-taking time is spent grouting stone walls, baking pies, teaching the kid how to play baseball, and giving the lady of the house some much-longed-for affection, who's going to complain? Director Jason Reitman's latest film, about a suspenseful, fevered summer weekend in small town New Hampshire, ought to tide over repressed housewives of the world until the Fifty Shades of Grey movie finally gets made. Brolin's Frank is sweaty, manly, good at home repairs, and more than a little dangerous; you can't help but think he'd really clean up on eHarmony.
Most Poignant Swan Song: The Wind Rises
Japanese animation master Hayao Miyazaki (Spirited Away, Howl's Moving Castle) has declared that The Wind Rises will be his last feature-length film, and in many ways, this beautiful historical epic feels like the 72-year-old taking stock of his life. The film traces the journey of a young boy named Jiro from his first infatuation with airplanes to the moment he becomes Japan's greatest aviation engineer, grounding the action against the 1923 Kanto earthquake, a devastating tuberculosis epidemic, and World War II firefights. Miyazaki's father actually ran a factory making rudders for WWII fighter planes, and it's not hard to picture Jiro as an amalgam of Miyazaki's father and the animator himself as the film meditates on the joys and sacrifices of an artistic life, the importance of dreams in turbulent times, and the inevitability of death.
Most Surprising Depiction of an Icon: Idris Elba in Mandela: Long Walk to Freedom
It's shocking to see tall, ripped Idris Elba as Nelson Mandela — this isn't the frail 95-year-old with the huge smile who was released from the hospital earlier this month after a serious lung infection. But Elba's casting is fairly apt: Mandela in his youth was six feet tall and an avid runner and boxer who kept up his training during those 27 years spent in a South African prison. What's even more surprising (especially in a film endorsed by Mandela's family) is how the movie touches on Mandela's womanizing and partying, the way he neglected his first wife and family before marrying Winnie (played by Naomie Harris), as well as the borderline terrorism techniques and violent retaliation he endorsed in his fight against Apartheid. The film is, as Variety put it, "directed within an inch of its life," but Elba sheds new light on the kindly, peaceful icon we've come to know.
Least Appropriate for Children: Bad Words
"Hey, moms, break out the pillow cases! These little pricks are going to be counting tears, not sheep." That's the speech the antihero of Bad Words, 40-year-old Guy Trilby (Jason Bateman, in his directorial debut), gives to a group of kids and their parents before wiping the floor with them in a middle school spelling bee. Thanks to a loophole — he never graduated the eighth grade — Trilby makes his way to the National Quill Spelling Bee, where he picks up an adorable kid sidekick (Rohan Chand), whom he introduces to drinking, curse words, boobs, and so much more. When it comes to inventing hilarious ways to warp young minds, Bateman and screenwriter Andrew Dodge don't just cross the line, they piss way past it.

Most Likely to Inspire a Sunday Hike: Tracks
This gorgeously shot, incredibly inspiring epic is the true story of Robyn Davidson, who made a solo, 1,700-mile trek across the Australian Outback in 1977. Who wouldn't want to spend 110 minutes in the wonderful company of star Mia Wasikowska, four camels, and Adam Driver (who plays the photographer sent to document Davidson's trip)? Bring some comfortable sneakers and a few feral camels (if you have them) to the theater, because you'll want to embark on your own expedition immediately after.

Breakout, Male: Daniel Brühl in The Fifth Estate and Rush
In his two Toronto movies about flashy egoists and the men who try to keep up, German actor Daniel Brühl plays the other guy: In the WikiLeaks dramatization The Fifth Estate, Bruhl plays Daniel Domscheit-Berg, the earnest hacker and activist who tries to act as the moral compass to Benedict Cumberbatch's Julian Assange, while in the Ron Howard–directed Rush, Bruhl is cast as legendarily brusque Formula One superstar Niki Lauda, who had an enduring rivalry with Chris Hemsworth's charismatic party-boy racer James Hunt. In other hands, those roles could have been boring buzzkills, but the fascinating Bruhl sneaks away with both movies.

Most Ridiculously Entertaining: Metallica: Through the Never and Man of Tai Chi
If you're simply in the market for ridiculous, outsize fun, you couldn't do much better than Metallica's concert documentary–apocalyptic thriller Metallica: Through the Never and the Keanu Reeves–directed martial arts flick Man of Tai Chi. The former plops the band into a Chicago concert set in a rapidly disintegrating arena, while a roadie (Dane Dehaan) runs his errands in streets overtaken by angry mobs and murderous horsemen. In the latter, Reeves plays with his own placid persona as supervillain Donaka Mark, a mogul who ropes innocent but arrogant Tai Chi protégée Tiger Chen into an underground fight ring. Reeves manages to save the movie's best catchphrase, "You owe me a life!" for himself.

Best Celebration of the Chosen People: Fading Gigolo and Supermensch: The Legend of Shep Gordon
Woody Allen didn't direct Fading Gigolo, but it has his DNA all over it. Allen plays a bookstore owner who pimps out his florist best friend (played by writer-director John Turturro) to lonely women, including a Hasidic widow (Vanessa Paradis) who makes a living picking lice from children's hair. Eventually, Allen is put on trial to defend his Jewishness by a jealous detective from the Williamsburg Shomrim, played by Liev Schreiber. Just as Jew-friendly is Mike Myers's directorial debut Supermensch, the hilarious documentary about Shep Gordon, the man who managed a startling array of rock icons. How did he get his start? Jimi Hendrix told him, "Are you Jewish? You should be a manager."
Breakout, Female: Lupita Nyong'o in 12 Years a Slave
Lupita Nyong'o hadn't yet graduated from Yale Drama School when Steve McQueen cast her in the pivotal role of Patsey, a beautiful young slave who becomes the object of affection for her owner (a ferociously cruel Michael Fassbender) and the object of scorn for his wife (an even crueler, if possible, Sarah Paulson). It's difficult to watch the depths of misery Patsey endures — and it's very likely to produce an Oscar nomination. Objectified as she is, though, there's nothing passive about Nyong'o's Patsey; she is a woman searching for dignity in impossible circumstances.
Bloodiest, Most Awesome Revenge Saga: Blue Ruin
Jeremy Sauliner's gritty micro-budget thriller — winner of the FIPRESCI critics' prize at Cannes — opens with police informing a quiet beach bum (Dwight Evans, played with brilliant restraint by Macon Blair) that someone important to him has just been released from prison. Suddenly, he snaps into action, reluctantly propelling himself toward bloody revenge for motives we don't yet know. What's remarkable is not the intensity of the violence that follows, but how expertly it's paced, with humor and bad choices that beget more bad choices, so that we never doubt this weak-chinned loser's ability to endure and inflict pain, and every preposterous move seems not just believable but the only logical next step.