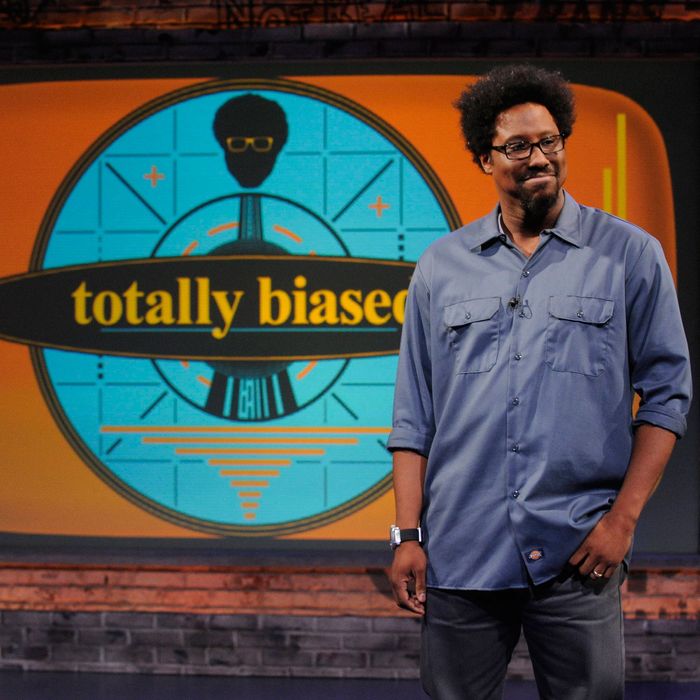 Photo: Jeffrtey Neira/FXX
Totally Biased With W. Kamau Bell returns tonight at 11 p.m. on FXX, FX's comedy-channel spinoff, and from here on out the show will be on four nights per week instead of one. When the late-night show started last year, it was a little bit spotty, but over the course of the season, the show really found its voice: The Daily Show is to media what Totally Biased is to race, and the more confidently the show embraced that, the better it got. The man-on-the-street segments, like "Anything to Say to a White Guy?" are consistently funny, and the stand-up sets and sketches from the show's writers are the best parts of most episodes. If you need more convincing to check it out, here are some highlights from last season.
Here, various people air grievances and ask questions to a white guy.
Hari Kondabolu is a writer for the show, and in this clip, he takes on everyone's favorite ESPN program: the spelling bee.
One of Totally Biased's charms is that it often feels very low-budget and casual. The best of these let's-just-try-this-goofy-idea segments is from writers Janine Brito and Aparna Nancherla, in which they take on the ever buzz-worthy topic of oral sex.
One of the recurring bits in Bell's monologues is "This Is Why We Can't Have Nice Things," which is generally about Americans doing something hellaciously racist. Here, it's the racist response to that Cheerio's commercial from a few months ago. Bell covers a ton of ground in this segment, from jokey-jokey stand-up material to tender emotions about his family, and it's kinda great.
And finally, another man-on-the-street piece, this time with people explaining the "positive" stereotypes of their own backgrounds. (Stick around for the "Electric Slide.")