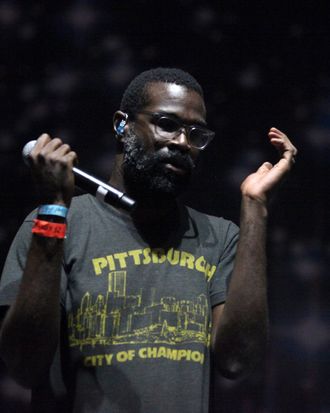 Between being on set of Nasty Baby with Kristen Wiig, animating videos for and playing with his new project Higgins Waterproof Black Magic Band (they begin a residency at Union Pool in October), and, you know, being the lead singer of TV on the Radio, Tunde Adebimpe doesn't have much time to slack off. That wasn't the case with his first job, which he told us during his interview for Daily Intel's 21 Questions. In fact, it was pretty much the opposite. We couldn't fit his whole gem of an answer in the column, but we also couldn't let it go without sharing. See it for yourself, below, and read the full 21 Questions here.
What was your first job in New York?
I was a ticket taker and usher at Film Forum. It was actually great because I got to see any film I wanted to for free both at Film Forum and the Angelika, so it was like having a free pass to all of the rare film screenings in New York. It was at a time in New York where I could work there four days a week and that was all I had to do to pay rent, which is unbelievable to me right now.

Have any dicey moments on the job?
I did, actually. A friend of mine and I were taking out the garbage, and once we got to the garbage depot he said, "We're pretty much done for the day, right?" And I said, "I guess so." And he said "You want to smoke a joint?" and I said, "Yes, I do. I very much want to smoke a joint."
 
And then I went back in and it turns out we were not at all done for the day, and I was pretty much stoned out of my mind. And you have to announce the movies too. And I remember there was a movie by, I think, Jean Eustache, a French movie called The Mother and the Whore, and I could not get through saying the title without laughing.
 
That was dicey only because we were positive we were going to get fired, but that didn't happen for a bit.
 
Did you actually get fired later?
Yeah, I dropped off. I was not so diligent about going to work after a while.