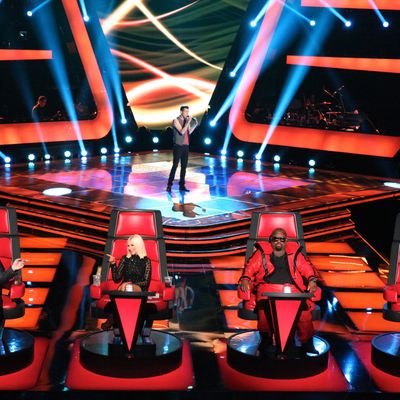 NUP_157106_5428.JPG
Photo: NBC/2013 NBCUniversal Media, LLC
Don't you feel like The Voice has been going along at an economical pace lately? There are none of the social media fripperies or the fun skits that used to make spending four hours a week trapped in a Starbucks with Adam Levine so especially taxing. The new show is all business, just like Starbucks's new patisserie, "La Boulange." Should we rejoice in the new era or mourn the bricklike cakes of yore? You decide!
Jacque Lee, "Back to Black"
Jacque is an adorable 16-year-old who changed the lyrics of "Back to Black" to make it more age-appropriate. (It's a one-word substitution, but it means a lot in the scheme of things.) She has a big, sort of stagey chest voice and the whole thing worked surprisingly well. Blake and Christina turned around for her, and Blake tried to say in a non-creepy way that he "specializes in 16-year-old girls winning this show," but there is no way that is not the creepiest thing anyone has ever heard. So Jacque ended up going with Christina.
Barry Black, "What You Won't Do for Love"
God, this song is so incredible. I am actually listening to it right now as I am writing this. It's just a laid-back groove someone could hear in Starbucks's new patisserie, "La Boulange." That was pretty much my only thought as Barry was singing. I also liked his outfit of leather bow tie, straw boater, goatee, big glasses, ponytail, and vest. He picked Adam over Blake because obviously.
Mike Unsur, "Dirty Little Secret"
Wasn't it amazing when Cee Lo said this kid was like "a young Willem Dafoe"? I am so glad Cee Lo has returned, because what accuracy!
Destinee Quinn, "Cowboy Take Me Away"
People really do contain multitudes. For example, Destinee was wearing a flower crown, but she also knew Alice Cooper for some reason, and he sent her a message wishing her "good luck" on a Sprint tablet. Her fate on The Voice was similarly confused. Clearly, she wanted Blake to turn around for her since she sang a song expressly directed at him, but only Christina and Cee Lo responded to her cries. She eventually went with Christina.
Cole Vosbury, "Movin' on Up"
I really appreciated Cole Vosbury's family. They were much better than Cole. His grandmother was a very funky-seeming musician who once toured with Elvis Presley. When Carson asked her what he was like, she said: "I did not care for him at first." It was baller! Cee Lo, obviously, was the only one who knew what a gem he had on his hands and picked him.
Holly Henry, "The Scientist"
There are really only two types of women on The Voice — those with massive voices who scream at the hilltops in a state of rage and tiny little quirksters who sound like they have been living in an Appalachian commune. Holly belonged to the latter camp. All four judges turned around for Holly, which was great, but in my experience, the tiny little quirksters die in the battle rounds, so we'll see what happens.
Sammy C., "Where's the Love"
This kid was pretty adorable. He rapped and he sang and he was 16 and no one turned around for him.
Austin Jenks, "Simple Man"
This kid had a tremendously tragic backstory. His father committed suicide and taught him the song he was singing on The Voice. It was actually so sad! Blake and Cee Lo turned for him, and he picked Blake.
EG Daily, "Breathe"
Carson Daly drove a Kia to meet this 51-year-old woman who is a professional baby voice-over actress. For example, she was the voice of Tommy Pickles. It sounds like a pretty good job? She is also a country singer, though. For a baby, she has a very raspy voice. Both Blake and Cee Lo turned around for her. Cee Lo even told her she reminded him of Rod Stewart, which is such a good compliment. However, she went with Blake because there is just no rhyme or reason ever. And if you sing Faith Hill, that is just what happens.
Johnny Gray, "All These Things I Have Done"
This kid apparently really wanted Adam for his coach. He was in the military and plays all around Austin now. He has a very unique voice actually, sort of reedy and very sincere. No wonder the mayor of Austin gave him his own day. Adam and Cee Lo turned around for him. But after they all talked for a while and Cee Lo was his normal charming self, he switched from Adam to Cee Lo! (Side note: Guess what song I am listening to, STILL. It's such a groove!)
Tessanne Chin, "Try"
This girl went on tour with Jimmy Cliff and she has a great voice, because she is a professional singer. Duh! All four chairs turned around for her and she went with Adam.
So what did you think of tonight's performances? Are you spotting any nascent front-runners? Have you tried any of the pastries at La Boulange? How are they?